Seattle Culinary Academy alums win investment on reality show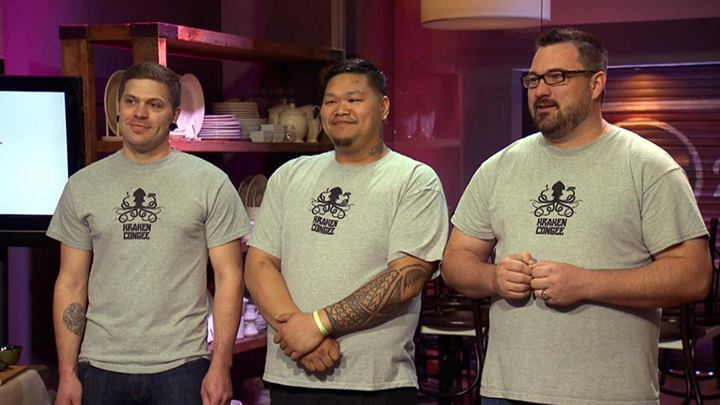 Seattle Culinary Academy (SCA) alums Garrett Doherty, Irbille Donia and Shane Robinson put their skills to the test last month in the premier episode of "Restaurant Startup." This new reality show on CNBC pits two teams of aspiring restaurateurs against each other as they pitch their concepts to potential investors, TV personality and restaurateur Joe Bastianich, and chef and restaurant owner Tim Love.
"I really enjoyed watching the show," said SCA Chef Instructor Gregg Shiosaki, who taught the three chefs in their very first quarter at SCA. "I was excited to see how far they have come since their first day of school."
The trio met seven years ago as students at SCA. Their restaurant, called "Kraken Congee," currently operates using a "pop-in" style model that takes over different Seattle restaurants for one evening per month, delivering their unique take on congee, a rice porridge dish that is a staple in many Asian countries. The restaurant has gained a cult following in Seattle as fans regularly flock to their locations and often buy out their entire stock before the end of the night.
Chef Sarah Wong remembers the unique style of cooking of her former students, Doherty and Donia, which infuses both Spanish and Filipino flavors. She also remembers that that they were both "very gregarious and wildly ambitious" and is not surprised by their success.
At the end of their episode, host Tim Love decided to invest $150,000 of his own money in the team and their concept.  This will allow them to start a brick-and-mortar restaurant modeled on their pop-in style operation.
They were also featured on KING 5's New Day Northwest recently to promote their appearance.