50th anniversary event jump starts student transformations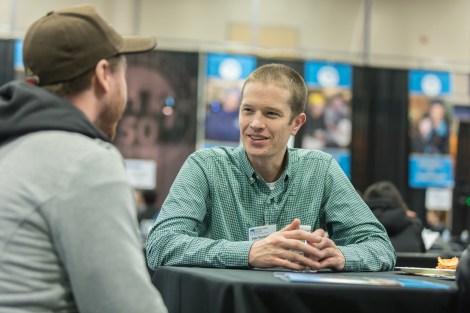 Sixty professionals gathered on campus to mentor more than 250 students with career advice.
Last week, Seattle Central College helped students continue their personal and professional transformations by holding a special career exploration event, part of its year-long 50th Anniversary celebration
Business leaders and professionals from diverse industries throughout the Seattle area were grouped into "transformation stations," where students received career advice and mentoring. Employers represented at the event include Amazon, Boeing, City of Seattle, KING 5, Microsoft, Starbucks and University of Washington.
Seattle Central President Sheila Edwards Lange, Ph.D. gave opening remarks to kick off the event.
"For five decades, individuals from around the region have turned to our college for education and training to help them achieve their dreams and transform their lives, and we are incredibly proud of this tradition. It goes to the heart of who we are as an institution of higher learning," she said.
Students participated in three 15-minute rounds throughout three one-hour sessions. 50th sponsor, Washington State Employees Credit Union (WSECU), donated prizes; students who visited three different mentors were eligible to win the prizes.
Mentors, students, Seattle Central faculty and staff were enthusiastic with the event's turnout.
"The event was a great opportunity to interact with and learn from people in professions we intend to pursue for a career," said student Muatasim Qazi. "I learned about new skills I need to learn to improve my prospects for getting a job after completing my education."
Did you miss the event? Check out more photos below. Also, join us for our last 50th anniversary event of the year.