Science club helps women in STEM fields and beyond
When student Kate Schultz came to Seattle Central, she was undecided about her major and thought she might pursue some sort of degree in Humanities, but when she found the WISE (Women in Science and Engineering) club on campus, and it changed the trajectory of her life. She now hopes to transfer to the University of Washington next year to pursue a Chemical Engineering degree. WISE provides a space for Kate and dozens of other students to receive support from their peers outside of the classroom.
While their primary goal is to empower women to pursue degrees and careers in STEM fields, students in the club function as a support network for each other. Members encourage their peers to sign up for internships and scholarships. At meetings, they swap stories about experiences in class, share college and career advice, as well as goals they have set for themselves.
The club also hosts events that are open to other STEM major students and to the broader community, such as the Engineering Networking night held in January. Nearly 150 students spoke with 20 professionals from the Puget Sound Engineering Council, who shared their experience working in a broad range of engineering careers.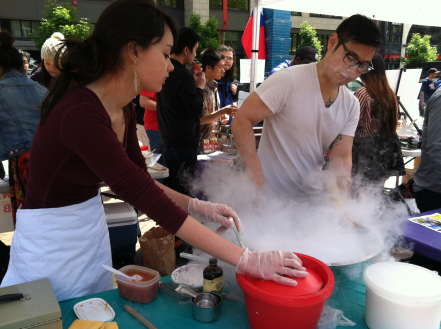 The club also hosts field trips to places like the Bullitt Center, the world's greenest commercial building, and to Planetary Resources, a Redmond-based company that focuses on asteroid mining. It was on one such field trip to the wet lab at the U.S. Geological Service that inspired student Mariah Weavil-Abueg, who is now the vice president of WISE, to narrow her focus in biology.
"I came to Central straight out of high school and I didn't know anyone. WISE helped me meet people and get more excited about my field," said Mariah, who hopes to transfer to the UW School of Aquatics and Fisheries. "As I'm drafting my personal statement for transfer applications, I'm writing a lot about my experiences in the club."
Though the club's officers are female, it is inclusive to all students regardless of gender or academic major. Meetings are well attended by male students and the occasional non-STEM or undecided student. Officers say it's important to have men who can advocate for and support their female peers.
"Our goal is to address the culture that keeps women from getting into STEM fields," said Kate. "We have all had experiences in classes where guys make generalizations about women not being good at math. We really want to make people more aware of pervasive cultural attitudes that influence decisions people make about their lives."
Later this month, WISE members will organize volunteers to help with the Science Olympiad that will take place on campus. On Feb. 28, 400 students from dozens of local middle and high school teams will flock to Seattle Central to compete in 50 different events that involve applying math and science skills to conduct experiments and build projects. WISE members will help them navigate the college's hallways, judge events and hope to excite them about pursuing science as a career.