Seattle Central College COVID-19 response and resources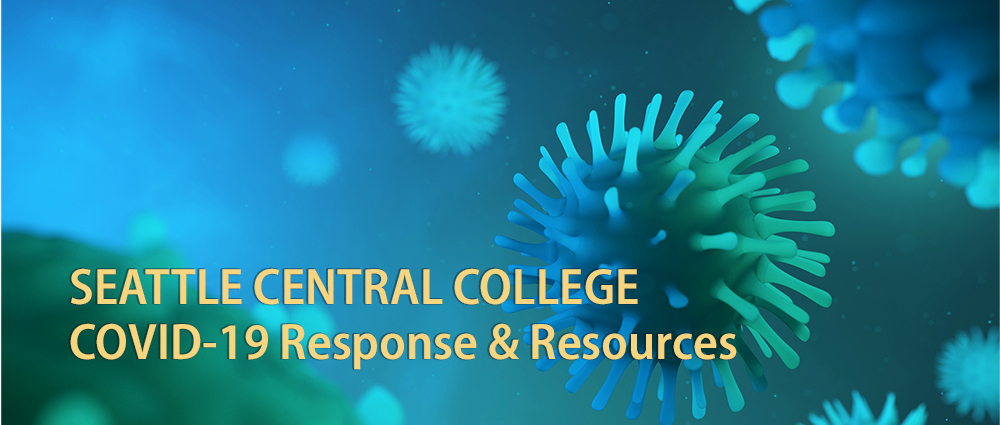 ---
Students must report vaccination status by Nov. 1
Seattle Central College will operate this fall as a vaccinated campus, which means staff, students, contractors, and volunteers must be fully vaccinated to work, attend classes, on receive services on campus, with exemptions for medical or religious reasons.
All students are required to report their vaccination status or file for an exemption by Nov. 1, 2021. You can report your status now using ctcLink. Students who do not register their vaccination status or claim an exemption by Nov.1, may be unable to register for Winter Quarter 2022 classes.
Use ctcLink to Report Your Status Now
Login to ctclink at gateway.ctclink.us.
Select your student homepage from the menu in ctcLink.
Select the Immunization Attestation tile, enter your information, and hit the submit button.

Step-by-step Instructions are available at
ctclinkreferencecenter.ctclink.us/m/79750/l/1440196-9-2-student-immunization-attestation.
Note: If the Immunization Attestation tile does not appear, clear the web browser cache, close the browser, and then reopen the browser. Or login to ctcLink in a different web browser, such as Chrome or Firefox, to see if that fixes the issue. Contact the IT Help Desk if you encounter problems with ctcLink.
Getting Vaccinated
Get the facts about COVID19 vaccines. Find information about free vaccinations at Vaccinate WA and the King County Vaccination Pop-Ups Schedule. Each of our colleges will also host free pop-up COVID-19 vaccination clinics in September operated by UW Medicine - Harborview. The Pfizer-BioNTech vaccine will be offered. There is no cost. View the full schedule at seattlecolleges.edu/coronavirus.
Thank you for your attention to this important matter. We look forward to returning to in-person teaching, learning, and related student services, to the fullest extent possible, while safeguarding against transmission of COVID-19 and its variants
---
Return to full in-person services rescheduled to Nov. 1
The Seattle Colleges District's fall quarter Return-to-Campus date has been postponed to Monday, Nov. 1. This is in response to Gov. Inslee's October 18 vaccine mandate for state employees and the recent outbreak of the COVID-19 Delta variant.
Please note the following updates for Seattle Central College:
There are no planned changes to instruction for fall quarter and all face-to-face class times will be held as listed in the online schedule. Faculty with questions should reach out to their respective deans.
 
Central will add a second day of drop-in student services beginning the week of Sept. 13 until Nov. 1. In-person services will be offered on Tuesdays and Wednesdays from 10 a.m. – 2 p.m.
For more details, visit the Seattle Colleges District website.
---
Seattle Central requires COVID-19 vaccines for students, staff
Seattle Colleges will be a fully vaccinated higher education institution in accordance with Gov. Jay Inslee's recent COVID-19 Proclamations. The decision comes after consultation with the board of trustees, health and safety officials, and labor partners.
Full vaccinations are required for students, staff, and faculty coming to campus this fall, with exemptions for medical or religious reasons. This allows the colleges to reopen and return to in-person teaching and learning, to the fullest extent possible, while safeguarding against transmission of COVID-19 and its variants.
Employees will have until Monday, Oct. 18 to become fully vaccinated or receive exemption approval.
More information detailing the vaccine verification and attestation process will be provided in follow-up emails and posted on the Welcome Back website.
---
Together Tuesdays
Seattle Central College is offering in-person student services every Tuesday of Summer Quarter, from 10 a.m. to 2 p.m., without an appointment.
Central will add a second day of drop-in student services beginning the week of Sept. 13 until Nov. 1. 
Open offices and services include:
•    Accessibility Resources Center - BE 1103
•    Admissions - BE 1104
•    Advising/Transfer - BE 1102
•    Financial Aid - BE 1104
•    Info Central - BE 1105
•    Learning Support Network - BE 2102
•    Library (also available on Thursdays, 10 a.m. -2 p.m.)
•    Registration - BE 1104
•    Running Start - BE 1102C
•    Student Conduct/Title IX - BE 4180
•    Student Leadership - SAC 350
•    Student Support Programs - BE 3215
•    TRiO - BE 1102B
•    Workforce - BE 1104
More details about available services.
Students will need to check in at the Broadway entrance of the Broadway Edison building. Please compete the online STUDENT Campus Access Form before you come to campus. Don't forget your picture ID and face mask - you must wear a mask at all times while in the building and maintain six feet of distance from others.
We are excited to serve you and look forward to seeing you in person.
---
Fall quarter will offer more instruction in person
We are planning to offer more classes in person this fall quarter, depending on the status of the COVID-19 pandemic. You will notice that many classes in the fall class schedule are currently listed as hybrid. If conditions improve, part of those courses could move to in-person instruction. But if a class is currently listed as an online course, it will remain in that mode for fall. All the dates and times for classes will remain the same, regardless of mode. We plan to make a final decision about hybrid classes by early September – please check our website, Canvas, and your email for information.
---
Requirements and protocols for entering our buildings
Complete a form attesting that you do not have symptoms for COVID-19, and specifying the areas of the buildings you are visiting. Click here for the form for students, and here for employees. Please fill out these forms before you come in, and before you leave our buildings
Bring a picture ID
Wear a face mask or covering
The only open entrance to the Broadway Edison building is entrance A on 1701 Broadway Street. Use this entrance even if you need to access a different building in that campus.

Check with your instructor or supervisor for details on access to the Health Education Center, Wood Technology Center, and the Maritime Academy.

For more information on the safety protocols at Seattle Colleges District, visit https://www.seattlecolleges.edu/coronavirus/current-covid-19-procedures