Seattle Central College COVID-19 response and resources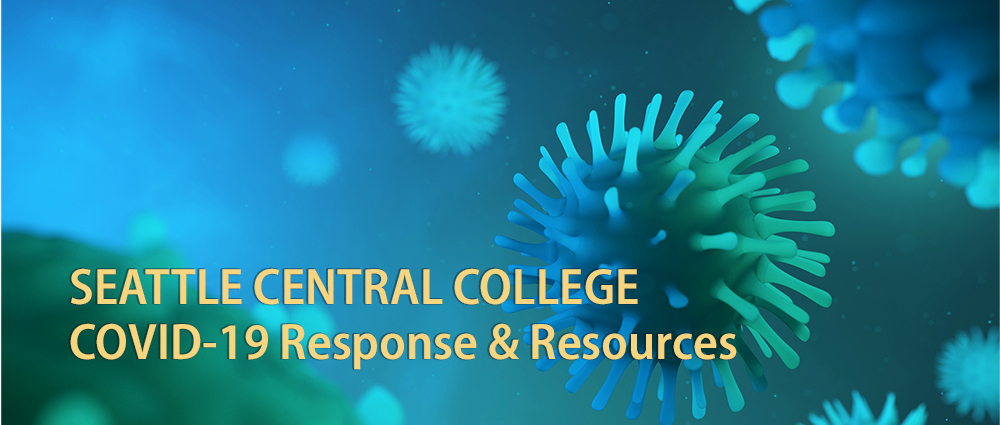 ---
Requirements and protocols for entering our buildings
Following the guidelines from Gov. Jay Inslee's office for a phased re-opening of our campus, our Broadway campus and co-locations will remain closed to the public except for:
 
Staff who perform essential functions
Students and faculty who participate in a small number of programs that require face to face instruction (see list below)
Students who have made an appointment in advance for services (see above for limited services without an appointment)
Before you can access any of our buildings, you must follow these steps:
Employees must make an appointment ahead of time using this form. Students not enrolled in an on-site program must make an appointment for services with the department or office they need
Take the mandatory training on COVID-19 safety. If you will be routinely coming to campus every week, please review the weekly COVID training update.
Complete a form attesting that you do not have symptoms for COVID-19, and specifying the areas of the buildings you are visiting. Click here for the form for students, and here for employees. Please fill out these forms before you come in, and before you leave our buildings
Bring a picture ID
Wear a face mask or covering
The only open entrance to the Broadway Edison building is entrance A on 1701 Broadway Street. Use this entrance even if you need to access a different building in that campus.

Check with your instructor or supervisor for details on access to the Health Education Center, Wood Technology Center, and the Maritime Academy.

For more information on the safety protocols at Seattle Colleges District, visit https://www.seattlecolleges.edu/coronavirus/current-covid-19-procedures
----
Here is the list of programs that will have some limited face-to-face instruction starting on Sept. 29, 2020:
Broadway Edison Campus:
Creative Academy- Visual Media Only
Seattle Culinary Academy
Health Education Center:
Medical Assisting
Nursing
Respiratory Care
Surgical Technology
Dental Assisting
Dental Hygiene
Seattle Maritime Academy:
Marine Technology
 
Wood Technology Center:
PACT
Wood Construction- CORE, Carpentry, Cabinetmaking, Boat Building
Students enrolled in these programs should contact their program faculty for details regarding safety procedures and class formats.