Seattle Central College COVID-19 response and resources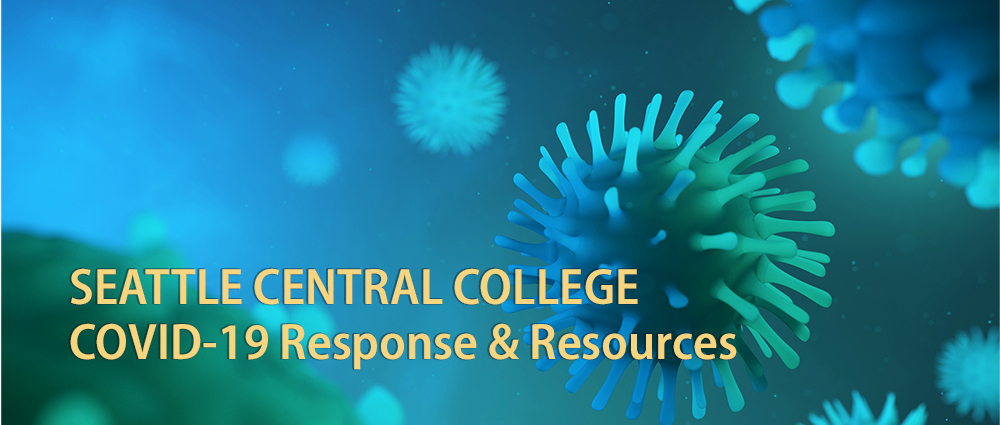 ---
Return to in-person services for Fall Quarter 2022
Effective September 19, 2022:
Student Services are open for in-person services from 9 a.m. - 3 p.m., Monday - Thursday
Virtual services will be offered 8 a.m. - 4:30 p.m. Monday - Friday. On Tuesdays, limited virtual services will extend to 6:30 p.m. for the following departments:

Admissions
Advising
Financial Aid
Registration
Note: Certain departments may have limited staffing, so please check department websites for specific in-person and virtual services.
---
Masks are now optional, but encouraged
Masks in most indoor settings at Seattle Colleges will be "optional but encouraged." If public health conditions change, face-covering requirements will be reassessed.   
 Masks will continue to be required in some instances, including but not limited to:   
Clinical and other health-care settings and educational programs (dental hygiene, respiratory care, nursing, EMT, NA-C, etc.).   
For those who test positive and are returning to campus after isolation at home.  
For those who have been exposed to someone with COVID-19.   
Please contact healthandsafety@seattlecolleges.edu immediately to report a positive test, exposure, or symptoms. More information is available about what to do when someone is sick with COVID-19. You may also report your positive test online. 
People in our Seattle Colleges community may need or choose to wear—or not wear—a mask for a wide range of reasons. Please respect the choices others make for their own health, safety, or comfort.  
---
Daily Wellness Screening
If you are coming to campus, you can complete the optional online Daily Wellness Screening Form, but it is no longer required as of November 1, 2022. Use this resource to receive instant, automated guidance for concerns about COVID-19 symptoms, exposure, and testing results. If you have recently reported a positive COVID-19 test, you may also use the Daily Wellness Screening Form to determine when it is safe to return to campus.
If you have tested positive for COVID-19, report your positive test and do not come to campus. This form is only for self-reporting positive cases of COVID-19. After completing the form, you will receive detailed instructions in an automated message to your Seattle Colleges email.