Seattle Central College COVID-19 response and resources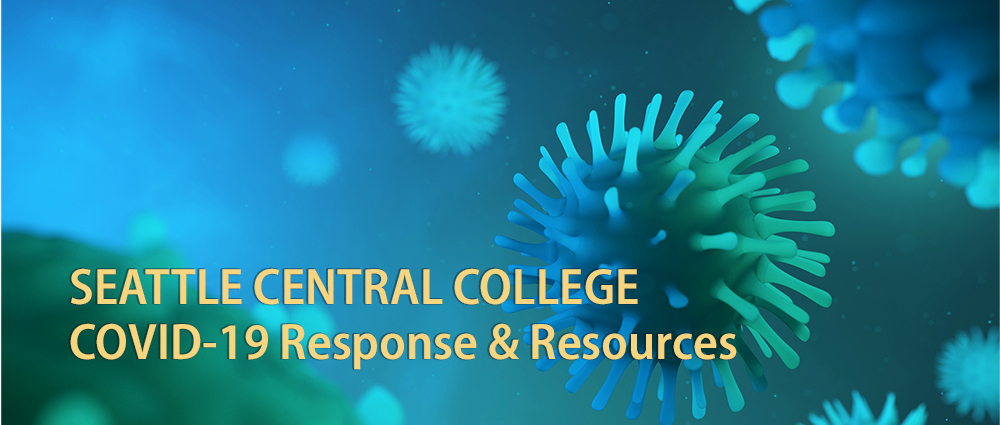 ---
Return to in-person services for Spring Quarter 2022
Student Services will be open to the public for in-person services from 8 a.m. - 4:30 p.m., Monday to Thursday starting April 4.
On Fridays, all services will be offered virtually with the exception of Financial Aid, Testing, and Accessibility Resource Services.
Virtual student services are also available during regular business hours. For more details, click here.
---
Masks are now optional, but encouraged
Beginning Spring Quarter (Monday, April 4) masks in most indoor settings at Seattle Colleges will be "optional but encouraged." If public health conditions change, face-covering requirements will be reassessed.   
 Masks will continue to be required in some instances, including but not limited to:   
Clinical and other health-care settings and educational programs (dental hygiene, respiratory care, nursing, EMT, NA-C, etc.).   
For those who test positive and are returning to campus after isolation at home.  
For those who have been exposed to someone with COVID-19.   
Please contact healthandsafety@seattlecolleges.edu immediately to report a positive test, exposure, or symptoms. More information is available about what to do when someone is sick with COVID-19.  
  Continue to bring a mask when coming to any of our campuses or locations. Areas requiring masks will be clearly marked with new signage, and masks will continue to be provided at centralized locations on each campus.  
People in our Seattle Colleges community may need or choose to wear—or not wear—a mask for a wide range of reasons. Please respect the choices others make for their own health, safety, or comfort.  
Other protocols remain in place   
All other protocols remain in place, including the daily wellness screening, COVID-19 vaccination requirements, isolation/quarantine standards, and contact-tracing protocols.  
---
Students must report vaccination status to register for classes
Seattle Central College is operating as a vaccinated campus, which means staff, students, contractors, and volunteers must be fully vaccinated to work, attend classes, on receive services on campus, with exemptions for medical or religious reasons.
All students are required to report their vaccination status or file for an exemption. You can report your status now using ctcLink. Students who do not register their vaccination status or claim an exemption by Nov.1, may be unable to register for classes.
Use ctcLink to Report Your Status Now
Login to ctclink at gateway.ctclink.us.
Select your student homepage from the menu in ctcLink.
Select the Immunization Attestation tile, enter your information, and hit the submit button.

Step-by-step Instructions are available at
ctclinkreferencecenter.ctclink.us/m/79750/l/1440196-9-2-student-immunization-attestation.
Note: If the Immunization Attestation tile does not appear, clear the web browser cache, close the browser, and then reopen the browser. Or login to ctcLink in a different web browser, such as Chrome or Firefox, to see if that fixes the issue. Contact the IT Help Desk if you encounter problems with ctcLink.

Get the facts about COVID19 vaccines. Find information about free vaccinations at Vaccinate WA and the King County Vaccination Pop-Ups Schedule.