Seattle Central College COVID-19 response and resources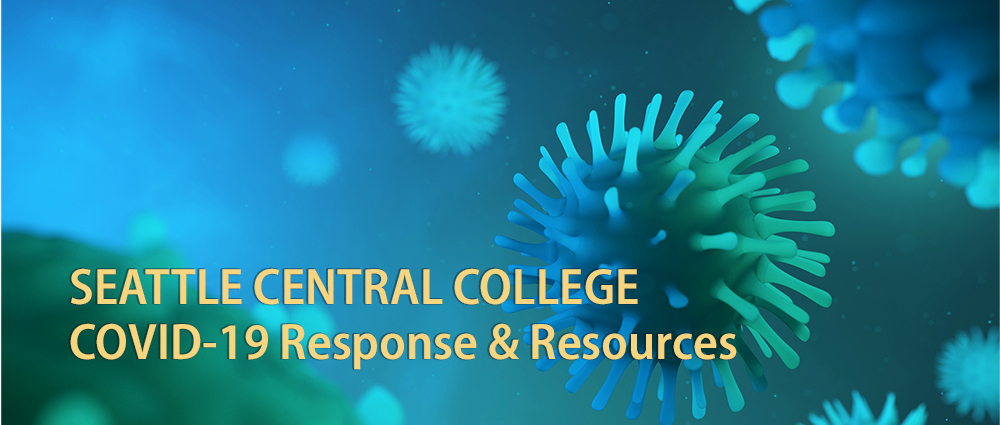 ---
SCC offering virtual student services during Omicron wave
Due to staffing shortages and the rising number of COVID-19 cases in our region, Seattle Central College will need to go back to offering virtual student services from Jan. 14 to Jan. 28.
This was a hard decision, made in consultation with our leadership staff and in coordination with our sister colleges and the Seattle Colleges District. We feel that this is the best compromise of safety and public service that we can offer at this time.
The list of available services, hours of operation, and contact information is available here.
Your class modes will remain the same. If you have an in-person class, it will continue to meet on site.
We will monitor the situation closely and evaluate whether to extend remote operations if necessary. 
We appreciate your patience and understanding during these difficult times.
 
---
Broadway campus entry procedures
We are glad to welcome you as a new or returning student this fall, as Seattle Central works its way back to a fully open campus after a year and a half of remote operations.
As you know, Seattle Central is now a vaccinated campus, which means that all students, staff, volunteers and contractors must attest that they have been vaccinated against COVID-19 or request a medical or religious exemption.
We have also installed a new campus entry system that requires staff and students to present a keycard/ID to unlock outside doors.   
Both of these changes mean that coming into our buildings will require a few extra steps:  
 
Before you come to campus, you need to fill out a wellness check form to let us know that you have not been exposed to COVID-19. You can also fill it on site using the QR code on display in signs outside of our buildings. Students can go straight to their classroom or office as long as they fill out their wellness check on their own.
 
Visitors must stop at our main entrance at 1701 Broadway to receive a visible visitor badge to wear while on campus.
 
Everyone on campus must wear a face mask indoors.
 
If you have not gotten your new keycard/ID yet, you need to come down to the registration office at Broadway Edison to get your picture taken. Please be patient - we process photos and cards one at a time and unfortunately it will take several weeks to get everyone their new card. (See the next item below for dates and hours for in-person services)
 
You can always access our Broadway Edison building without a keycard/ID by using the main entrance at 1701 Broadway. This entrance will remain unlocked and staffed by a greeter from 8 a.m. until the start of evening classes on weekdays.
 
For the next two weeks, there will be a college security officer or staff person on duty at the entrance to the Science and Math Building to greet and let in students who do not yet have their keycard/ID cards. There is also an intercom to the right of the doorway. If a security officer is not present, please use the intercom to request the door be opened for you.
 
The Fine Arts Building, Mitchell Activity Center, and Erickson Theater will remain locked and will require a keycard/ID card to enter. Please contact our security office at 206.934.5442 if you have classes scheduled in one of those buildings so that they can issue you a card quickly. 
 
The keycard/IDs are not necessary to access classrooms and offices at the Health Education Center. They are required at the Seattle Maritime Academy and the Wood Technology Center.  
Keycard tips
To use your keycard/ID, bring it up to the black or grey card readers near the door. The readers can't sense your card if it is inside a bag or wallet – you need to take it out and tap the reader for best results:

Some keycard readers have a numerical keypad. If you accidentally press the buttons on the keypad, you may need to wait several seconds for the door to reset before attempting to use the reader again. Please ensure that the door closes behind you.
We appreciate your patience with us as we navigate the changing conditions of this pandemic. We look forward to serving you and wish you great success at Seattle Central College this year.
---
Students must report vaccination status by Nov. 1
Seattle Central College will operate this fall as a vaccinated campus, which means staff, students, contractors, and volunteers must be fully vaccinated to work, attend classes, on receive services on campus, with exemptions for medical or religious reasons.
All students are required to report their vaccination status or file for an exemption by Nov. 1, 2021. You can report your status now using ctcLink. Students who do not register their vaccination status or claim an exemption by Nov.1, may be unable to register for Winter Quarter 2022 classes.
Use ctcLink to Report Your Status Now
Login to ctclink at gateway.ctclink.us.
Select your student homepage from the menu in ctcLink.
Select the Immunization Attestation tile, enter your information, and hit the submit button.

Step-by-step Instructions are available at
ctclinkreferencecenter.ctclink.us/m/79750/l/1440196-9-2-student-immunization-attestation.
Note: If the Immunization Attestation tile does not appear, clear the web browser cache, close the browser, and then reopen the browser. Or login to ctcLink in a different web browser, such as Chrome or Firefox, to see if that fixes the issue. Contact the IT Help Desk if you encounter problems with ctcLink.
Getting Vaccinated
Get the facts about COVID19 vaccines. Find information about free vaccinations at Vaccinate WA and the King County Vaccination Pop-Ups Schedule. Each of our colleges will also host free pop-up COVID-19 vaccination clinics in September operated by UW Medicine - Harborview. The Pfizer-BioNTech vaccine will be offered. There is no cost. View the full schedule at seattlecolleges.edu/coronavirus.
Thank you for your attention to this important matter. We look forward to returning to in-person teaching, learning, and related student services, to the fullest extent possible, while safeguarding against transmission of COVID-19 and its variants.