VetCorps navigator seeks to bridge gaps for student veterans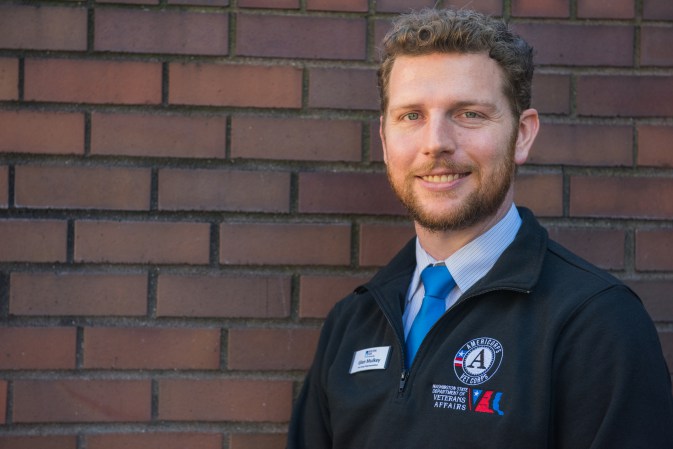 Every day, hundreds of veterans attend classes at Seattle Central, bringing with them a variety of powerful experiences from their military service. For many, navigating the hallways of a college can be a disorienting adjustment. To help ease their transition to higher education, Seattle Central hosts a VetCorps navigator. This year, Glen Mulkey is serving on campus as the current VetCorps navigator to help ease the transition the to civilian life for veterans on campus.
Glen, who served as a medic in the Navy for 10 years, understands firsthand the difficulty this transition presents to many veterans. When he enrolled in classes at Seattle Central College last year, he found it challenging to adjust to the culture of college life.
"When I first started, we didn't have a VetCorps navigator," said Glen. "I really could have used that. I decided to come back to make sure there was someone here to help."
VetCorps is a program of AmeriCorps that funds a "navigator" for a one-year term on or near community college campuses. The goal is to help veterans in areas where they need additional support. In his role, Glen helps student veterans navigate campus life from registration to educational planning, including how to apply credits earned in the service to degrees at Seattle Central. He also connects vets with resources such as Veterans Affairs benefits and Department of Defense tuition programs, as well as assistance for housing, transportation and medical assistance.
"Veterans are used to focusing on what's in front of them and doing their jobs. Everything else is taken care of. It's not that way outside of the military. Vets sometimes don't know who to talk to when they have problems," said Glen. "The idea is that if a veteran were to say 'I don't know who to ask about this,' I can connect them with the resources they need."
Are you a veteran attending Seattle Central? Contact Glen via email or visit his office in room 126C in the North Plaza Building to get access to veteran-related resources and services available to you.