Science students take a dive under Elliott Bay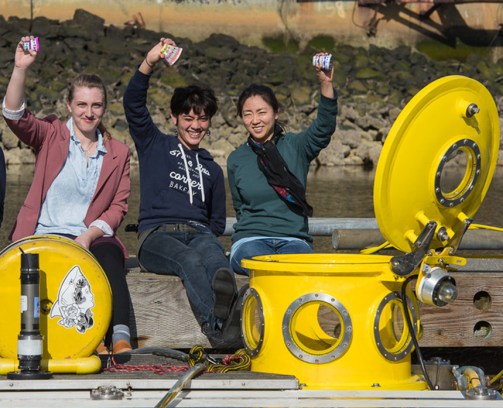 Taylor Cross (left), Amy Morren and Whitney Tuxbury hold up styrofoam cups they used as a demonstration of the underwater pressure prior to boarding the OceanGate submersible.
Last week, three Seattle Central students had the unique opportunity to board a submersible capsule destined for the bottom of Elliott Bay. Over the course of two days, the students collected data from the shipwreck of a railroad barge that sunk in 1949 as part of a research project sponsored by the Oceangate Foundation's Open the Oceans program. Their project's goal is to study the cause of the wreck and research its biological impact on the surrounding ocean floor environment.
"It was such an amazing opportunity to research something that most students don't get to," said student Whitney Tuxbury, who will transfer next year in the hopes of pursing a master's. "One of my favorite parts was when we got a first visual of the barge on the ocean floor. It was like seeing a really old artifact but not in a museum."
The team learned about the wreck from previous research on shipwrecks done in Elliott Bay and created their own plan to collect additional data about the site. During the dives, the team – comprised of Whitney and fellow students Amy Morren and Taylor Cross, along with faculty advisor Rebecca Hartzler – used sonar imaging to map the site of the wreckage, collected measurements and video data. In the coming months, they students will compare the information they gathered to historical records and then build a model of the wreckage using a 3-D printer that they will assemble themselves. They will also analyze the visual data they collected to evaluate the biological environment of the site.
The three students are conducting this project as their undergraduate research capstone project for Ready! Set! Transfer!, a National Science Foundation (NSF) program that provides research stipends and other support to students at community colleges looking to transfer into STEM programs at four-year institutions.
"I have been continually amazed by the students' enthusiasm and know-how over the course of this project," said OceanGate Foundation Executive Director Christian Sarason, who used to teach as a part time instructor of Oceanography at Seattle Central.
Their project was selected as the first in a series of Open the Oceans projects that the OceanGate Foundation plans to sponsor at colleges around the country. The program looks for opportunities to inspire students to explore the ocean and get them excited about studying in STEM fields. The OceanGate Foundation partners with OceanGate, their private counterpart that operates manned submersibles for industry research and exploration, to allow students like Amy, Taylor and Whitney the opportunity to use them for educational research.