Seattle Central names new Student Services VP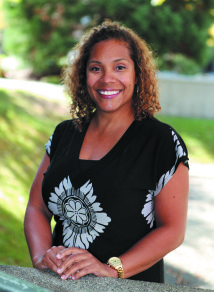 News Release
For immediate release:  March 8, 2016
Media Contact:
David Sandler | Director of Communications
(206) 934-5487 | david.sandler@seattlecolleges.edu
This month, the college welcomes Yoshiko Harden to campus as a key leader dedicated to helping students succeed.
Seattle Central College has named Yoshiko Harden as its new Vice President of Student Services. In this position, Yoshiko will oversee a system that supports the learning and success of the college's diverse student population. She begins her new position on March 28.
"Yoshiko possesses the experience, knowledge, energy, drive and compassion for students that will help her succeed in this position, and I am tremendously excited that she will be an integral part of our campus's leadership team," Interim President Sheila Edwards Lange, Ph.D., said.
Harden currently serves as the Vice President for Diversity/Chief Diversity Officer at Bellevue College, where she provides leadership in the development and implementation of college-wide initiatives that integrate diversity and equity. This includes recruitment and hiring, educational equity training, Title IX/VAWA and bias response.
Prior to this, Harden was the Director of Multicultural Services and Student Development at Highline College. Her duties included diversity programming, student conduct, and academic advising and advocacy. She brings fourteen years of experience as a practitioner and educator with extensive skills in administration, student services and equity.
"I am excited to return to a position working with students, and to join a college with such a strong sense of community and commitment," Harden said. "My background in diversity and equity work positons me well to push for change that will help us better serve our students."
Harden earned a Bachelor of Arts degree in Communications and Women's studies from University of California, San Diego, and a Master of Education in Student Development Administration from Seattle University. She is currently enrolled in Northeastern University's Doctor of Education program in Higher Education Administration.
Harden describes beginning her new position at Seattle Central as "coming home." She graduated from Garfield High School, one of Seattle Central's feeder schools. She grew up in the nearby Central District and later lived in Capitol Hill. She also interned in the advising office at Seattle Central while earning her master's degree.
###
About Seattle Central:  Chosen by over 16,000 students each year, Seattle Central College offers a comprehensive range of educational programs and opportunities for academic transfer, workplace preparation, basic skills and continuing education in an urban environment. Visit us online at www.seattlecentral.edu.
Part of the Seattle Colleges District