Student finds his own path to influence others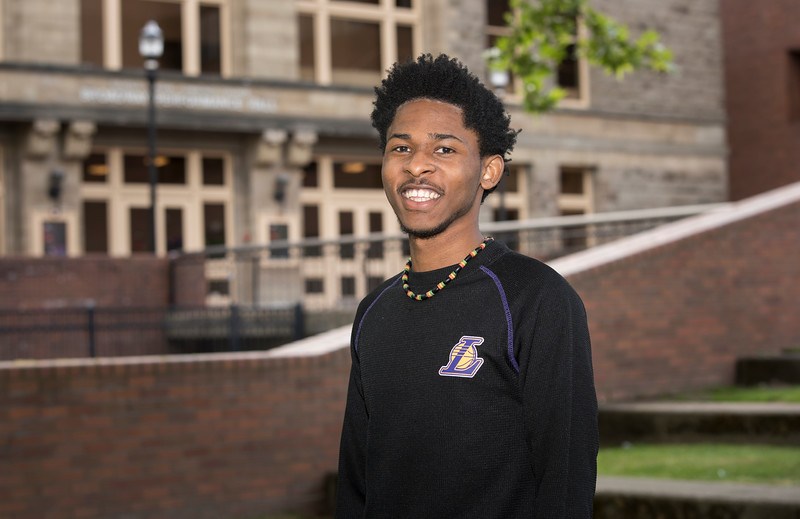 Kwamae Nelson, who will address his fellow graduates at commencement, found inspiration at Seattle Central to pursue a teaching career.
While some may shy away from the challenge of working with middle-schoolers, Kwamae Nelson knows that these young teens are at a critical point in their education. From earlier experiences tutoring and coaching basketball, he learned to connect with these students. He now aims to begin a teaching career that will help shape their view of the world.
"It's important to have role-models in education that look like you. I want to inspire the next generation to make lasting changes in the world," Kwamae said.
Now that he is about to graduate with an associate degree, he's a big step closer to his dream. He will reflect on how Seattle Central shaped his goals as the student speaker at this year's commencement ceremony.
Classes at Seattle Central clarified how and what Kwamae wants to teach. He learned about parts of African American history he'd never been introduced to before, including that Africans lived in North America before colonialism. When he becomes a teacher, he plans to include those lessons in his own classes. Ultimately, he hopes to revise history curricula to give future students a broader and more inclusive view of history.
"There is so much to history that we never learn about, but all of those things connect to a bigger picture," Kwamae said. "We can't talk about the history of this country without discussing how African American are impacted by it."
Kwamae's on-campus job in Multicultural Services provided another chance to broaden his perspective. He's learned more about social justice issues like inequity in Seattle's booming economy, and connected with other student leaders at events like the annual Students of Color Conference. Last year, a friend Kwamae met through this job asked him to serve as the president for the Black Student Union.
"I learned a lot about myself and what it means to be a leader," said Kwamae, who successfully recruited more members and revived the previously inactive club. "I learned to grow from my mistakes and how to work together with a team toward a common goal,"
This month, Kwamae will graduate with an Associate of Arts transfer degree, and in another six months, he hopes to transfer to either Emory University in Atlanta or Tuskegee University in Alabama. He plans to major in Secondary Education and minor in African American History.