Instructors receive annual excellence in teaching awards
Each year, two faculty members are selected by their peers to receive the Excellence in Teaching, Learning and Service Award which goes to instructors who demonstrate high levels of leadership, performance and excellence.
This year's winners are Kimberly McRae and Tsai-en Cheng. In addition to receiving a $1,000 award, they were formally recognized at this year's commencement ceremony, held in June.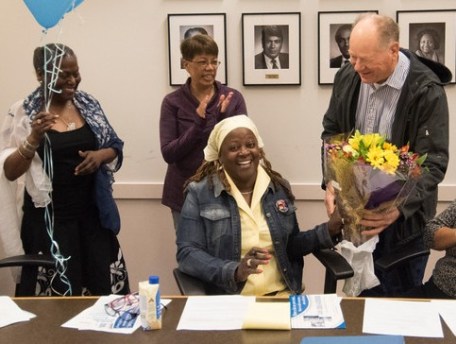 Last year's recipients, Dr. Valerie Hunt and Frank Mestemacher, surprised Kimberly McRae with her award in a meeting with fellow counselors.
Kimberly is a tenured faculty counselor in the Applied Behavioral Science Division. Both peers and students commented on her commitment to students, her high expectations of both students and her colleagues and her strong voice as an advocate for multicultural competency and diversity. Prior to her service as a faculty counselor, Kimberly served as a counselor with the college's TRiO program.
Dr. Valerie Hunt surprised Tsai-En Cheng with the news of her award during a Chinese class.
Tsai-en is a Chinese instructor in the Humanities and Social Sciences Division. Several of her students reflected on her compassion, the inclusive and open nature of her classrooms, and her dedication to student learning. In the aftermath of the Aurora Bridge bus crash that claimed the lives of five North Seattle College students, Tsai-en volunteered as a Chinese translator to support an injured Taiwanese student in her recovery.