Groundbreaking project renews Pacific Tower's legacy of community health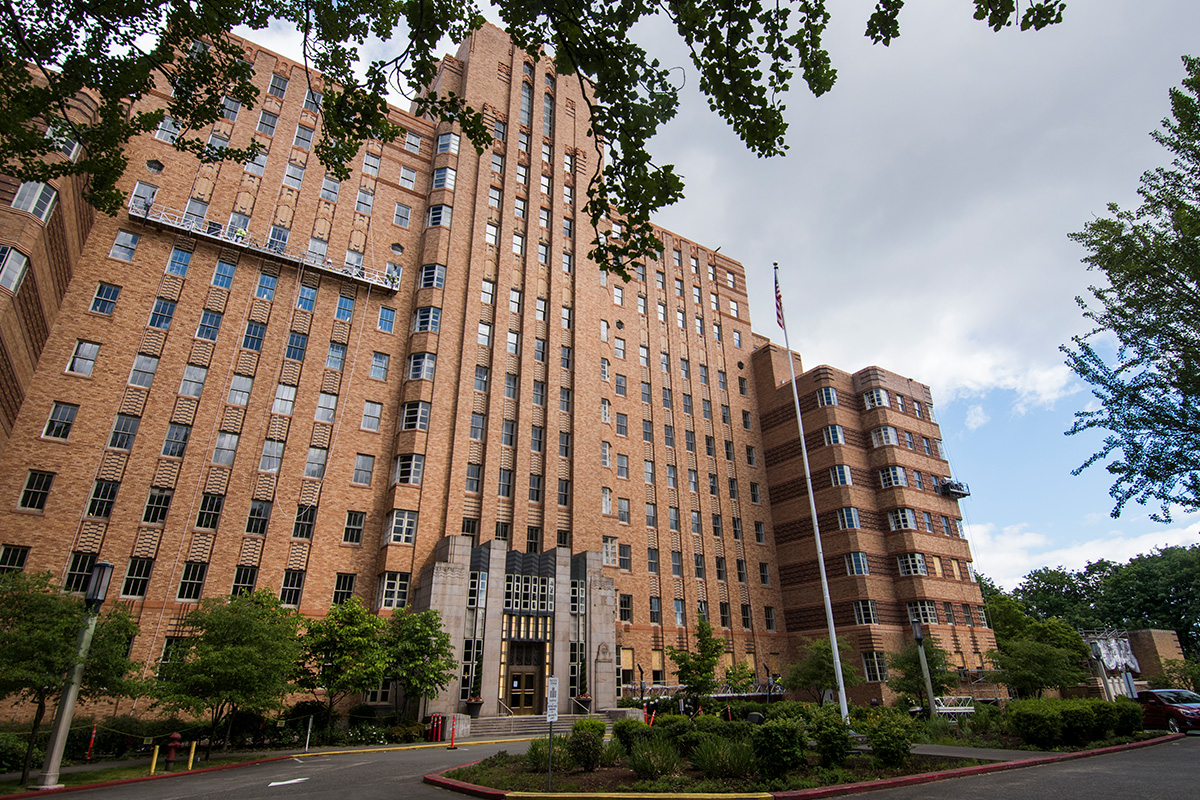 Dedication ceremony to mark completion of renovation that has repurposed iconic Beacon Hill building
Thanks to the efforts of government and private sector partners, Beacon Hill's Pacific Tower has been revitalized as a center for innovation in community health and education. With construction finished, key partners are set to gather to mark the transformation of this iconic building that will serve the city of Seattle and the Puget Sound region for years to come.
Project impetus
Community leaders and elected officials recognized an opportunity to return the Pacific Tower to its community health roots when a major tenant vacated the building in 2011. A vision formed to repurpose the building to train the next generation of healthcare workers, and Seattle Central College signed on to create a new Health Education Center. The legislature appropriated $20 million to pay for renovations. The Washington State Department of Commerce, which signed a lease with the Pacific Hospital Preservation and Development Authority, oversaw the renovation project while working to fulfill the project's vision
"Securing the vision of Pacific Tower has been a remarkable journey. I congratulate each and every one of the diverse individuals and organizations whose cooperation, creativity and perseverance have made this iconic building an asset that is strengthening this community today and for future generations," said Commerce Director Brian Bonlender.
"From top to bottom, it's been an honor to do our part to help restore Pacific Tower. It's the kind of project our people will look back on with pride for the rest of their lives," Dean Allen, CEO of McKinstry, said.
Serving the community
Bringing together a variety of organizations under one roof creates the potential for meaningful partnerships that can benefit the community. Located within anchor tenant Seattle Central College's 85,000-square-foot Health Education Center is a Dental Education Clinic that is pioneering a new training model for college's aspiring Dental Hygienists. In a groundbreaking partnership, Neighborcare Health operates a community dental clinic, which serves low-income patients in need of affordable dental care. Students help staff the clinic, where they can practice skills learned in the adjacent teaching area.
"This remarkable center will provide expanded opportunities for our students, who will benefit from high-quality programs that offer innovative training experiences. In turn, we will help create a larger healthcare workforce to meet our community's needs while also driving this important sector of the economy," Seattle Central President Sheila Edwards Lange, Ph.D., said.
The tower is also home to a variety of nonprofit organizations devoted to improving access to healthcare, education and training, including FareStart, the Seattle Indian Health Board, Seattle Jobs Initiative and many others.
"When the opportunity arose, FareStart leapt at the chance to expand its operations. The move enabled us to start a new youth culinary training program and dramatically expand our school meals program," FareStart CEO Megan Karch said.
An innovative funding model
In addition to the allocation by the legislature, funds to cover the $54 million project cost came from an innovative public-private financing model. Working through the City of Seattle Office of Economic Development and its consultant, the National Development Council (NDC), federal tax credit financing was arranged to provide $17 million towards the renovation of this historic landmark. City and county grants, loans and over $5 million in charitable gifts provided the balance.
"NDC is proud to be a partner in the completion of the Pacific Tower. This project could not have been completed without the $16.3 million in funding provided by Historic Rehabilitation Tax Credits and New Market Tax Credits," said NDC President Robert W. Davenport. "The Pacific Tower project brings a new life to a historic building and provides life-changing services to underserved residents of the local community. This is what motivates the work of NDC each and every day."
"We see our $17 million investment in Pacific Tower as a wonderful opportunity to preserve this historic building while also helping prepare residents for well-paying health care jobs that will benefit the area's economy," said Maria Bustria-Glickman, vice president of U.S. Bancorp Community Development Corporation.
Sustainable transformation
An important part of the renovation was bringing a nearly century-old building up to current energy code standards. Nearly every light in the building was replaced with LED fixtures, which are all networked to intelligently regulate the light levels depending on occupancy and the amount of daylight. Occupancy sensors also communicate with a control system to provide an optimal level of heating, cooling and ventilation by zone. This will create a much more energy efficient building.
"Thanks to the creativity and collaboration of our partners – Seattle City Light, McKinstry, Mortenson Construction, Schreiber Starling Whitehead Architects and the Jonathon Rose Company – we have perhaps the most energy efficient historic building in the state," said Dan McConnon, director of State Efficiency and Environmental Performance, who led the project for the state.
A legacy of service
Pacific Tower opened in 1933 as a U.S. Marine Hospital, designated as a U.S. Public Health Service Hospital in 1951, and renamed the Pacific Medical Center in 1983. In 1979, it was placed on the list of National Historic Places, and was named a Seattle historical landmark in 1992. Along the way, Pacific Tower has been home to those on the leading edge of medicine. In 1963, Dr. Donnall Thomas began groundbreaking research and clinical trials that ultimately led to the world's first bone marrow transplant, a procedure that helps to treat leukemia and other blood-related diseases.
After all Public Health Service Hospitals were closed in 1981, an effort was launched to save the hospital. It was ultimately transitioned to local control and was chartered under a public development authority. In 1998, this authority received federal approval to lease a portion of the building to a non-healthcare organization, provided that lease revenues would support charity care for the poor. Amazon.com occupied nearly 200,000 square feet before moving to new offices in 2011. This left the majority of building vacant, creating an opportunity for the current redevelopment project.
Pacific Tower is now fully occupied with a variety of nonprofit organizations dedicated to serving the community.
EVENT DETAILS
WHAT: Pacific Tower Dedication Ceremony and Open House. Tours of the building will follow the program.
WHEN: Wednesday, Nov. 2, 2016; 4 to 6 p.m.
WHERE: Pacific Tower, 8th floor conference room, 1200 12thAve. S., Seattle, WA 98144
MEDIA: While the event is not open to the public, media are welcome to attend.
Tenants
501 Commons
Bike Works
Building Changes
College Success Foundation
Community Center for Education Results
FareStart
Health Food America
Neighborcare Health
Pacific Medical Centers
Pacific Hosptial Preservation and Development Authority
Seattle Central College
Seattle Indian Health Board
Seattle Jobs Initiative
SEIU 775 Benefits Group
Smart Buildings Center
The Cross Cultural Health Care Program
Project Partners
Cedar River Group
Jonathan Rose Companies
Jones Lang LaSalle
JPC Architects
McKinstry
Mortenson Construction
Pacific Hospital Preservation and Development Authority
Schreiber Starling Whitehead Architects
Seattle Central College
Urban Renaissance Group
Washington Department of Commerce
Washington State Legislature
Funding Partners
4Culture
Ann P. Wyckoff
Bill and Melinda Gates Foundation
C. Keith Birkenfeld Memorial Trust of Seattle Foundation
City of Seattle
Delta Dental of Washington
Employees Community Fund of Boeing Puget Sound
Foundation for Seattle Colleges
King County
Martin-Fabert Foundation
McKinstry
Norcliffe Foundation
Seattle Central College Foundation
Seattle Children's
Seattle-King County Dental Foundation
Starbucks Corporation
State of Washington
Sunderland Foundation
U.S. Bank