Seattle Central receives donation to support students with disabilities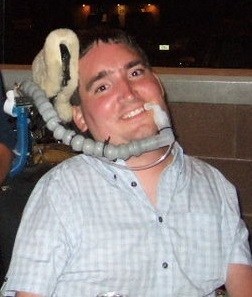 The parents of a former dean's list student with a disability have pledged to donate each year to help reduce barriers for current and future students.
Jake Etchart, a former student with spinal muscular atrophy, passed away ten years ago after his ventilator, which assisted his breathing, malfunctioned in the middle of the night. Following his untimely death, the Etchart family pledged to donate $2,000 each year to Seattle Central in their son's memory.
Jake enjoyed his time as a student here at Seattle Central, where he received accommodations that helped him complete his education. Staff in the Disability Services (DS) office developed a close working relationship with Jake and fondly remember not only what they provided to him but what he also provided to them.
"His sense of purpose and his spirit of joy is what I remember most about Jake", reminisces Al Souma, counselor for disability services.
It was a deep loss to Disability Services staff when they heard of Jake's passing. His family genuinely appreciated the education and accommodation services he received as a student. The only request is their financial contribution be used to assist other students with disabilities.
Closed circuit televisions, hearing devices, handheld recorders and monitors that magnify, are just a few items that DS purchased with the donations over the years. The televisions enlarge text for those with limited vision, and FM systems allow students with hearing impairments to listen to their instructors as they speak.
"Devices we purchase add to the student accessibility toolbox, giving students greater access to the learning environment," Al said.
Jake began his college career at Seattle Central and then transferred to the University of Washington, where he graduated with a communications degree.