Chinese instructor recognized for service to students, community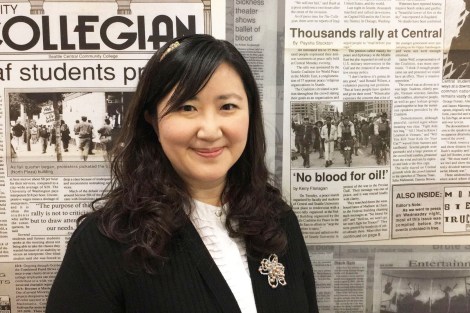 From crafting a new Chinese program to assisting the Ride the Duck victims, Tsai-En Cheng's dedication to serving others is apparent through her work.
Tsai-En Cheng stands out as the first Chinese instructor at Seattle Central College in 20 years. Her commitment to the Chinese program and her students is one of the reasons she received the Excellence in Teaching, Learning and Service award last June.
"I'm very excited to be the first one," Tsai-En said. "I love developing curricula, teaching strategies, and assessments. It is exciting being able to create the program and build courses that support my students to reach higher level language proficiency every quarter. At the same time, I am also able to give students the freedom to make certain decisions based on their academic or career goals."
Tsai-En makes learning engaging for her students by incorporating activities such as texting, dance, skits, and oral conversations. Similar activities are also done in Mandarin Club, which she advises, which is an option for people to join who cannot find time to study the language.
"Mandarin club is a great place for students who want to learn Mandarin Chinese or Chinese culture, but aren't able to take the credit class," Tsai-En said.
Tsai-En's dedication to the community goes beyond the classroom. She played a big role in helping North Seattle College's international students and their families after last year's horrific bus accident that killed five students and injured many others. She arranged a stay at a hotel for one victim's family and organized a few people from her Facebook friend group to assist in cooking food familiar to the family for the duration of their time in the U.S. In addition, she served as an interpreter to Seattle Mayor Ed Murray.