Tenure recipients recognized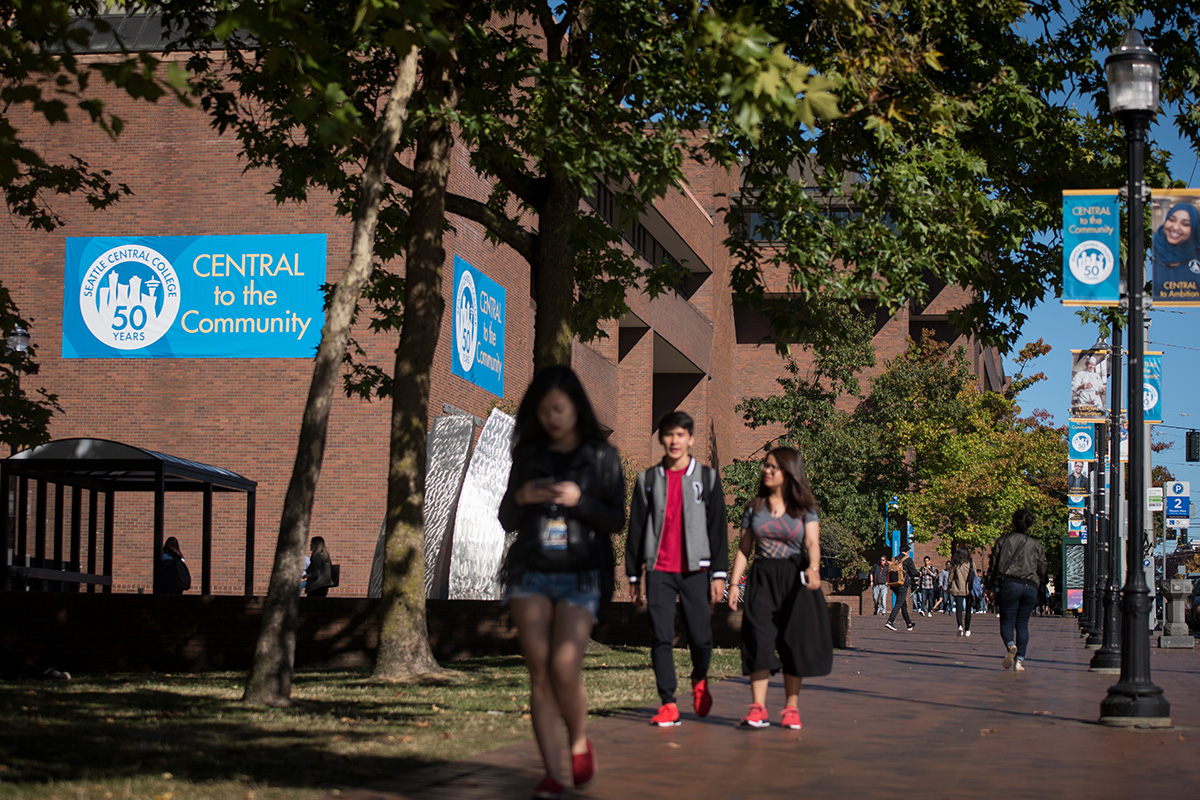 Last month, a reception honored eight faculty members for their dedication to students.
Eight faculty members who received tenure this past year were formally recognized for their achievements during a reception in March, hosted by the Seattle Colleges District Board of Trustees. To earn tenure, which grants a permanent teaching position, candidates are observed and evaluated – by a committee consisting of students, staff and fellow faculty members — according to specified criteria over a three-year period. The president and the chancellor then recommend faculty members to the Board, which officially grants tenure.
This year's newly tenured faculty are:
Vero Barrera-Kolb, Humanities
Vero has been teaching in the Humanities department since 2014, teaching Intercultural Communications, Introduction to LGBTQ Studies and all film courses. She is currently developing an Equity and Social Justice associate degree emphasis and working to create more collective social spaces for students on campus. Prior to Seattle Central, Vero taught at University of Washington Bothell and Edmonds Community College. She holds a master's degree in Human Development from Pacific Oaks College Northwest and a bachelor's degree in Multicultural History from The Evergreen State College.
"There is an incredible wealth of experiences and gifts that the students have here that I have never seen anywhere else," Vero said. "This is home for me. I am looking forward to creating a sustainable space, so the students feel this is also home."
Valerie Hunt, Applied Behavioral Science and Social & Human Services
Valerie was a part-time faculty member in the Humanities department prior to starting her tenure-track position in 2014. She currently teaches courses in the Applied Behavioral Science program, including Public Policy Analysis, Professionalism in Ethical Practice, Advanced Field Placement and more. She is heavily involved in Seattle Central and the community as the co-founder and co-chair of the Dreamers Taskforce, a member of the faculty senate, the advisor for Black Student Union and a mentor to African American students at Seattle University. Before working at Seattle Central, Valerie taught at Seattle University and Southern Methodist University. She holds a doctorate in Political Science from the University of Washington, a master's degree in International Relations from University of Southern California, and a bachelor's degree from Rhodes College.
"Tenure means that I can show our young freedom fighters and truth-seekers that these heights are possible," Valerie said.
Samuel Laher, Marine Technology
Sam, an alumnus of the Marine Carpentry program, started teaching in the Wood Technology Center in 2014, where he teaches boatbuilding and repair and serves as the advisor to Wood Tech's student association. Before attending Seattle Central, Sam served four years as an engineer in the U.S. Coast Guard. He enrolled in the Marine Carpentry program in 2002 in search of a more creative career. He earned an associate degree in Carpentry from Seattle Central, and has experience as a shipwright working on commercial fishing vessels and large wooden yachts, as well as owning his own business.
"Being tenured is such an achievement for me," Sam said. "I am a graduate of the program I am teaching, and I never thought I would accomplish something like this."
Althea Lazzaro, Instructional Resource Services
Althea began her time at Seattle Central in 2010 as an adjunct librarian while she was a graduate student at the University of Washington. After college, she worked for a few years as a librarian at University of Washington Bothell and Cascadia Community College (which share a library). She returned to Seattle Central as a full-time librarian. She is the liaison to the English department and the Wood Technology Center. Althea works on organizational projects, professional development, scholarships and social issues such as racial justice, equity and educational access. Althea earned a Master of Library and Information Science degree from the University of Washington, a master's degree in Literature from the University of London, and a bachelor's degree in English Literature and Gender Studies from Oberlin College.
"This is my dream job," Althea said. "I have never had such consistently sweet and interesting students in every class and every interaction. It makes researching with them such a pleasure."
Helena Ribeiro, English
Helena, a Seattle Central alumna, began teaching at the college in 2014, including courses such as Introduction to English, Research Writing, Developmental English and Literature. Helena works on in committees throughout campus, including the Curriculum Assessment Committee and assisted with the District-wide committee to reboot developmental English coursesto help students complete them more efficiently. After transferring from Seattle Central, Helena earned a bachelor's degree in English at the University of Arizona, and a doctorate in English at the City University of New York. She dreamed of coming back to the college after completing her education.
"Earning tenure is everything I'd hoped it would be," Helena said. "I love this job. I have the best students and colleagues. I feel really lucky to be here."
Marjorie Richards, English as a Second Language (ESL)
Marjorie started out at Seattle Vocational Institute in 2010 before coming to Seattle Central in 2012 to teach Literary Reading, Writing, Speaking and Listening in the Basic and Transitional Studies department. She is the advisor for the Basic and Transitional Studies student club and serves on the faculty senate and LGBTQ Taskforce, which works toward freedom, justice and equality for students despite sexual orientation. Prior to Seattle Central, she worked for Green River College, Southwest Youth and Family Services and Microsoft. She earned a master's degree in Adult Education and Training from Seattle University and a bachelor's degree in English and Communications from Whitworth College.
"Earning tenure is security of feeling like the institution has my back," Marjorie said. "I can really stretch and get involved in things I am really passionate about."
Patricia Russell, Social and Human Services
Pat started teaching in the Humanities department in 2013 and switched to Social and Human Services in 2014. She teaches courses on counseling, interviewing skills, group dynamics, diversity and applied social psychology. Prior to Seattle Central, she spent more than 20 years in human services. As a representative on College Council, Faculty Senate and the Behavioral Intervention Team, Pat is an integral part of the college community. In addition to an associate degree in Visual Communications from Seattle Central, she holds a bachelor's degree and a doctorate in Psychology from Antioch University.
"Seattle Central taught me what a second chance means and supported me when I did not think any other institution would," Pat said. "I always look at it like I am doing this full circle – this is where I began as an adult and this is where I would like to end my career as an adult."
Joel Shaver, English
Joel started teaching English at Seattle Central in 2014. His classes focus on composition, research, linguistics and creative non-fiction. Prior to Seattle Central, he taught English at Green River College, Seattle Pacific University and Argosy University. Joel holds a master's degree and a doctorate in English Language from the University of Glasgow and a bachelor's degree with honors in Linguistics from the University of Washington.
"As a tenured faculty member, I feel I am actually a part of the community," Joel said. "I am going to be here and try to leave a good impression on the community."