We are the champions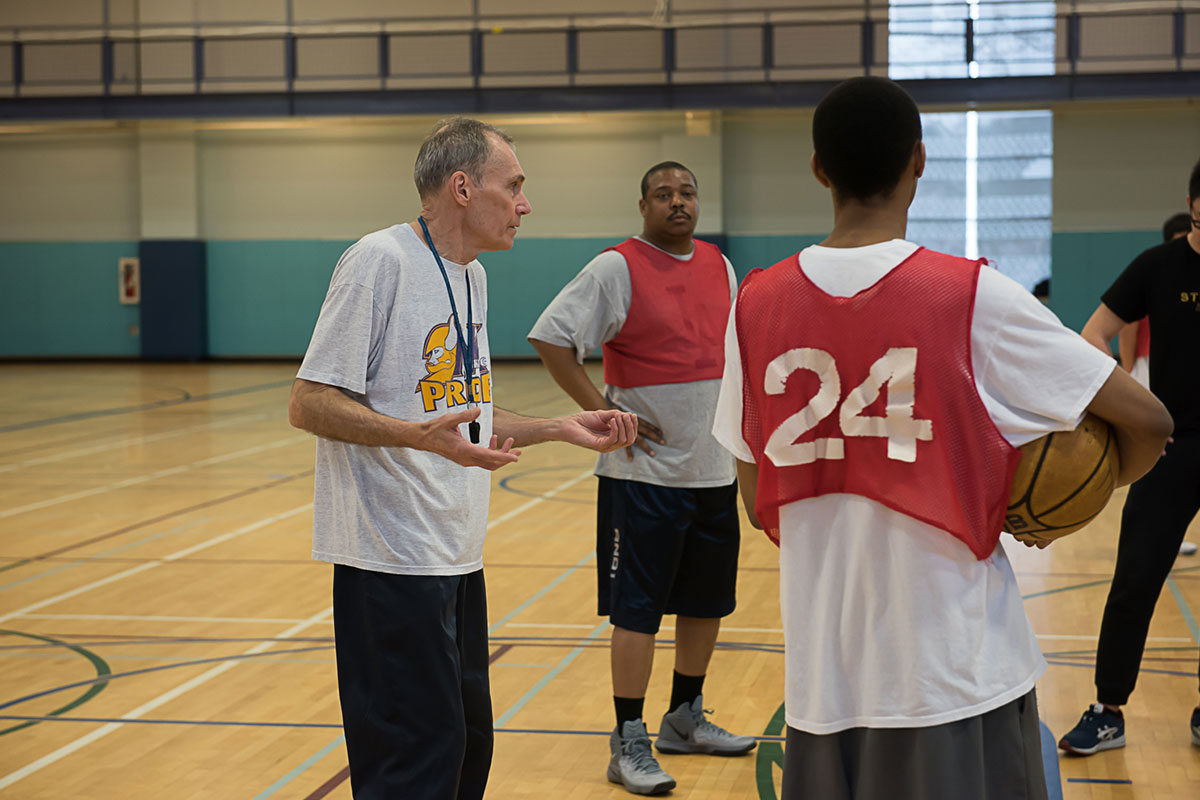 Former players remember Seattle Central's 1977 league basketball championship 40 years later.
Four decades ago, Terry Jones stepped onto Seattle Central College's campus for the first time to play for the Sea Kings, the school's basketball team. Two years later, he and his fellow student players ended their tenure as league champions. Now, on the 40th anniversary of that 1977 title, Jones and several teammates are working to share this part of the college's history with the community.
"Winning the league title was an incredible part of my growth as a player and as a person. I loved playing at Seattle Central because of my teammates. We were all close, and our talent was pretty amazing," Jones, the starting point guard and team captain, said.
A budding player
After graduating from Rainier Beach High School, Jones wanted to continue his basketball career. Although he had hoped to play for a university, Seattle Central's team provided several benefits. Because of its location, his family and high school friends could regularly watch him play. What's more, he was able to work with legendary coach Al Hairston, who, after a career in the NBA, coached at several area high schools before arriving at Seattle Central.
"It was the first time I had solid coaching. Coach Hairston really helped me improve the mental part of my game," he said.
Support despite challenges
The level of competition was definitely a step up from high school, but the facilities left the players wanting. Because there was no on-campus gym, the team practiced in the basement of a church across from the college, where several pillars punctuated the playing court, or at Meany Elementary School. The team played home games at Cleveland High School on Beacon Hill, making it difficult to draw fellow students and college employees.
The players were constantly busy with classes, homework and practice. Games were typically played twice a week, on Tuesdays and Fridays, and they used an old van to crisscross the state for road games. "We felt like the Partridge family," Jones said, a reference to the seventies-era television show that chronicled a family of musicians touring in an old school bus.
Despite these challenges, Jones vividly remembers the tremendous encouragement from the college community. "Everyone at the college was very supportive of me and the team. Even the financial aid director traveled to Walla Walla one time to watch us play in a game."
Path to a title
During the previous season, Jones's first, the team had fallen just short of the championship in the Northwest Athletic Association of Community Colleges (NWAACC), losing in the semifinals. Coming into his second year, Jones and his teammates were determined to capture the title. "We had an incredibly balanced team, and we all knew how to play," he said. "Several of our players had similar scoring averages, so we could play as a team and share the ball."
Their path to a championship started in the regular season, where they won more than 20 games while only dropping five. This put them into the league tournament, played in March of 1977 at Whitman College in Walla Walla. After squeaking by Wenatchee Valley Community College with a four-point win, they dominated Centralia in the semifinals, earning a berth in the championship game. A convincing victory against Yakima Valley gave them the title.
"I remember there was a huge celebration after the buzzer sounded. We were all so excited," Jones recalled.
Hairston, the team's coach, said, "Life didn't give these kids anything. They definitely had talent, but my job was to put it all together and point them in the right direction. This group was willing to put the team ahead of individual players," Hairston said.
Fred Harris, a point guard on the team, echoes this. "Al (Hairston) was able to get all these talented guys to blend and become one."
A well-rounded education
Jones also learned quite a bit off the court at Seattle Central. "All the teachers cared about me and my success. They knew I was trying to get to a university to play basketball. Because of the small class sizes and the personal attention I received from my instructors, I was able to get my GPA above 3.0, even though I didn't have a great GPA coming of high school."
After two years, Jones transferred to Henderson State University in Arkansas to continue his collegiate basketball career. Two NBA tryouts followed – with the Los Angeles Lakers and the Seattle SuperSonics – but he failed to make either team. This led him to join a team in Brazil, where he played professionally for six years. He has since built a successful career at Nordstrom.
Remembering the championship
After 40 years, the memories of that season are still fresh in the minds of Jones and his teammates.
"Our championship season is something I will always remember. Many of the players still keep in touch, and we are all proud of what we accomplished together. It really is one of the highlights of our lives," Jones said.
Roy Dell Smiley, a shooting guard on the team, called the experience "a brotherhood." "It definitely set me up well for my future success. Being in a winning environment, where everyone works together, had an effect on me."
Forward Terry Allen also looks back on the team fondly. "It was a great atmosphere, a great program. I really had an excellent experience."
Although Seattle Central no longer fields a basketball team, Jones and other members of the championship team attended Seattle Central's 50th Anniversary Year-End Showcase and Open House to share memories of their special season with the community.