Seattle Central Wood Technology student wins prestigious national contest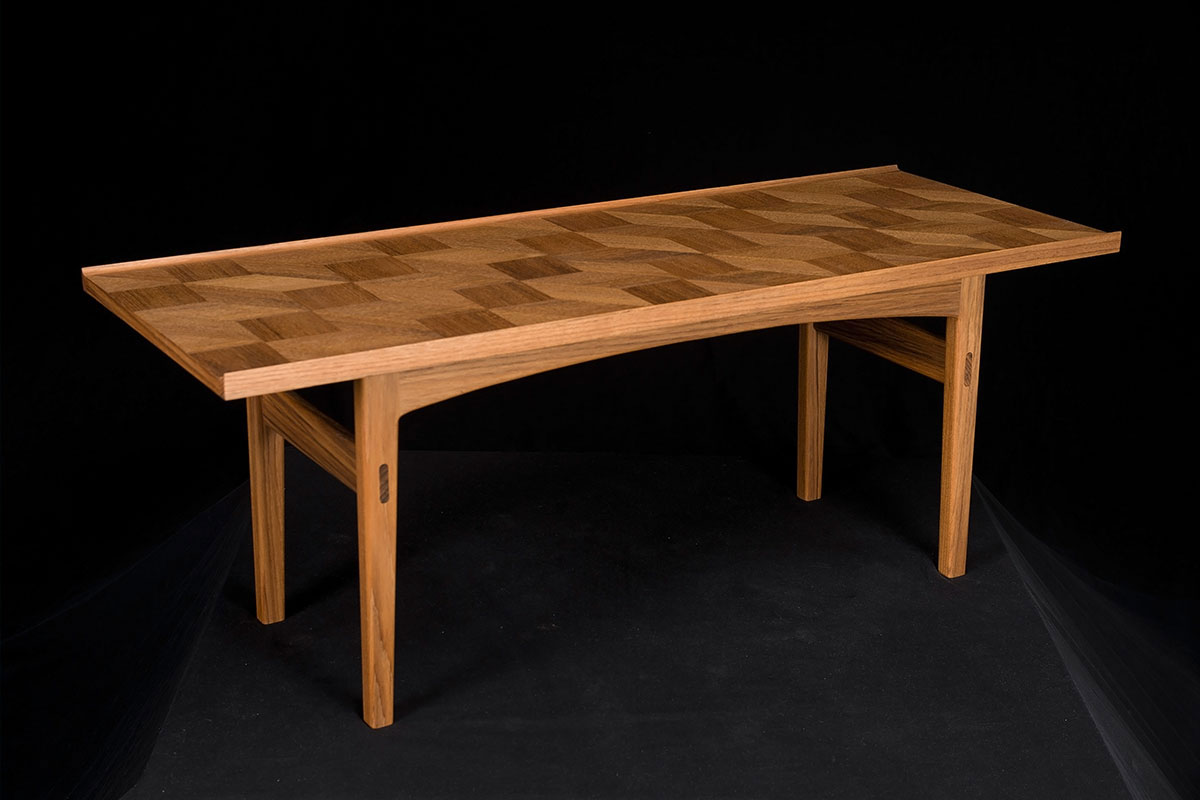 Best in Show and Best in Category wins comes with $2,000 prize
A coffee table built by Seattle Central Wood Technology student Cody Campanie won Best in Show and Best in Category at the Association of Woodworking and Furniture Supplier competition in Las Vegas this summer.
The national competition featured work from dozens of technical and trade schools in the United States. Campanie's table, a blend of Portuguese inspired geometric tile work and modern Danish form, beat out 200 other entries.
"Cody's big win is because of the pristine quality of his teak veneer work," said Wood Technology instructor Jeff Wasserman. "The table is just so clean and evocative, simple and elegant."
For Campanie, woodworking and furniture design haven't always been a career interest.
"I have a background in architecture and have always loved making things with my hands," Campanie said. "But I was disillusioned working in an office environment. There was a disconnect between ideas, execution and a realized physical object."
Campanie discovered Seattle Central's Wood Technology Center by word of mouth and decided to pursue a career change.
"I was lucky to find the Wood Technology Center," Campanie said. "With a ton of one-on-one guidance, I was making things beyond what I thought I could do within a short amount of time."
According to Wasserman, the Wood Technology Center has evolved since its start in Seattle's Central District 60 years ago.
"As the trades have progressed, so have our programs," Wasserman said. "Over the years, our faculty have introduced studio design and architectural woodworking using state-of-the-art drafting programs and tools. We are doing battle against the cultural bias that working with your hands is a bad thing."
Weeks after finishing the Wood Technology program, Campanie is using his training to design and build custom pieces in his new studio named Campagna. Wasserman said Campanie's best works are yet to come.
"His work is going in experimental directions that, in my estimation, are far cooler than the table, but weren't ready for competition," Wasserman said. "But I was like a proud dad when he won best in show."
You can view Campanie's work by visiting www.campagna.cc