Wood Technology faculty wins Instructor of the Year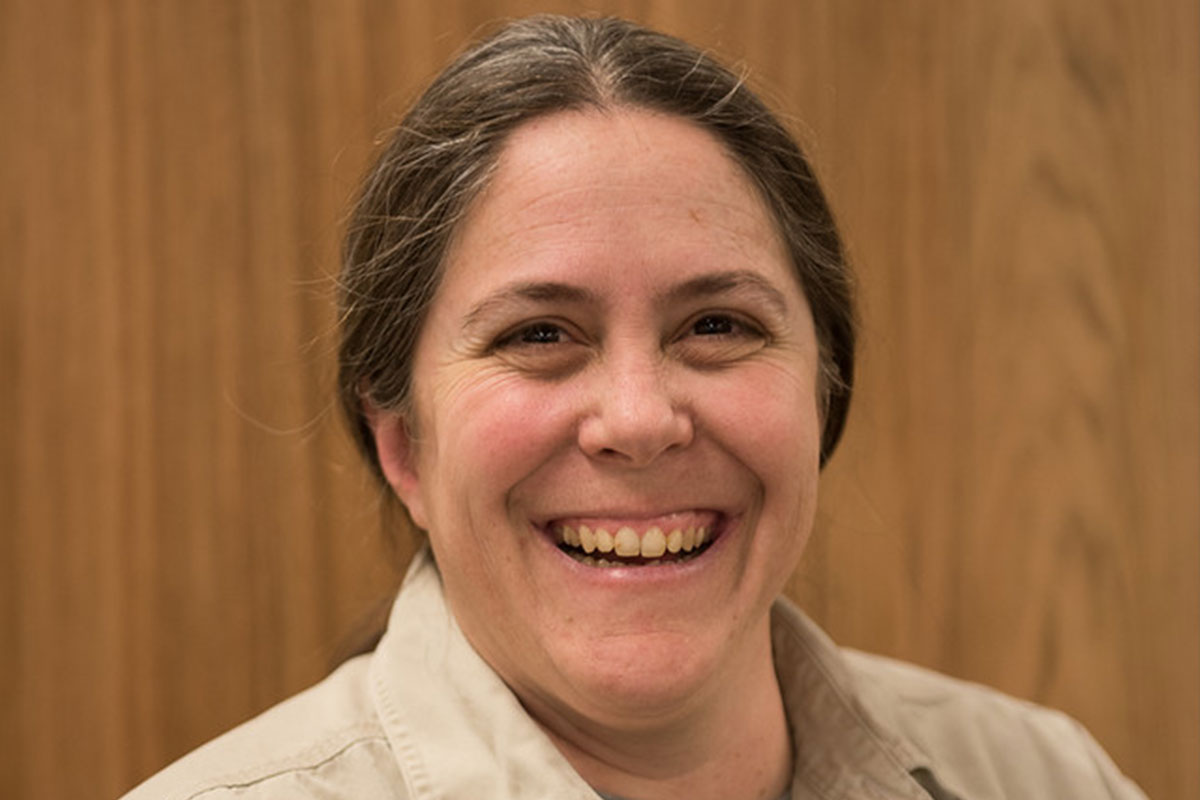 Catie Chaplan inspires new generation of women in the trades
Seattle Central Wood Technology instructor Catie Chaplan was named Instructor of the Year by Washington Women in the Trades at its annual Dream Big Gala this fall.
The competition featured nominees representing businesses and colleges from around the state who help women find work in skilled trades. Chaplan was nominated by four Wood Technology students and one faculty member.
"The thought of going into the trades as a woman is so hard already, but Catie is a really strong female character who teaches us to walk onto a job site with confidence," carpentry student Kim Retherford said. "Catie influenced my decision to come to the Wood Technology Center."
After studying philosophy and music Chaplan decided to start a career in the building trades. Chaplan has been a fixture at the Wood Technology Center for many years and has had a 25 year building career in the carpentry, cabinetmaking and boat building industries.
"I was the first woman to graduate from the Boat Building program at the Wood Technology Center in the early 90s," Chaplan said. "I've been the only female faculty since I began teaching here in the mid-90s."
Though Washington ranks highest in the nation for employing women in the trades, women only make up four percent of the state's skilled workforce. Chaplan said this demographic is quickly changing.
The boat building program is 50 percent women, cabinetry 40 percent and carpentry about 33 percent," Chaplan said. "That means more women are graduating, entering the trades and changing the industry."
In addition to advancing women in the trades, cabinetry student Patrick Tomeny nominated Chaplan for her dedication to instruction.
"She is always available, even when she's not your teacher," Tomeny said. "Because of her, I have been able to design four kitchens for clients, even as a student."
Chaplan is well-known for teaching Computer Aided Drafting and Design [CADD] and Computer Numeric Controlled Fabrication, according to cabinetry student Jennifer Cousineau.
"Catie is able to take us from beginner to skilled users of construction software, even those who aren't as computer literate," Cousineau said. "It's pretty amazing what we learn from her in 8-10 weeks."
Chaplan is also part of an effort to teach innovative "Passive House" construction at the Wood Technology Center. Passive House buildings featuring advance energy efficiency standards, use sustainable materials and require a more robust, documented certification process.
"We are teaching traditional carpentry that blends with cutting edge building techniques," Chaplan said. "Our students are exposed to the newest materials, advanced math and problem-solving skills."
Though there is often a waiting list to enroll in all programs at the Wood Technology Center, Chaplan says she hopes to be teaching for the foreseeable future.
"I am absolutely delighted and honored to receive this award," Chaplan said. "There are so many intangibles in teaching and you hope you're making a difference. My goal is to work here and advance more people in the trades until I retire."
Among her talents as a carpenter, boat builder and instructor, Tomeny believes Chaplan does not get the recognition she deserves.
"I'm pretty sure she can fly," Tomeny said. "She's pretty amazing."