Earth Week events highlights food sustainability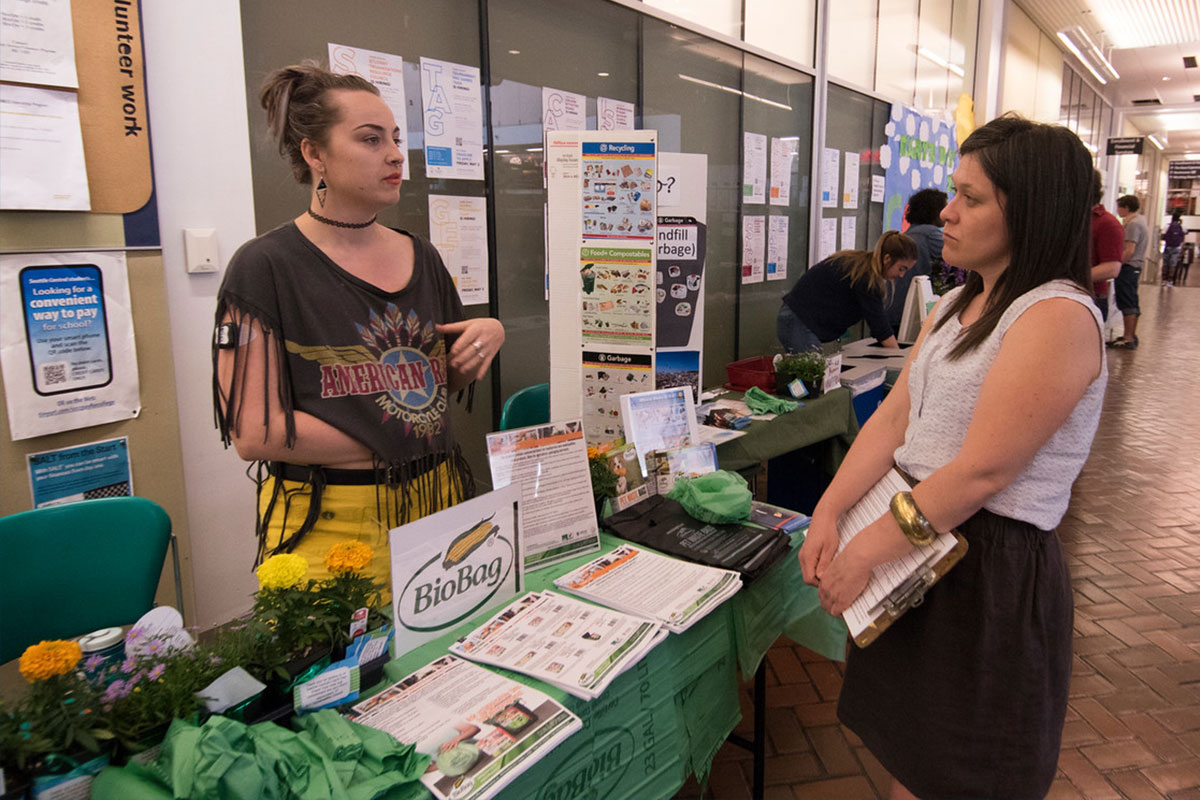 Seattle Central's Sustainability Council will host the college's annual Earth Week beginning April 17, focusing on this year's theme, "Food Justice and Resilience."
"We only have one Earth. There is no Earth 2.0 or Planet B with the resources and climate necessary for humans to thrive," Seattle College's Sustainability Coordinator Adam Maurer said. "Right now, the earth and our atmosphere is at a tipping point. If we don't act with certainty and immediacy, the Earth that we all take for granted and rely on to live will be drastically altered."
New this year is the Waste Audit on Tuesday, April 17. Volunteers will sort and weigh the college's waste and collect data.
"Going through the recycling and garbage, you get a sense of what people eat, food product packaging, and possible alternatives to reduce food packaging and garbage," Maurer added.
The series of events throughout the week builds up to the Earth Day Fair on Thursday, April 19. Various organizations focused on bringing sustainable food to the Pacific Northwest region will be on campus including Alleycat Acres, SPU Love Food, Central Co-Op and more. Prizes, giveaways and food will be provided. Earth Week attendees at any event will be entered in a raffle.
EVENT SCHEDULE:
Tuesday, April 17:
Waste Audit: Seattle Central's Sustainability Council and volunteers will sort through recycling and garbage to gather information to advance waste diversion initiatives at Seattle Central. BE South Plaza, 10 a.m. to 2 p.m.
Film Screening, "Seed: The Untold Story – Defending the Future of Food": "The film follows passionate seed-keepers protecting our 12,000 year-old food legacy. These farmers, scientists, lawyers, and indigenous people are fighting a David and Goliath battle to defend the future of our food. In a harrowing and heartening story, these heroes rekindle a lost connection to our most treasured resource and revive a culture connected to seeds." BE4106, 6 p.m.
Wednesday, April 18
Women in Food and Agriculture: Leah Litvak, manager of Capitol Hill Farmers Market and Karen Jurgensen, chef instructor for Seattle Culinary Academy will discuss how local farms/bounty are addressing food justice in Seattle and the Pacific Northwest. BE1110, noon to 1 p.m.
"Good Food, Healthy People": Arran Stark, dietary director and executive chef of Healthcare Hospital in Jefferson County and Laurie McKenzie from Organic Seed Alliance, will each share their independent work on supporting local farmers from seed to plate. One World Dining Room, 3:30 to 4:30 p.m.
Thursday, April 19
Earth Day Fair: Check out various companies, non-profits and groups that are bringing more sustainable food to Seattle and the Pacific Northwest. Organizations include Seattle Public Utilities, Central Co-Op, Northwest Harvest, Food Empowerment Project, LimeBike and more. BE Atrium, 10 a.m. to 2 p.m.
COSI, "Urban Agriculture and Social Justice": Ron Harris-White, co-founder of Black Farmers Collective and Ray William, president of Seattle Farm Co-Op. Library Room A, noon to 1 p.m.