Seattle Fire Department fights virtual vessel fires at the Maritime Academy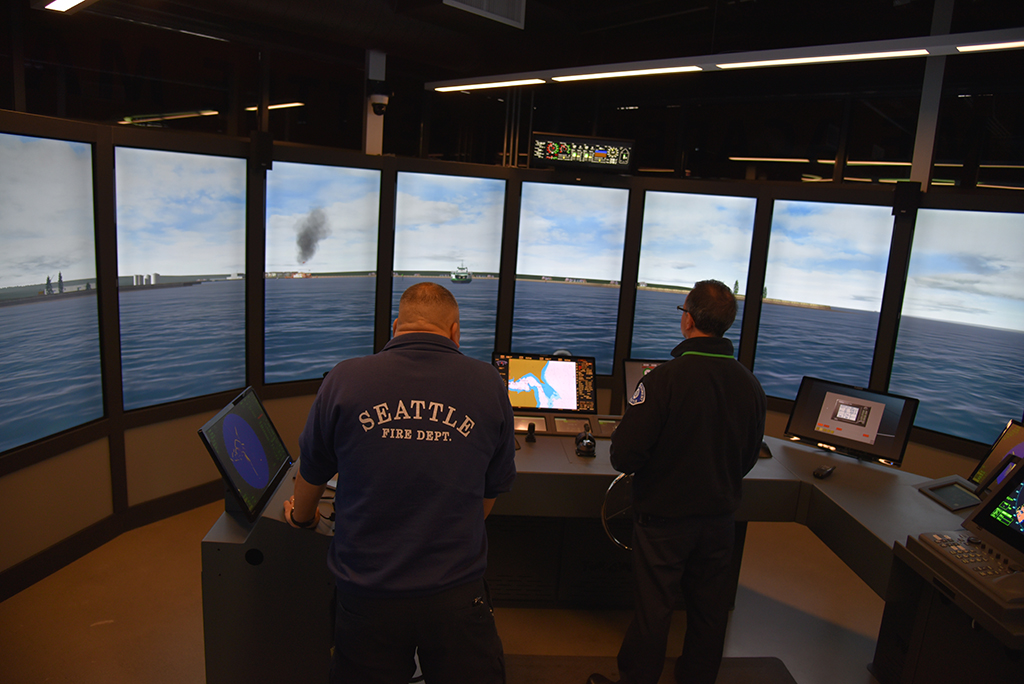 The Seattle Maritime Academy was the site of two major virtual fires on Wednesday. But no one complained about the smoke, and no one was injured in the process.
That's because both of the events were computer simulations, staged for the benefit of Seattle Fire Department fire boat pilots.
The SFD pilots practiced how to respond to vessel and maritime facility emergencies using the Seattle Maritime Academy's vessel bridge simulator. The simulator mimics a fully functional bridge facility, including controls, communications, radar and 365-degree visual displays.
The training was specifically tailored to the types of vessels and navigation routes that Seattle Fire Department fire boats are likely to encounter. The SFD staff practiced navigation and communication skills using scenarios such as a vessel fire in the Duwamish Waterway, or crossing the Puget Sound to assist with a ferry fire in Eagle Harbor in Bainbridge Island.
The simulator training is part of a general training for boat pilots and staff at SFD, so they can to respond quickly and safely to fires and other emergencies involving vessels and maritime facilities. It is an example of the kind of partnerships and services Seattle Colleges provide to local agencies and the community.
This training builds on skills such as rules of road best practices, radio communications best practices and licensing, working within Vessel Traffic Systems, bridge resource management, and radar and electronic chart display and information systems.
The Seattle Maritime Academy is a division of Seattle Central College that prepares men and women for successful careers in passenger transportation, fishing and seafood processing, international trade, military operations and other maritime sub-sectors. The academy also provides customized trainings for government agencies and businesses in the maritime industry, including the Washington State Ferries and tug boat operator Foss Maritime.
For more information about the academy, visit their website.