Yom Hashoah remembrance honors victims of the Holocaust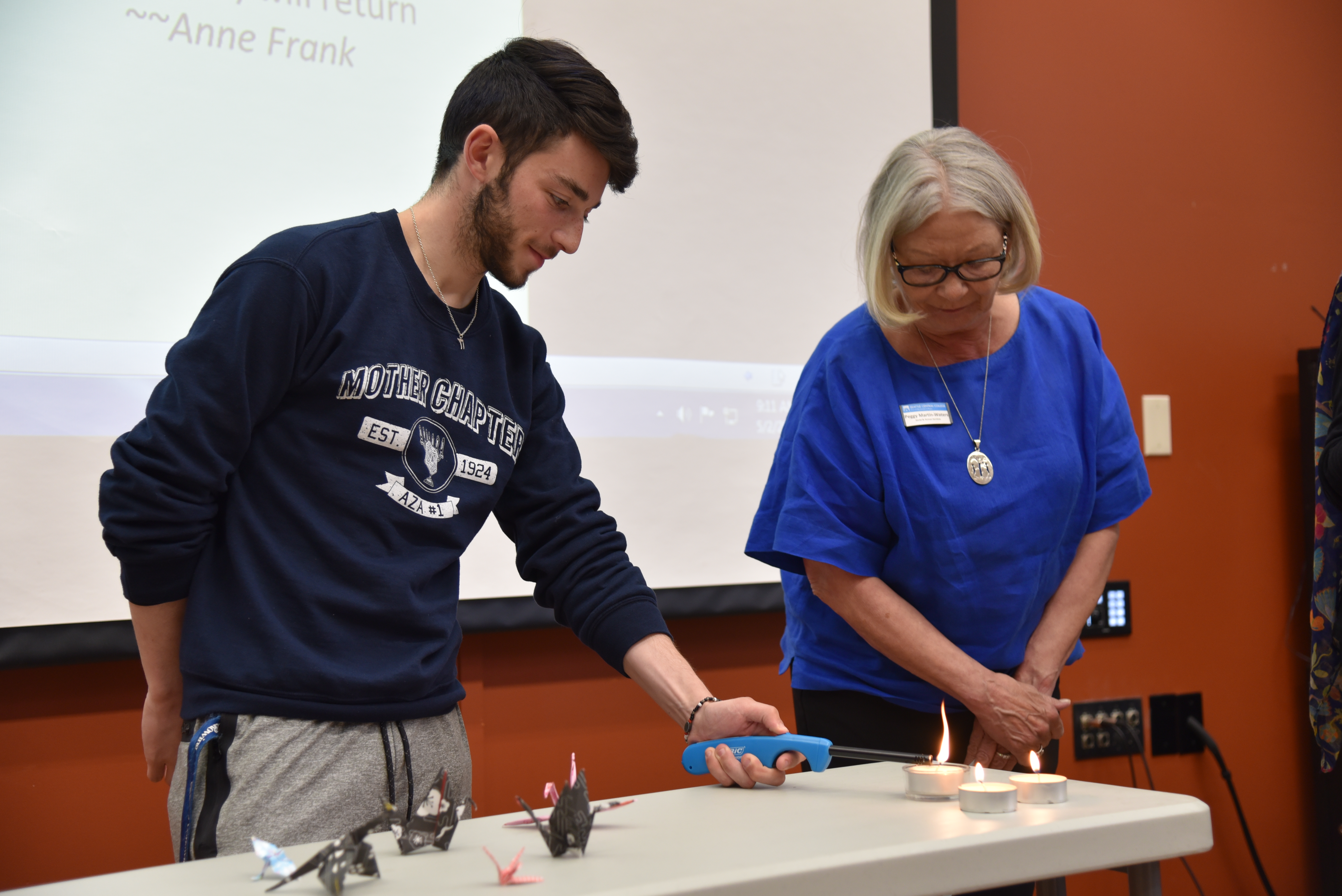 Seattle Central Students and faculty marked Yom Hashoah on May 2 with a full day of presentations, films, displays, and testimonials to remember the 6 million Jews and 5 million non-Jews who died in the Holocaust.
The event, organized and sponsored by the Seattle Office of Equity, Diversity, and Inclusion (OEDI), and the Holocaust Center for the Humanity opened with a candle lighting ceremony and a reading of the poem "Shema" by Primo Levi. The poem was recited by Dr. Ann Levine, ESL faculty from the Basic & Transitional Studies Division,  and Dr. Valerie Hunt, associate vice president of OEDI.
The remembrance included two presentations by relatives of death camp survivors, with photography and film footage of their parents and grandparents describing the persecution of their families, the horrors of Auschwitz and Buchenwald, and the slave labor factories of the Nazi regime. A special thank you to the Holocaust Center for Humanity for helping to schedule the speakers and providing key resources.
Speaker Arik Cohen, whose four grandparents in Romania and Lithuania survived the war, starvation, and the Holocaust, calculated the odds of that happening at 1 in 963,379,200 – about three times less likely than winning a Powerball drawing.
"I won the lottery ticket just by being here," he said.
Dr. Sheila Edwards Lange, president at Seattle Central, spoke briefly at the commemoration, encouraging the audience to research the history of the Holocaust, and to never forget the people whose lives were destroyed by it.
"Remembering is an act of resistance," she said.
Hillary Bernstein of the Anti-Defamation League gave an insightful presentation on how to identify and respond to prejudice and anti-semitism. She pointed out that hatred and prejudice works on a continuum, starting with jokes and scapegoating, and ending in violence and genocide.
Jack Schaloum, whose mother survived internment in Auschwitz, urged the audience to never be passive in the presence of hate.
"If there's one thing you should take away from this, it is that if you see evil, confront it," he said.
Faculty members Nate Weston, Leonard Rifas, Nada Oakley, Tracy Lai and Ann Levine rounded out the day with afternoon sessions.
Yom Hashoah is a national memorial day and a public holiday in Israel. Because the Jewish calendar follows the lunar cycle, Yom Hashoah falls on a different date each year. This year the holiday began at sundown on May 1.