Somali war survivor works to fulfill childhood promise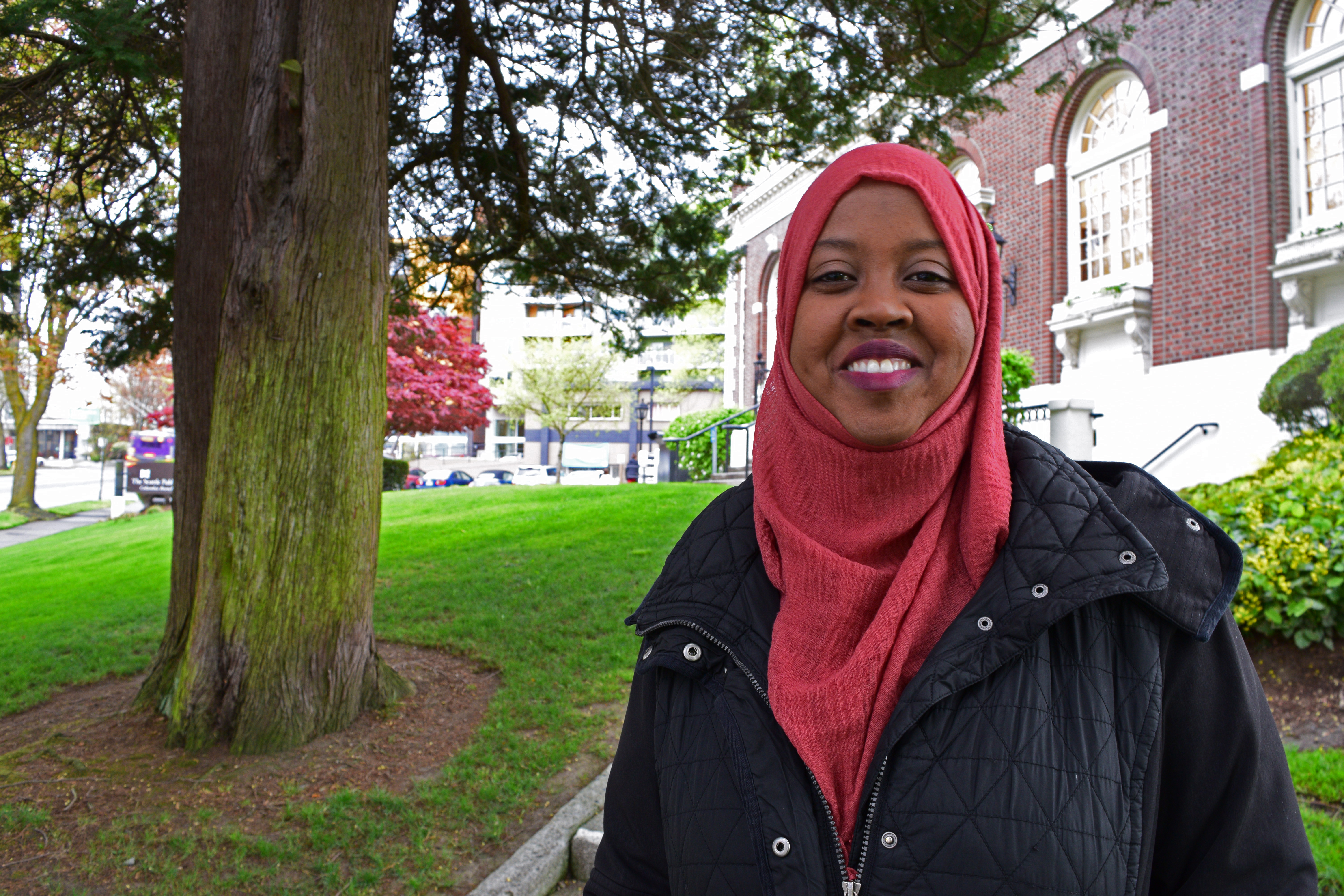 Fadumo Daud can trace her pursuit of a medical career to a moment when she was 8 years old, lying on a hospital table, waiting for someone to treat the shredded remains of her leg. 
This was at the beginning of the 1991 Somali civil war. Fadumo and her younger sister Faiza had been foraging for water in the outskirts of Mogadishu, when they heard a shell flying towards them. They ran for shelter in a house nearby, but the shell hit the building square on, sending heat and shrapnel in every direction. 
Faiza and several others died in the blast. Fadumo was wounded – her left leg was shattered, and barely recognizable. 
Somehow Fadumo ended up in a local hospital, where they had no power, no pain killers, and no doctors. Her mother found her there, trying her best to soothe her while grieving the loss of Faiza. Fadumo cried the prayer of a child in fear. 
"I prayed, O God, save my life, if you save me today I will make sure that I help your needy ones," Fadumo remembers. 
The hospital managed to find and summon a doctor off site. The best he could do was to amputate her leg, without anesthesia. But Fadumo survived. 
Today, Fadumo is living up to the promise she made nearly 30 years ago. 
She lives in Seattle, is married and has three boys of her own. She is about to graduate from Seattle Central College with Bachelor of Applied Science (BAS) in Allied Health focusing on respiratory care. She plans further education in the medical field, so that she can help people who are suffering and see them go on to live full lives, like she has. 
Her life since leaving Somalia has been a study in strength and a sense of purpose. 
Take for example her experience arriving in Tukwila, after spending several years waiting for a visa at a refugee camp in Kenya. One of their first stops was at Harborview Medical Center, where the family underwent medical exams.
A medical team there took a closer look at her amputated leg, finding that her healed wound was infected. They recommended another cut higher up the leg to prevent the infection from spreading. 
"I thought it would be the same as what I had back home. I refused. I said 'Mom I'm not going back, no way that I'm going to have surgery and have needles going through my body'," Fadumo said. 
A nurse at Harborview managed to change her mind. Through a translator, she asked Fadumo if she could speak with her. As soon as the nurse approached her bed, Fadumo could tell that something was different about her walk. She too was missing a leg, and was wearing a prosthetic. 
Then she took off her leg, and asked Fadumo if she would like to have something like it. Fadumo's eyes were drawn to the foot of the prosthetic, which was wearing a sandal.
"Coming from a hot climate. I was excited to see a sandal. I said, 'I can wear something like this?' She said 'yes, we'll give you a leg, your leg will be amputated and you'll have a bright future'," Fadumo recalled. "She changed my life. Without her intervention, I probably would have been dead from infection." 
"That's what made me want to save people's lives. To touch them in the way that she touched me," she said. 
After that point, Fadumo's life progressed in the same path as most new immigrants to the United States – learning the language, negotiating the new cultural landscape, balancing the need to fit in with the desire to retain her identity. 
Education was a key part of that process. Fadumo, with the help of her siblings, struggled with English and the dynamics of American schools. She worked hard, and graduated from Garfield High School in 2000. 
She signed up for classes at Seattle Central College at that time, but the commute and the difficulties negotiating parking in Capitol Hill forced her to look for something closer to home at another college. Still, she knew that Seattle Central was the kind of school she wanted to attend, and eventually returned to the college in 2017. 
"To me, Seattle Central College was like home. Walking down the hall, I can see other people who look like me," she said. 
The final element pointing Fadumo to her chosen field of medical care was the cancer diagnosis and death of her mother in law. Fadumo handled the bulk of her care, and noticed especially how difficult it was for her to breathe. She became fascinated by the equipment and the techniques that eased that struggle, allowing her mother in law to pass more peacefully. 
"Since then, I decided that's what I wanted to do, to help people breathe," Fadumo said. She chose to pursue the respiratory care BAS program. 
Now that Fadumo has reached the end of her schooling at Seattle Central College, she's ready for the next challenge. She would like to attend a university, earn a master's degree, and eventually work in a hospital. 
First she is focusing more of her time on her husband Ahmed and especially their three sons, Abdullah, Abdulrahman, and Mubashir. She's has started sharing her story and her memories with them, so that they can be aware of their roots, and understand the terrible cost of war. 
In the long run, she hopes to return to Somalia and to eventually speak to parliament to share her experiences, in the hopes that it can help prevent future wars and pain. 
"War does not fix anything. It just destroys a nation," she said.