The Seattle Central Griot –  Sept. 25, 2019
A message from President Sheila Edwards Lange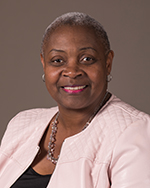 Good morning and welcome to the first issue of our new employee newsletter.
This publication will run every other week, and will include a few news items, events, and reminders of upcoming deadlines and other useful information.
You will be able to see past issues in the Employees section of our website
We are hoping that this will be a two-way street, and that you will send us your news, kudos for work well done, and other information that lets us know what's going on in your classrooms, departments, and areas of work. To contribute, send us an email or call 206.934.5487.
If we do this right, this publication could help us to stay in touch, to reward good work, and to fuel the innovation and creativity we will need to effect change and to better serve all of our students.
Thanks for reading, and have a great 2019-20 school year!
Sheila
---
News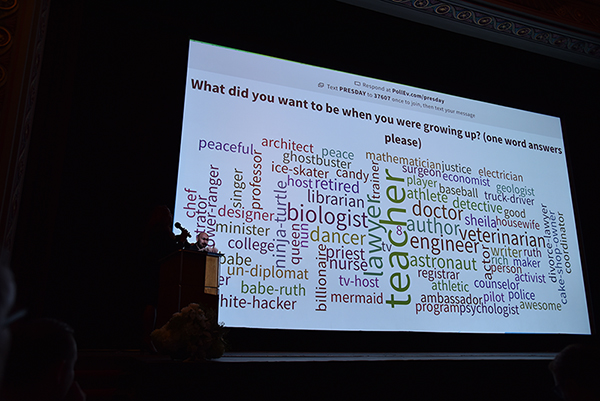 President's Day lights the path to student success

Seattle Central College staff, faculty and students gathered on Sept. 19 at the Egyptian Theater for a preview of the initiatives and work ahead of us in 2019-20, as part of the President's Day celebration.
The audience got updates from student leadership about their plans to revive the Broadway High School mascot, the Bengal tiger, as the new mascot for Seattle Central. Union leaders from WSFE Local 304 and Seattle Central AFT also spoke about pay increases and the new contract for faculty.
President Sheila Edwards Lange spoke about some of the ongoing initiatives happening at the college this year. These included our adoption of the Guided Pathways approach, security and safety improvements, the expansion of the Seattle Promise scholarship, and new partnerships for innovative new programs.
She stressed that all our work as a college will center on equity and social justice, and on eliminating the systems and barriers that keep education and access to good jobs away from many in our community.
"My vision is to become the national model of how we do this right," Dr. Edwards Lange said. "That we become the college that figured out how to close this gap."
The college also recognized Gregg Shiosaki and Catie Chaplan with the Excellence in Teaching Award.
The meeting at the Egyptian Theater was followed with several guided discussions across campus, where faculty and staff shared ways to help students find their path to a successful education and to build community.
---
Get ready for change - key card system is coming to campus
This winter, Seattle Central College will be installing a new key card door lock system to secure the Broadway campus entrances, as part of a larger effort to make our campus safer and to improve our emergency response system.
In the next few months, all students, faculty and staff will be issued an identification card that will serve as their student ID and as the key card to unlock the exterior doors.
Once everyone has cards and the system is up and running, the college will lock the exterior doors during building hours on Harvard Avenue, the North and South entry doors, Student Leadership office (above the bookstore on Broadway) and the Science and Math building. The Broadway Avenue doors near the Buzz Café will remain unlocked during campus building hours to allow for continued public access.
Please look for future updates via email and on the college website regarding how and when to pick up your card.
---
Parking garage gets 24-hour security
If you see a new set of guards at the Harvard Street parking garage, don't be alarmed. Seattle Central College has just contracted with a security firm to patrol our parking garage after hours and on the weekends. This means the garage will now have security coverage 24 hours a day, seven days a week.
---
Learn more about Seattle Pathways
If you are not clear yet on what Seattle Pathways is, or what your role in the process will be, you might want to check out this presentation by the Seattle Pathways Steering Committee. The presentation was part of a President's Day workshop on the initiative.
---
"On My Head. In My Heart" exhibit opens this week
The M. Rosetta Hunter Art Gallery will showcase the work of Seattle-based artist Jean Bradbury this month. Bradbury's "On My Head. In My Heart" is part of an ongoing exploration of clothing as a language that expresses the apparently opposing values of tradition and individuality. This installation of enlarged painted portraits presents Seattle locals wearing garments of importance to them on their heads and incorporates interviews with the portrait subjects.
The exhibit runs from Sept. 24 to Oct. 18. The artist will hold an opening reception at the gallery this Wednesday, Sept. 25 between 5 and 7 p.m. Admission is free.
---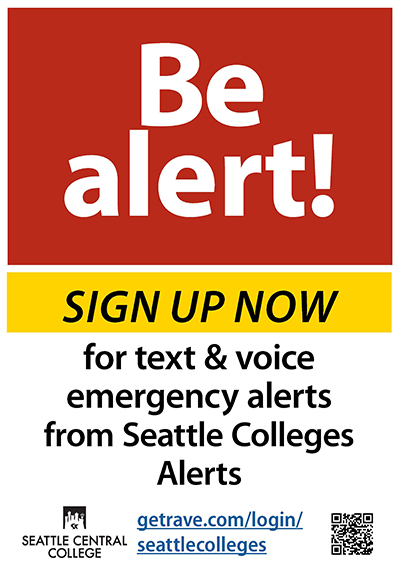 Be ready for emergencies
We care about your safety when you are on campus. The best way we can do that is by keeping you informed about any emergencies affecting of our facilities.
But to do that, we need your help.  Seattle Colleges relies on the Seattle Colleges Alerts system operated by RAVE Mobile Safety to send out emergency text, voice, and email messages. The system only works well when it has accurate contact information.
If you haven't signed up for the Seattle Colleges RAVE alerts, please register.
Even if you have an account, please take the time to check it now to ensure that your information is up to date.
The information you provide is kept private and can only be used to notify you about emergencies such as fires, power outages, dangerous weather, or other unsafe conditions.
Also, please visit this site for more information about how to handle potentially dangerous situations.