International student follows path to a medical research career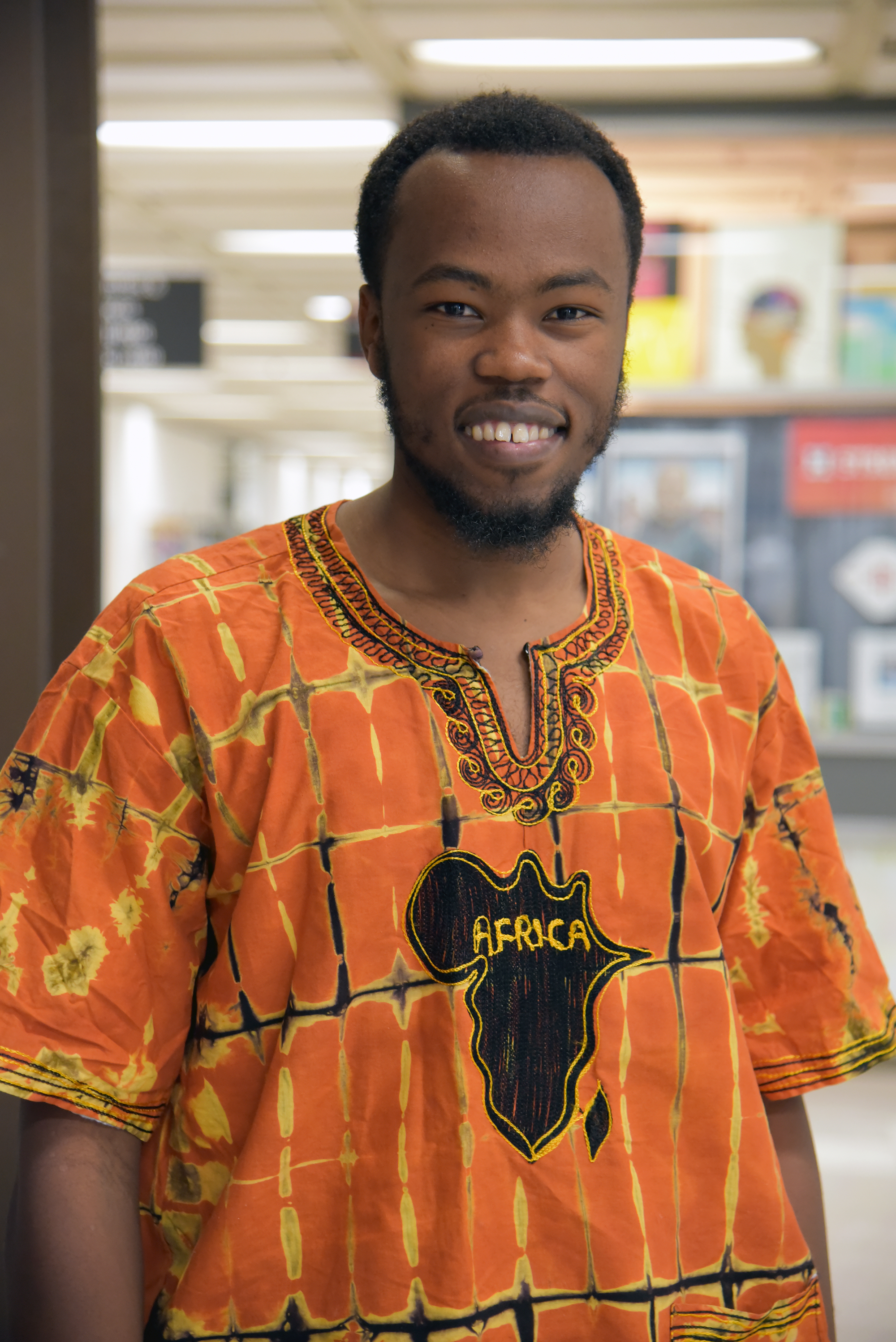 When Emery Rwigamba first arrived in Seattle from his home in Rwanda, he struggled just to get on the right bus to take him from Federal Way to his classes at Seattle Central College.
Just two years later, Emery has found his way to the world-renowned Fred Hutchison Cancer Research center, where he recently presented findings on blood sample testing at a research symposium.
"It was a challenge," Emery said. "I still can't imagine how I made it through, coming here from Africa, with no family.
Emery is on the second year of his associate degree at Seattle Central College, studying microbiology. He plans to transfer to a four-year school when he is done, and to eventually enter medical school. He described the last two years at Seattle Central College as life changing, with the last year in particular being worthy of a book.
Emery didn't know anything about Seattle just a few years back, when he first decided that he wanted to study abroad. But education was valued in his household, and his parents made sure he studied hard and succeeded in high school.
Emery applied to different schools in the United States. Seattle Central College was the only school that accepted him, so sight unseen, he made plans to move to Washington state.
The transition was hard. He found housing in the city to be more expensive than expected, so he settled 30 miles away, in Federal Way. Getting to his first day of classes became a journey.
"I asked different bus drivers . . . but I didn't know any street names," Emery recalled. "So I started asking people how to get on a bus, and where to connect to the train to get to Seattle Central."
"Sometimes you need to go through hardships to get to where you want to go," he said.
His first year was not a success. He didn't do very well in his classes, and struggled to navigate the cultural differences. He was denied a scholarship, and was turned down for a job in student leadership. Making friends was also taking much longer than he expected.
"I said to myself, this is so bad, something is not working," Emery remembered. "I have to change the way I study."
So he got more serious about his studies, and started to invite classmates to study together. It worked – he started to do better in class, making friends in the process.
He also invested in himself, taking a job at the Mitchell Activity Center, and exercising more regularly.
In the winter of 2019 he started taking math and science classes. Chemistry and biology turned out to be very interesting to him, especially because he got to know the professors, Doctors Douglas Wick and Mark Ainsworth. He also connected with more classmates.
One day, walking the halls of the Science and Math building, he spotted a poster for the Pathways Undergraduate Researchers internship at the Fred Hutchison Cancer Research Center. He took a photo of the announcement, and showed it to one of his professors, who said he should apply.
Emery was invited for an interview. It took place on the same day as biology exam.
"I didn't sleep the night before. But I nailed the exam," he said. "And I got the internship, right on the spot. That was mind blowing. I didn't know it could happen to me."
He was one of 300 applicants for 30 positions.
Emery spent the summer working as a student lab researcher, processing blood samples from patients with chronic myeloid leukemia.
"That was the best summer of my life," he said. "The research I did led me to love science, and made me work harder."
The feather in that cap came after the internship was over. The research findings were so significant that he was invited by the Hutch to share the results in a symposium with PhD graduates. He wasn't sure he could speak in front of an audience of doctors and research professionals. In the end, the time went quickly and he received lots of kudos for his work.
As he starts into the next year of the program, Emery's life is very different from the year before. He is doing great in his classes. He's navigating the cultural differences with ease. He received a scholarship. He has great friends.
He even approached Associate Dean of the Science, Technology, Engineering, Math and Business (STEM-B) division, Dr. Chelsia Berry about mentoring him. She agreed.
Emery plans to apply for medical school, or to become a researcher if that doesn't pan out.
And now he's making sure he pays his good fortune forward, planning to start a pre-professional health sciences club so that he can counsel others students about a science pathway.
"I went from failure, to not knowing how to catch a bus, to giving a talk at Fred Hutch," he said. "I want to make sure they get help from the experiences I've had."