Seattle Central Boat Building and Repair program offers path to a new career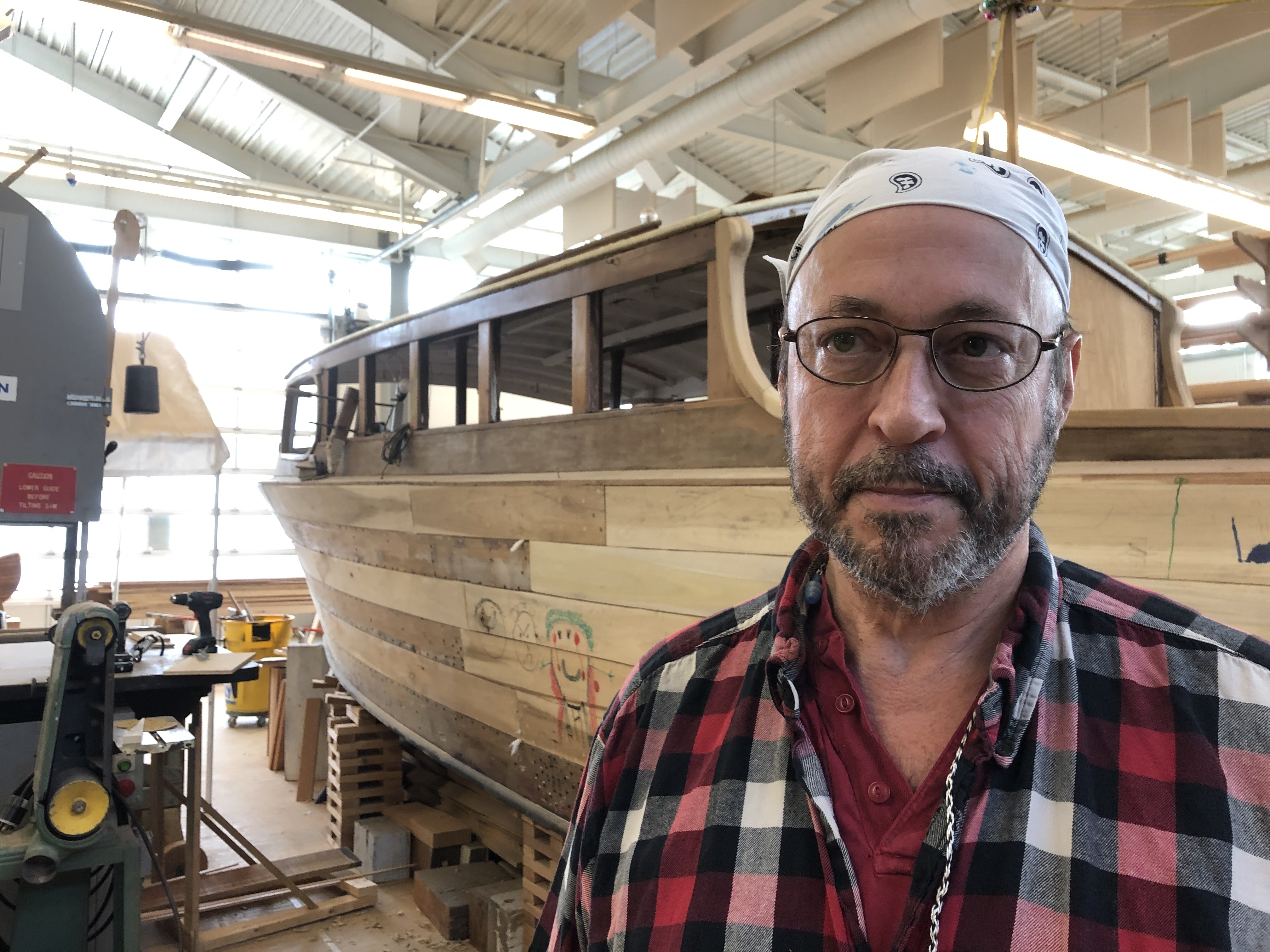 Chef Luke Rinaman travelled the world over, setting up and running luxury restaurants and cooking for private clients such as golfer Tiger Woods. But after four decades of success in the culinary world, he was ready for a challenge.
These days you will find him handling planes, sanding wood, and finishing a stand-up paddle board at Seattle Central College's Wood Technology Center, where he is enrolled in the Boat Building and Repair program.
"I wanted to work with my hands," Rinaman said. "A good friend of mine had been in the program, and he could not stop talking about it. Two weeks later, I was in the program and I loved it."
"This school is great, and the facility is incredible," said Rinaman. "You learn all the traditional techniques, and also get to work with all the newest tools."
The Boat Building and Repair program is one of four specialized carpentry programs offered by Seattle Central College. Classes are held at the state-of-the-art Wood Technology Center, a renovated facility in the Central District that opened in 2013.  Students in the program can earn an Associate of Applied Science (AAS) Degree in Boat Building and Repair.
The program started in 1917 under the management of Seattle Public Schools. It was based out of the historic Broadway High School and later the Edison Vocational School. The program was turned over to Seattle Central College in 1966, and has been an integral part of the carpentry programs since.
The program incorporates boatbuilding and repair techniques, along with a basic overview of marine mechanical systems (outboard motors, gas and diesel engines, pumps and plumbing, shafts, struts and packing  material).  Students also learn pattern making, hand lay-up and fit out and repair of fiberglass boats, interior joinery, and basic DC electrical systems.
Before they get there, students must also master hand tools, power tools, fasteners, and tool safety. It is a powerful combination that can prepare them to enter into most types of carpentry work.
"Basically anybody who wants a job in the maritime trades will probably get one. There is a real demand for folks with these skills," said Sam Laher, Boatbuilding and Repair instructor. 
"The skills my students learn are very transferable, some go on to do high-end residential and commercial carpentry. Basically anywhere wood needs to be bent or sawn in curves, my students tend to excel," Laher said. 
"If you can work on a boat, you can work on anything," said Robert Watt, associate dean of the Wood Technology Center.
It's hard to define the type of student who is attracted to the program. Some, like Rinaman, have pursued other professions over a lifetime and take the program to expand their experiences. Others come straight out of high school, or are looking for a different path after working in service jobs. Many are veterans looking for civilian work opportunities.
As with all programs at Seattle Central, students have wide access to financial aid, loans, and private scholarships, such as scholarships supported by the Antique & Classic Boat Society. Seattle Central college also offers specialized support for first generation college students, veterans, students with disabilities, and students living with a criminal history.
For more information, visit
https://woodtech.seattlecentral.edu/programs/boat-building-and-repair
.