Seattle Central College president wins CEO of the Year Award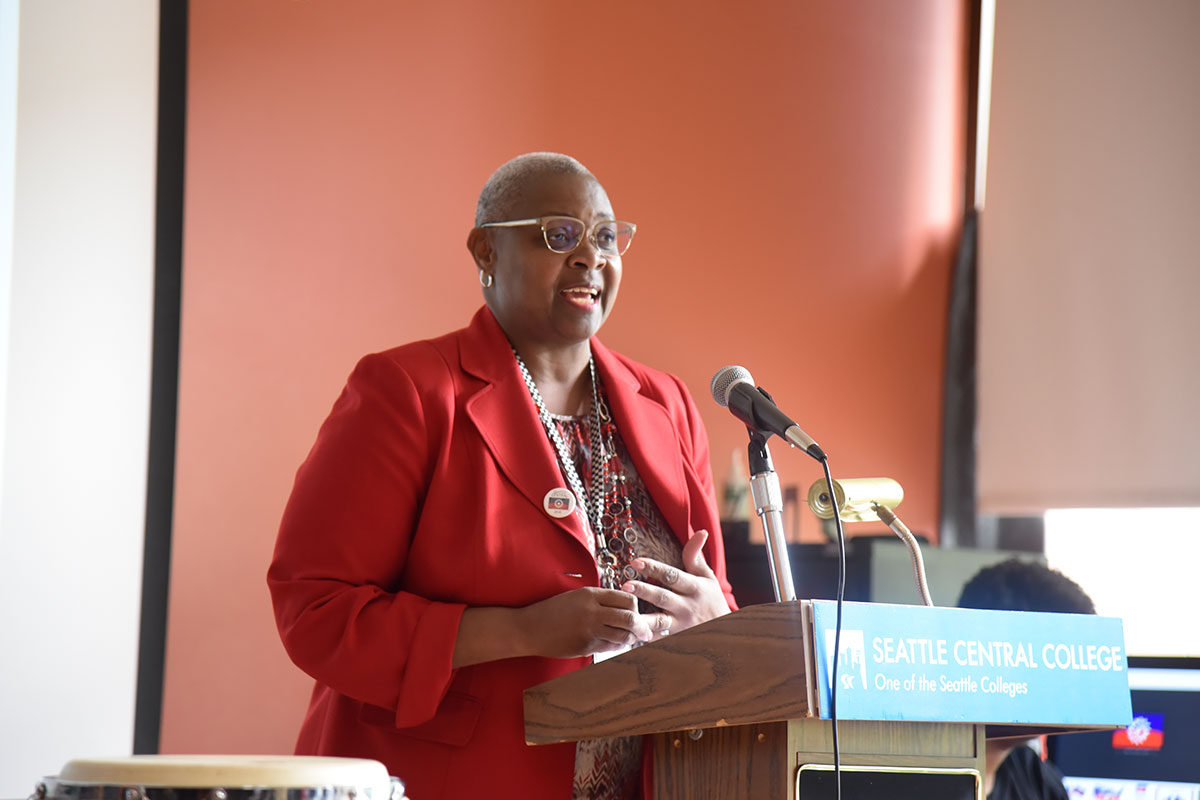 Dr. Sheila Edwards Lange, president of Seattle Central College, has been recognized as the 2020 Chief Executive Officer of the Year by the Washington State Association of College Trustees (ACT) for her transformational leadership, commitment to equity, and development of partnerships that bridge the opportunity gap for all students.
"She is innovative, collaborative, and a true change-maker within Seattle Central College and our entire community," said Seattle Mayor Jenny Durkan, in a letter of support for the award. "The Seattle Colleges are fortunate to have a visionary leader who leads with diversity."
The ACT Chief Executive Officer Award recognizes an individual who has demonstrated exceptional leadership in furthering the mission of community and technical colleges.
Dr. Edwards Lange first joined Seattle Central College in 2015 as interim president, and was named to the permanent position in May of 2016. Before that she served as vice president for Minority Affairs and vice provost for Diversity at the University of Washington.
Dr. Edwards Lange has a PhD in educational leadership and policy studies and a Master of Public Administration from UW, and a bachelor's degree in social ecology from the University of California, Irvine.
In her time at Seattle Central, Dr. Edwards Lange has been a vocal advocate for equity and for creating more opportunities for students. She has led the college's efforts to build partnerships with local industry, government, and organizations to address community needs and help to bridge the opportunity gaps in our city and state.
Some of these initiatives include: 
The Seattle Promise, a partnership with the Seattle Colleges, the City of Seattle and Seattle Public Schools (SPS), which aims to increase enrollment of graduating high school seniors in college. Through the Promise, SPS graduates are guaranteed a tuition-free education and wrap around support at any Seattle community college.
The Academy for Rising Educators. Launched in 2019, this program aims to diversify the teacher workforce in Seattle Public Schools. The program offers an associate of arts degree with a focus on education and social justice. Graduates of the program then transfer into teaching programs at Seattle University and City University and are guaranteed a position at the Seattle Public Schools.
The Year Up program at Seattle Central. This one-year, intensive training program provides talented and motivated, yet underserved young adults, ages 18-24, with a combination of hands-on skills development, coursework eligible for college credit, corporate internships, and wraparound support. Year Up Puget Sound was also selected as the Partner of the Year by the ACT.
"Under her leadership, Seattle Central and our entire Seattle Colleges systems has made drastic improvements in our academic programming, community partnerships, diversity and equity, and institutional infrastructure," said Seattle Colleges Board of Trustees Chair Steven Hill. "She has transformed our institution and we are fortunate to have her as a leader within the Seattle Colleges. 
Dr. Edwards Lange and the other award recipients will be recognized for their achievements at the ACT awards dinner on Thursday, Nov. 12, at the Seattle Hilton Hotel and Convention Center in SeaTac.