Students set up aid station for protesters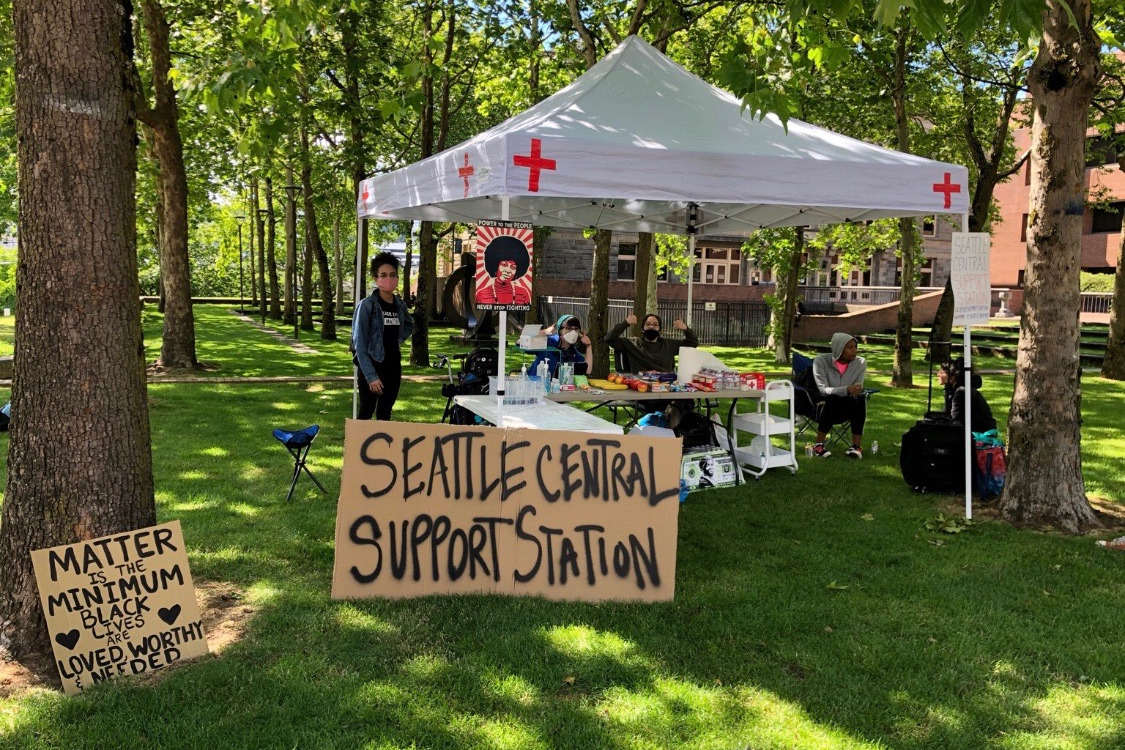 Student leaders at Seattle Central College Associated Student Council are offering a helping hand – and some water and first aid supplies – to the people protesting police brutality towards Black people.
The aid station was set up on June 7 at the south plaza of the Seattle Central College Broadway campus, on the marching route of protesters. It offers activists water, snacks, basic first aid supplies, and protective personal equipment.
The station is funded through donations – no college or ASC funds are involved – and staffed by volunteers.
"We have raised $4,000 in three days," said ASC member Michael Harris. "We are evaluating our spending and will most likely increase our goal to $6,000. We hope that we can keep the traction going for this effort."
The idea for the station came out of a student petition asking Seattle Central College to offer more support to the students, faculty, and staff at Seattle Central College who have marched since the killing of George Floyd in Minnesota. Student leaders met with the student organizing the petition, Jade Linton, to see what the ASC could offer.
"In our first meeting he brought up the idea of creating an aid station at SCC south plaza," said Camila Christensen, a member of the ASC. Christensen and Harris then approached Seattle Central College President Sheila Edwards Lange, who gave them permission to use the location in the south plaza for an aid station.
Dr. Edwards Lange also worked with the Broadway Improvement Association to set up portable bathrooms near the Mitchell Activity Center for marchers to use.
Volunteers running the station include Jade Linton and Alexa Villatoro, a student and writer for the Seattle Collegian student newspaper.  Linton and Villatoro set up and take down the station every day and lead the work on the ground, while also doing their homework and finishing this quarter.
The aid station is offering services from 2 p.m. to 12 a.m.
You can follow their progress on social media on Instagram @sccSupportStation and Twitter @SeattleStation.
If you would like to volunteer your time, follow this link https://tinyurl.com/support-station.
To offer funding support, go to https://gf.me/u/x7hnmd.