Facility upgrades and procedures help prevent spread of COVID-19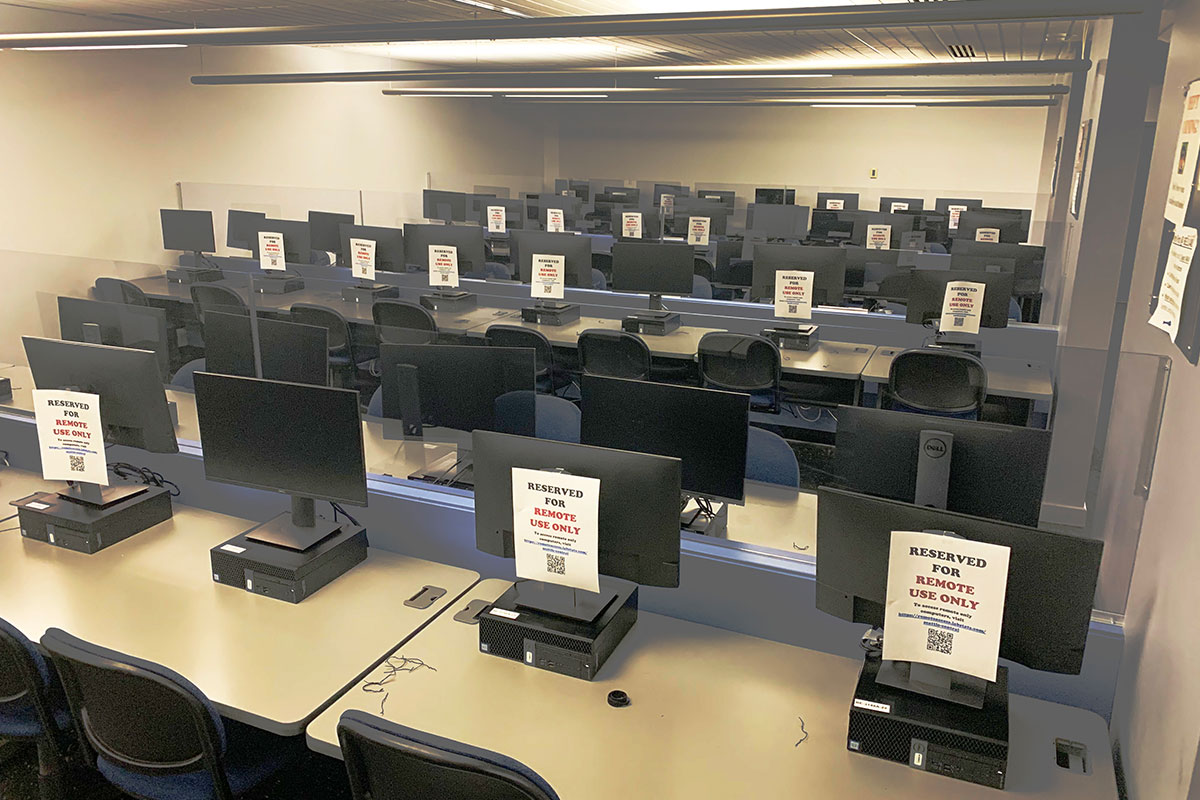 Operating and maintaining Seattle Central College's buildings and facilities is a challenge during the best of times. But since March, managers and staff also have had to deal with the risk of a contagious and potentially lethal virus on campus.  
The result has been an intentional and meticulous effort to upgrade equipment, apply cleaning and maintenance protocols, install barriers, and purchase new disinfection gear to make our buildings safer. 
"This is a very big step for us," said David Ernevad, director of facilities and plant operations.  
Ernevad said the most significant work so far involves upgrading the filters in the heating and ventilation systems (HVAC) and modifying how we economize indoor return air to eliminate virus-sized particles. In older parts of our buildings with older HVAC systems, staff adjusted the equipment to vent out used air and bring in fresh air from the outside, to minimize strain on the systems.  
Along with these indoor air quality control measures, they are monitoring water quality closely, measuring chlorine and testing for legionella bacteria. Water is being flushed at each building on a weekly basis, to keep it fresh and sanitary and make sure drain systems function correctly.

Our custodial staff are cleaning all high-touch surface areas more frequently and cleaning and disinfecting bathrooms and areas that have been visited during remote operations. The college is also providing disinfectant wipes and cleaning equipment to faculty and staff working in our in-person services and classes in our buildings.

Seattle Central College purchased an electrostatic sprayer system to quickly disinfect open public areas in our buildings, such as computer labs. 
"In combining this hospital-level disinfection process with our infection control plan cleaning practices, we're working to exceed requirements to manage fomite transmission of the virus," Ernevad said. 
Staff have installed clear plastic barriers in counters and other areas where people work closely with each other, to halt the spray of suspended droplets from someone's mouth or nose.  
Some of the changes have been more low tech. All custodial staff are using personal protection gear during their jobs. Bathrooms that are still open have taped sinks and stalls to add social distance. Many parts of the building have been taped off to prevent people from wandering from their assigned work or study areas.  
These changes, along with our move to remote operations, have prevented more cases of COVID-19 on campus, with only two reported presumed positive cases since the pandemic started in March.
"I think that's a testament to the fact that we've worked pretty quickly and successfully to minimize the spread amongst our students and staff," said Lincoln Ferris, interim vice president of administrative services.