Fellas Friday equips Black male students to fight against systemic oppression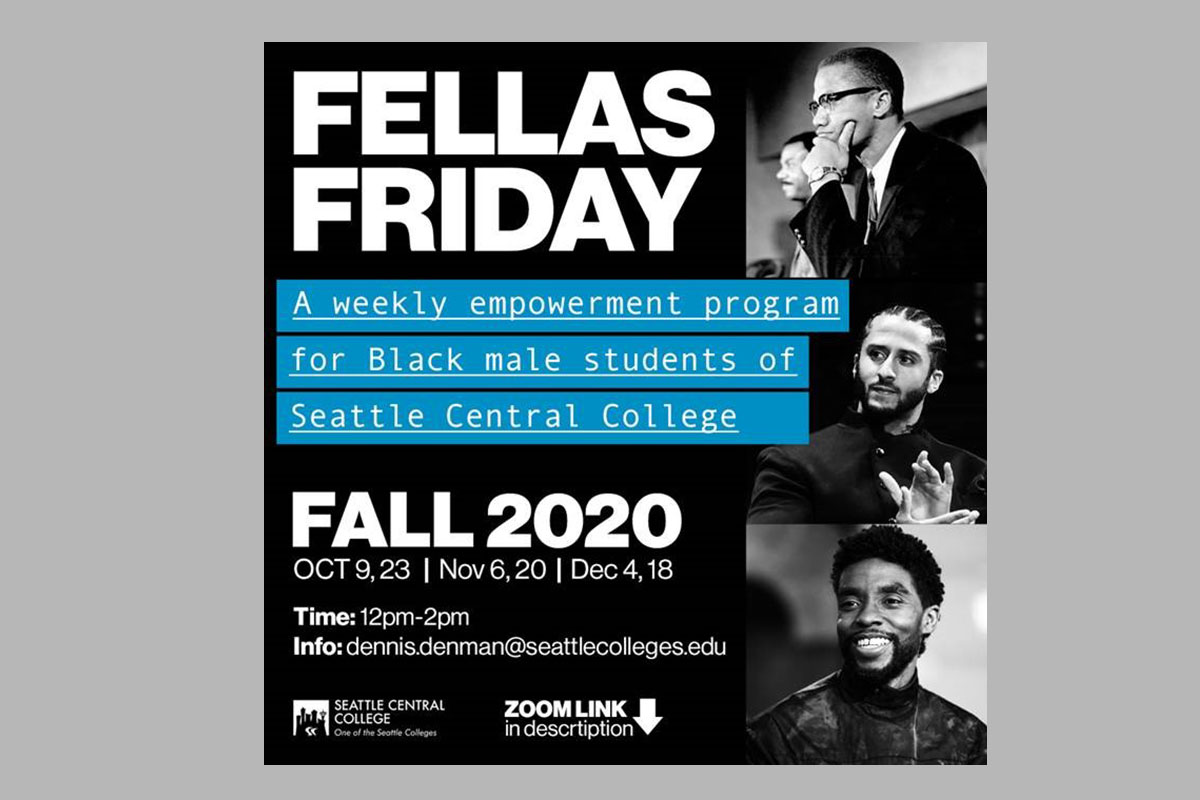 Recent conversations around racial injustice remind us that Black men are struggling to meet the daily demands of life. Fellas Friday was started at Seattle Central College to help students combat the feelings of hopelessness and unpreparedness that many males of color experience when entering school, work, or just dealing with societal demands.
Fellas Friday is a community of Black male students that gathers to discuss issues that affect their success as scholars. The group was founded in 2017 during heightened tensions surrounding police brutality. Since then, the program has served as a safe place where Black males can form connections, speak openly about their identities as men, and receive resources to achieve academic and personal goals.
"If I didn't get involved, I would not have graduated. The group helped me build relationships among staff and faculty, and integrate into the college's culture," said Eric Davis, Fellas Friday program organizer with Student Leadership and Seattle Central alumni.
Fellas Friday meets twice a month on Fridays. Beyond meetings, organizers offer resources to students like tutors and workshops on interviewing and communication skills. Since COVID-19, program organizers also assist with navigating online learning and virtual student services.
Program organizers encourage members to approach social justice initiatives with knowledge and power. They hope to inspire Black males to speak up about their personal experiences and to advocate on campus for opportunities that better serve the Black community.
"Black males face systemic oppression every day. It affects their confidence to succeed both in education and the workforce. The Fellas Friday community aims to inspire young men of color to prosper and be all they can, despite the uncertainties and barriers they face," said Dennis Denman, director of Student Leadership.
Program or degree completion rates for Black men nationwide are low compared to their white counterparts. Fellas Friday is one of many ways that Seattle Central is working to close this achievement gap and foster more conversations on equity and justice. Other opportunities include Sister Circle, a group that provides support to Black women; the Black Affinity Group/Think Tank and Chill where Black faculty and staff can support one another through challenges; and anti-racism training for all faculty and staff.
The next Fellas Friday meeting is Nov. 6, 2020, from noon to 2 p.m.
To find out more or to get involved, email Dennis Denman at Dennis.Denman@seattlecolleges.edu