The Seattle Central Griot - Feb. 8, 2021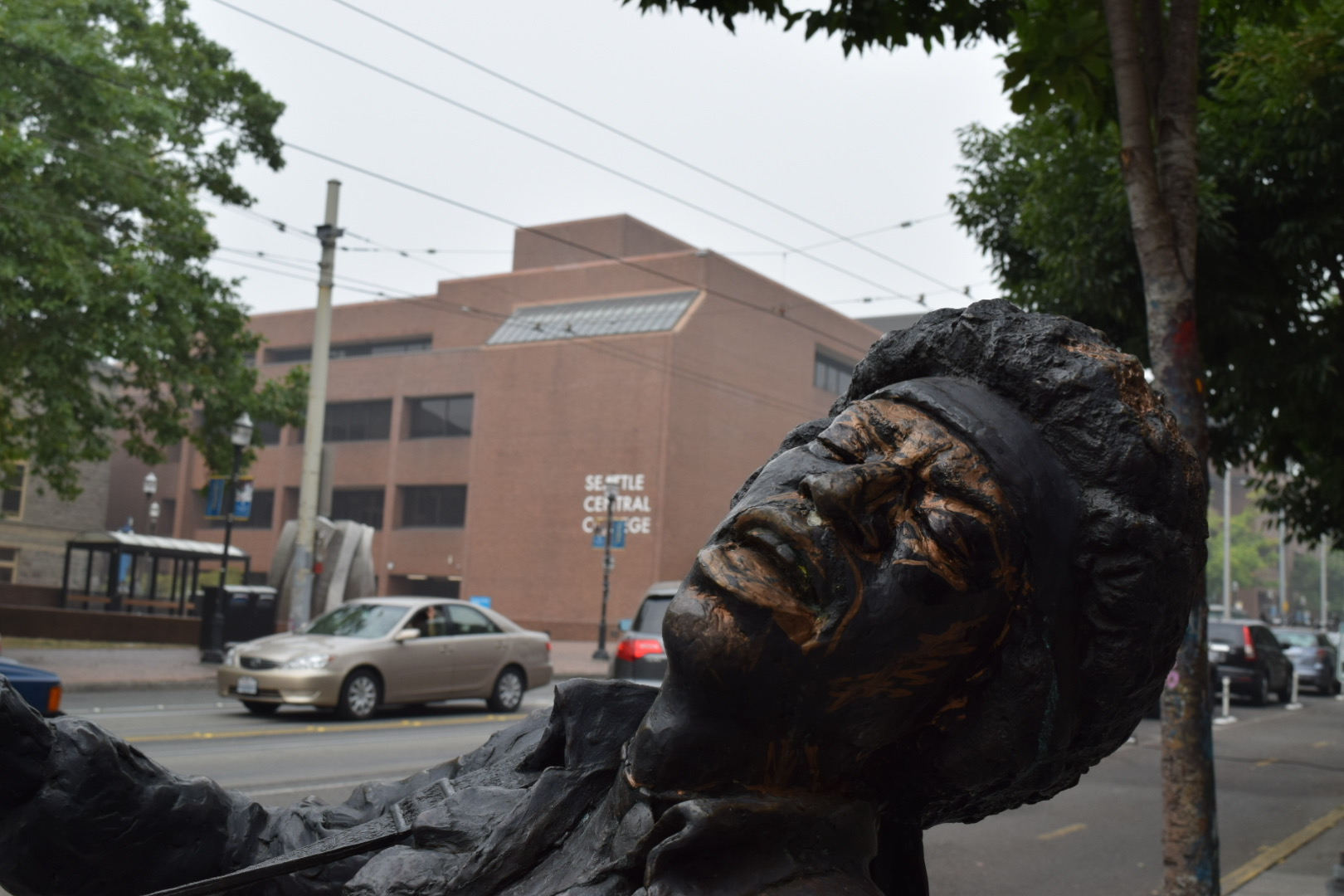 A message from the president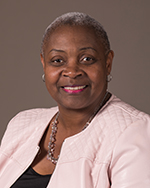 This is the first issue of the Griot for 2021, and it finds our college in much the same place where we were in 2020, in remote education mode, with a pandemic that is still out of control.
But I see many reasons to be hopeful about the future of Seattle Central College. Just last month, Gov. Jay Inslee moved King County into Phase 2 of the state's Healthy Washington - Roadmap to Recovery plan. Though our college works under a separate set of rules for higher education, the fact that King County can again reopen limited restaurant dining and host other public activities means that we can start thinking about gradually turning the dial back on our own restrictions.
I have asked my leadership team to begin plans to offer limited in-person services and for reopening areas of our campus for study and technology access. We are still looking at fall as the mostly likely time when we can open our doors again to all students, but we are considering options such as block scheduling, where some classes will be able to meet in person for a few days a week. Our professional and technical programs are already finding ways to increase class participation in their programs while following the strict protocols designed to keep students and staff safe.
Regardless of where we are in the stages of reopening our city, I want us all to find ways to build community again. It starts by working harder to relate to our students, to place ourselves in their shoes, and to look for ways to improve their experience. It also means creating the situations and opportunities for our staff to share with each other, to meet and swap stories, even it is still only by video near the virtual water cooler. I would love to hear your ideas for how we can accomplish this.
In the meantime, stay strong, follow the safety guides and protocols, and when you are able, get the vaccine. We need you back on campus soon. I can't wait for the day when we can meet again in the halls, grab lunch at the Atrium, or take a break with a cup of tea at The Buzz.
Sincerely,
Sheila Edwards Lange, PhD
President, Seattle Central College
---
News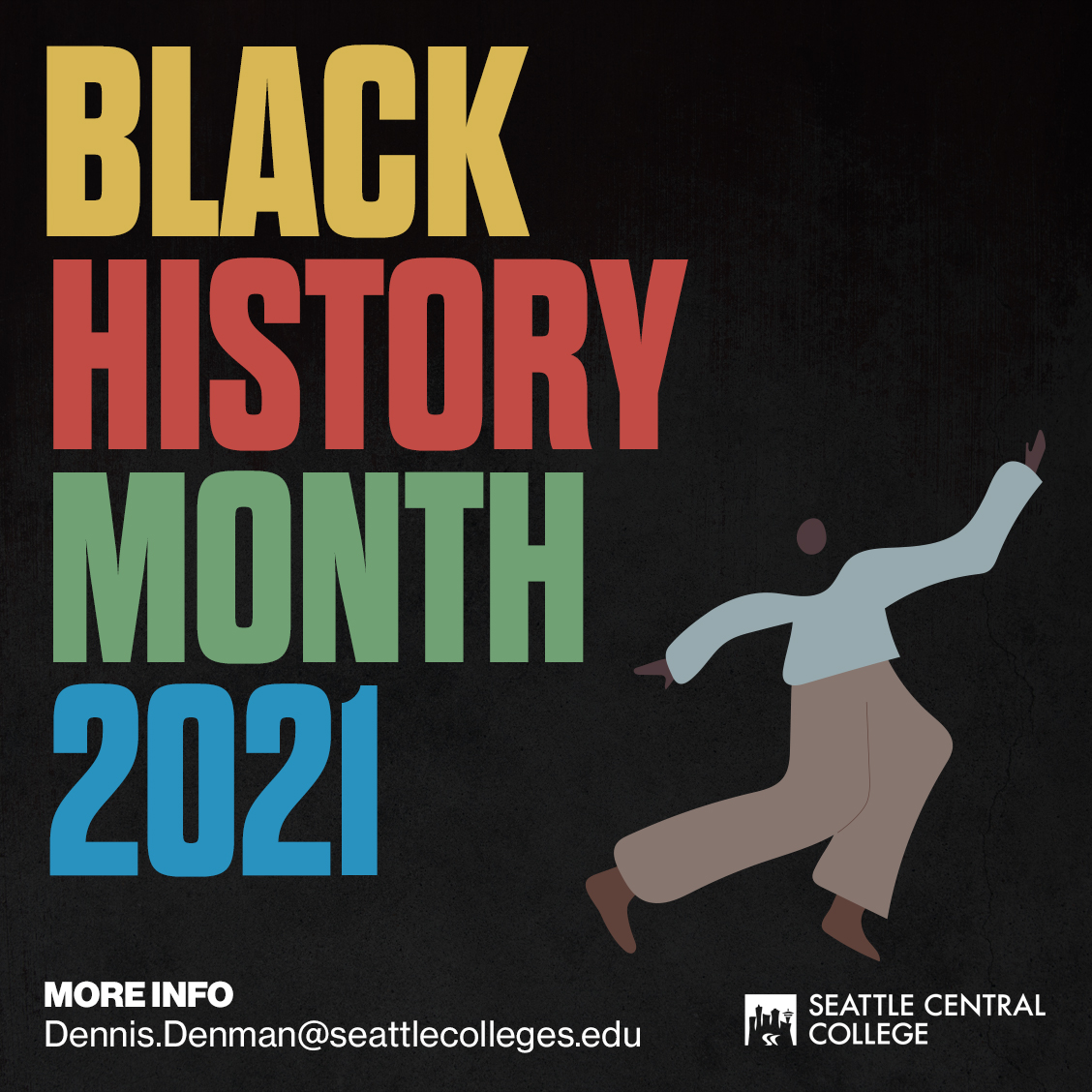 Seattle Central celebrates Black History Month
It's February and Seattle Central College has put together a rich and informative program of activities to celebrate Black History Month.
The theme of our celebration of Black history, culture, and accomplishments is the "Virtual Congo Square," our community recreation of the shared space of New Orleans' Vieux Carre and Faubourg Treme neighborhoods that is the historic gathering space for the city's Black and African American community.
Congo Square started before Louisiana was part of the United States. It was an open space, then outside of the city, where enslaved and free Black people could congregate to play traditional African drums, bells, and gourd banjos, dance, exchange goods, and gather in community. In a continent divided by caste, segregated by race, and dominated by white culture and religion, Congo Square offered a taste of freedom that nurtured the heartbeat of community, connecting it directly to its roots in Africa.
In that spirit, Seattle Central College will host a series of discussions, community gatherings, and educational activities designed to showcase the resilience, strength, vision, diversity, and the joy of life of our Black and African American community.  See this schedule of activities planned for this month:
We encourage you to join us in this community celebration of Black history, culture, and achievements. For questions or feedback, contact dennis.denman@seattlecolleges.edu.
---


Get ready for ctcLink
This Feb. 22, our college will replace our current student, employee, and business data systems with the new ctcLink information system. This is a major change for everyone at our college, affecting everything from course registration to how fill out your timesheets.
From Feb. 15 to March 1, many of our offices and data systems will be closed to prepare for the change and test and verify our new systems. This includes admissions, advising, business offices, cashiering, enrollment and registration, financial aid, and payroll.
If you have not done so, make sure you complete your training for this new tool. If you haven't been following closely, head over to seattlecolleges.edu/ctclink. Make sure you read the weekly updates sent every Friday by email.  Help will be available, just keep watching for important ctcLink announcements.
---
Staff forums begin updates to operational plan
We are starting the process of updating Seattle Central College's Operational Plan, the document that says how SCC will allocate resources to achieve the goals in the Seattle Colleges Strategic Plan. The current operational plan expired in 2020.

The Strategic Plan Committee held college-wide forums in January and February to gather feedback. The committee will then draft a recommended plan to be considered by the Seattle Central College Council before being presented to the President's Cabinet in spring 2021.  
---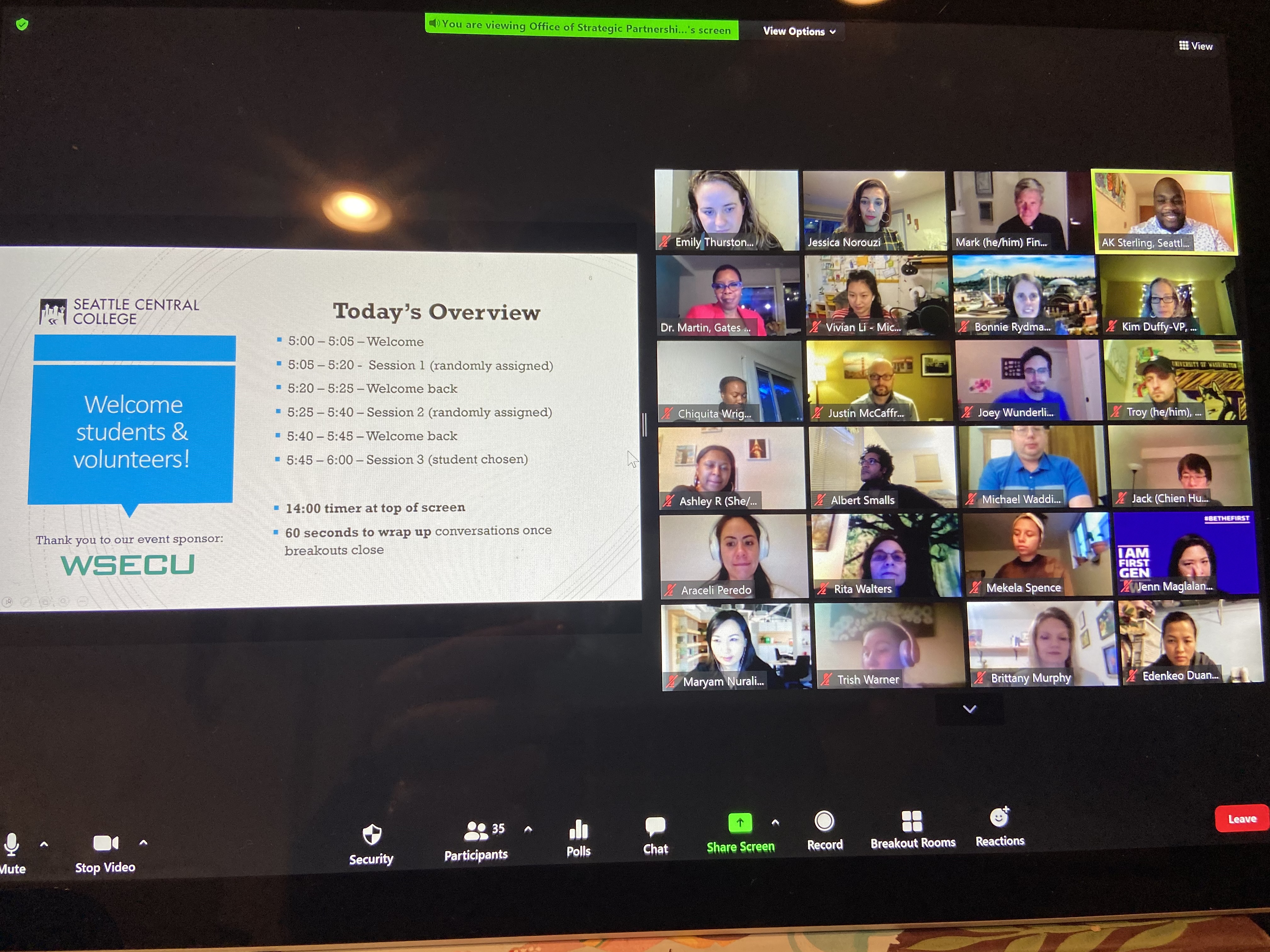 Virtual networking event rocks the fiber lines
Seattle Central held Speed Networking WEEK on Jan. 25-28, hosting more than 150 local professionals and 200 students in small networking sessions, where students learned what it takes to pursue careers in business, science, education/human services, and healthcare.
This event is normally hosted in person at the Mitchell Activities Center, but we successfully transitioned it to an online format this year.
---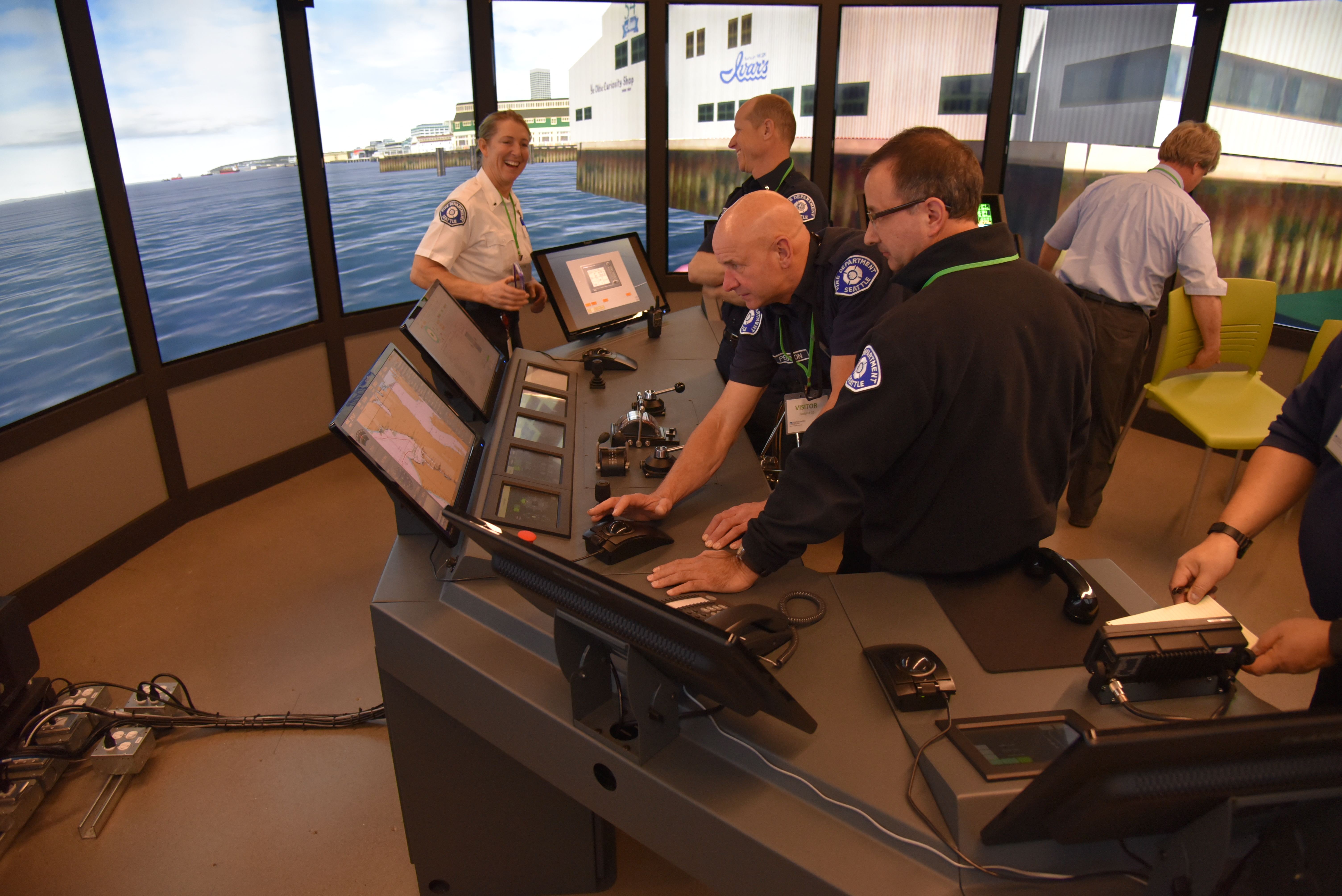 Maritime drafts simulation curriculum for state ferries
Our Seattle Maritime Academy ship bridge simulator team has been working with Washington State Ferries to develop a new curriculum to prepare them for emergencies at sea.
Simulation Instructor Captain Mark Pickett has spent the past year working with a team of engineers from Washington State Ferries to develop a new Engine Room Resource Management training course.
This month, ferry engineers will begin taking this five-day course that combines classroom instruction and simulated scenarios such as engine room fires, floods, and various mechanical failures - events that very rarely happen in real life, but where training and preparation are essential. These scenarios are customized so that the simulator accurately replicates the control panels and system layouts onboard actual Washington State Ferries vessels.
---
Self-placement program leads to better English class outcomes
In April last year, Seattle Central launched the Directed Self-Placement (DSP) in English, a survey-like assessment that students can take to make it easier and faster to choose an appropriate level of English courses.
Since April, 1,542 students have used to tool to find the best English course for their situation, with 71 percent placing in English 101 and 23 percent in English 099/101. Of those students, 77 percent earned a 2.0 or higher in English 101, and 69 percent earned a 2.0 or higher English 099/101.
The DSP tool is one of the more tangible projects supported by Seattle Central's Guided Pathways initiative, an effort to make it easier, faster, and more efficient for students to pick and complete a degree or program and pursue rewarding careers. The ultimate goal of this effort is to dismantle systems that perpetuate racial and social inequity at our college.
The DSP was designed and implemented by Erin Steinke, Windy Proctor, Carolina Forero, Jesse Hernandez, Kaitlin McClanahan, Desiree Simons, and Zahra Alavi.
---
Winter staff forum offers campus update
Seattle Central held a virtual staff forum on Jan. 8 to share updates about our budget, COVID-19 prevention, ctcLink, and other topics. We hosted staff from King County Public Health to share information about how the coronavirus spreads and how to help prevent infections.
For a recording and transcription of the event, visit this Canvas site. 
---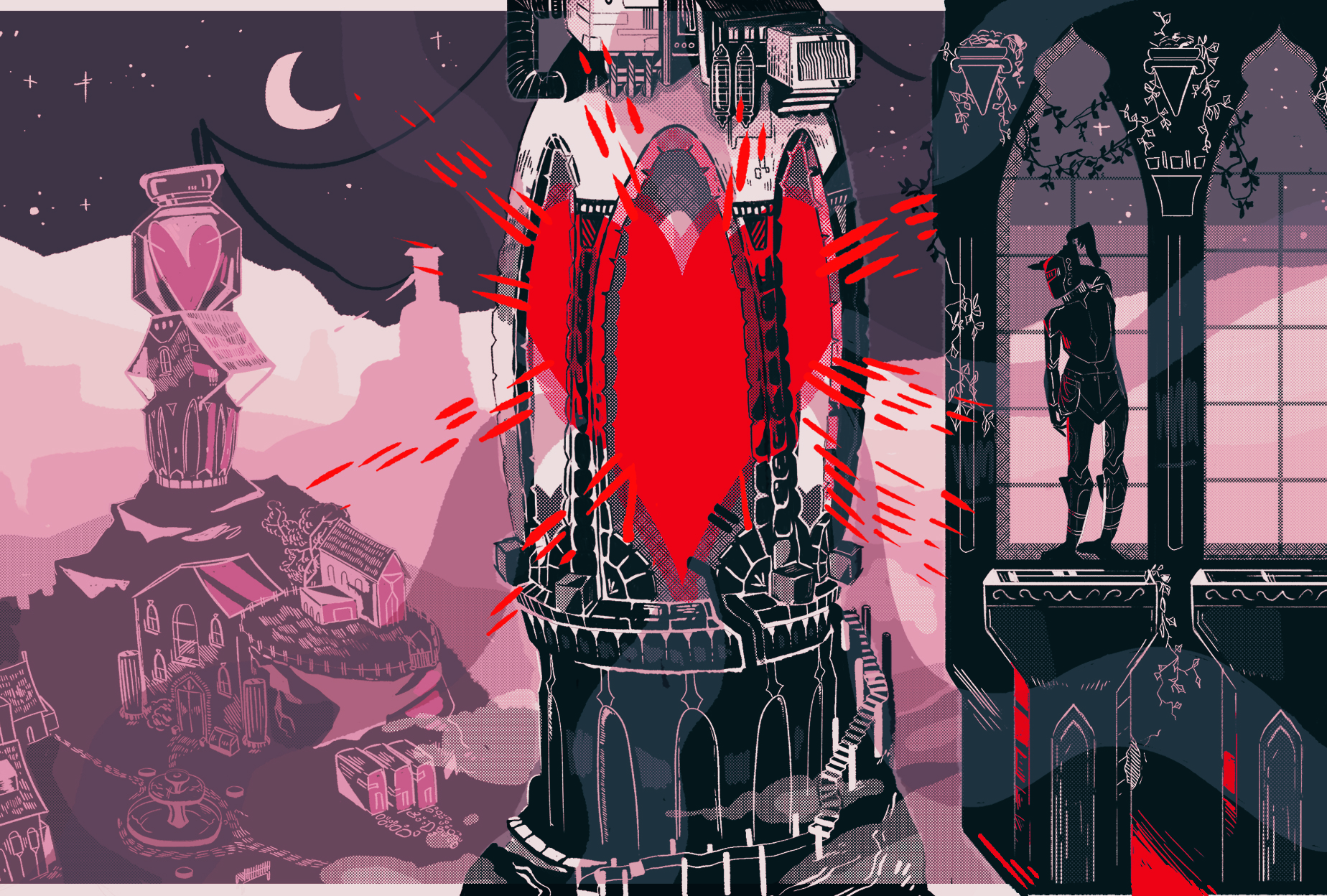 Graphic design alumni connect with the next generation
Seattle Central's graphic design program created an original postcard exchange for alumni to connect with current students. Participants will create their cards electronically, and staff will print and mail the cards to recipients. Each card is an original work of art, but all of them will include the same red heart graphic. About 88 people have signed up for the exchange so far.
---
Kudos
Alan Black, a 2020 graduate of Seattle Central's Pre-Apprenticeship Construction Training, became the first student of the program to be accepted into the Pipe Fitters Union.  
Lucero Torres, a graduate of Seattle Central's Visual Media Program, was featured in the Seattle Office of Economic Development blog last month. She is participating in the Cultural & Creative Workforce Development Internship pilot program at that office.  
Dr. Chelsia Berry, associate dean of STEM+B, was a guest in Omari Salisbury's Friday Live Morning online show. She talked about the Seattle Promise scholarship and Seattle Central's transfer agreements with historically Black colleges and universities.