Finding a trajectory for success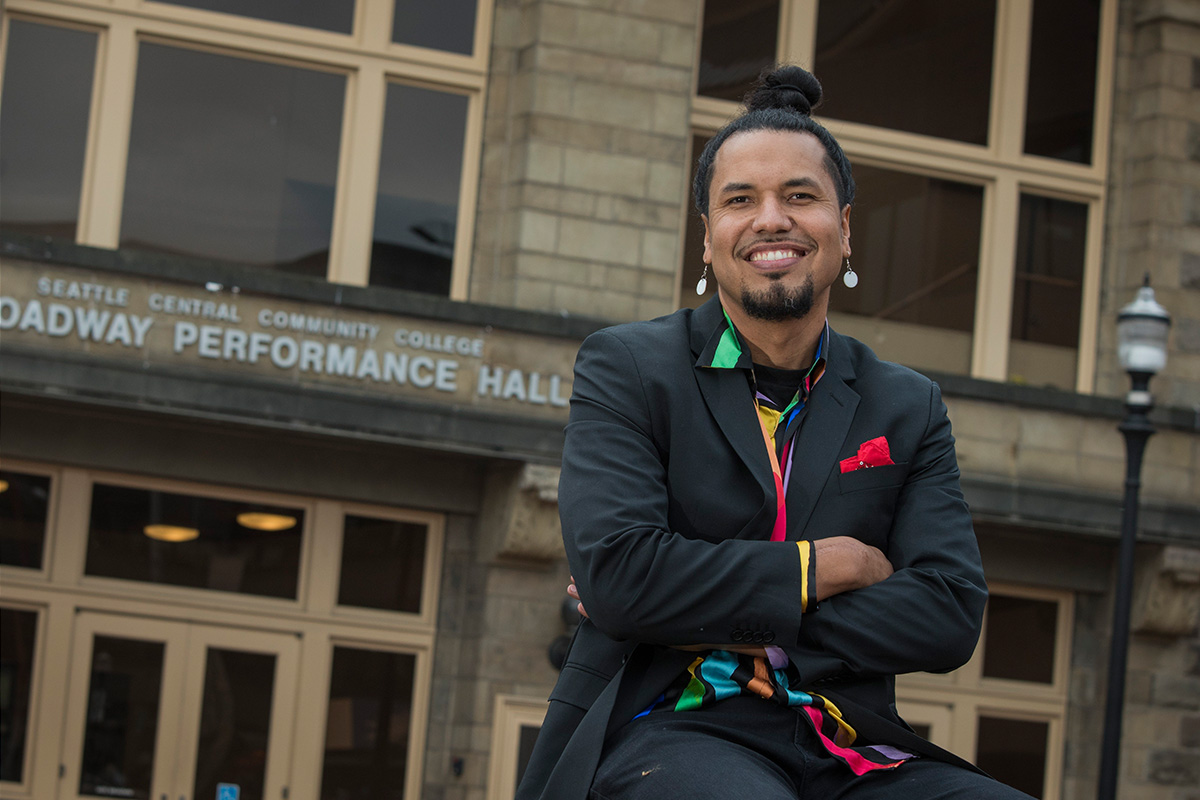 Gyasi Ross came to Seattle Central uncertain of his path, but found a voice that allows him to create meaningful change in his community.
A successful lawyer, author and storyteller, Seattle Central alumnus Gyasi Ross speaks boldly and publically about topics as diverse as politics and pop culture. As a member of the Blackfeet Nation, he is most outspoken about the rights and struggles of his fellow Native Americans. He strives to be a role model for young people who share his background.
Gyasi wasn't always on a clear path to becoming the outspoken influencer he is today. As a Seattle Central student, he found meaning and connections that motivated him to take the next step toward becoming a lawyer and an activist. These lessons have stayed with him throughout his educational and professional career.
Learning new language
"Seattle Central was pivotal in opening my eyes to bigger conversations about the world," Gyasi said. "I was a pretty mediocre student before, but my instructors helped me realize I was smart. They helped me put my ideas into language that up until that point I didn't have."
In his classes, Gyasi began exploring his role in the world, which made him consider, for the first time, ways he could make a difference. His instructors encouraged him to share his views and reinforced the validity of his ideas. His educational journey also extended outside of the classroom. He found a peer group that affirmed his voice, which helped him think more deeply about social justice issues that affected him and his community.
"I always had a voice, but Seattle Central helped me realize that what I said could influence people," Gyasi said. "Every day, my peers and I would exercise our mental muscles that we'd never been given a platform to use before. I saw brilliance in other students who looked like me and shared my experience."
A broader notion of success
Gyasi grew up in a low-income but tight-knit family. Until he earned his bachelor's degree, no one in his immediate family had graduated from college. As a result, he started his career in higher education with a limited vision for his future. He didn't yet see the potential in himself that helped him become who he is today.
That changed thanks in part to mentorship from his Political Science instructor, Carl Livingston. He engaged Gyasi in conversations about the future and served as a role model. Carl, a trained attorney, helped Gyasi decide that he also wanted to pursue law as a profession.
"A problem a lot of kids of color have is that we don't have models of successful people who look like us. That limits our outlook," Gyasi said. "Carl was one of the first people who I could look up to and say, 'Okay, I want to follow that trajectory of success.'"
Becoming a role model
After he left Seattle Central, Gyasi went to a few schools before earning his bachelor's degree at Evergreen State College. He then graduated from Columbia University School of Law.
Though Gyasi built a successful career practicing Native tribal advocacy law, his main goal is now to serve as a mentor for young minds. He actively encourages students to aspire to achieve lofty goals through mentoring and regular speaking engagements.
He's also involved in local politics, providing regular public commentary about his vision for the region. By being a strong public figure, he hopes to inspire young people of color to become leaders themselves.
"I encourage young people, especially Native American kids, to take advantage of windows of opportunity and invest in their future. It's a lesson we are not generally taught," Gyasi said. "You never know which one of those students could find a cure for cancer. I just want to help them make the biggest splash they can."