Marine Technology student applies skills learned at school to a unique home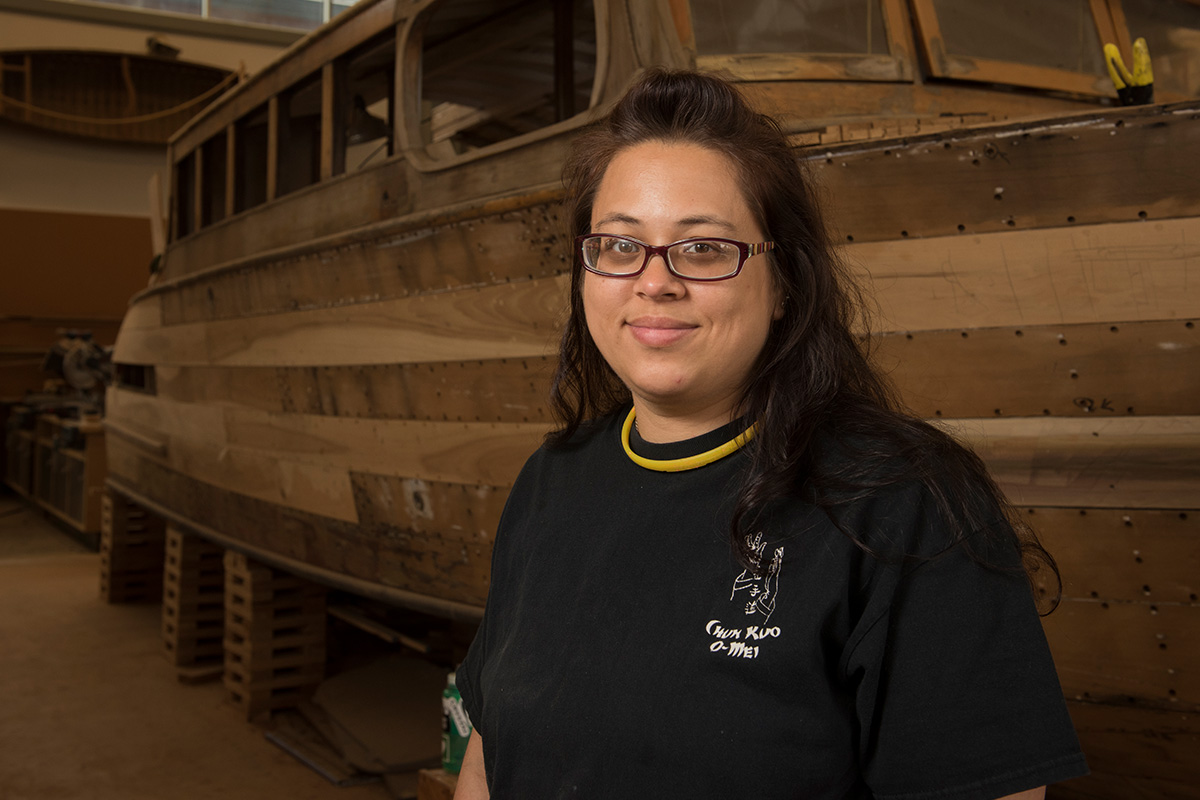 After losing her job and moving her family onto a boat, Wanda Cashman is using the Marine Technology program to improve her career prospects.
In the past two years, Wanda Cashman has learned two lessons about living on a boat: don't try cooking a Thanksgiving turkey onboard (they take forever to cook on a propane stove), and that maintaining your boat requires more than just skill with a hammer. Crashing a friend's Thanksgiving dinner on dry land fixed the first problem rather easily. For the second, she turned to Seattle Central's Marine Technology program. Now in her third quarter, the program is teaching Wanda new skills to maintain her home while helping her train for a fulfilling career.
After her family received a 20-day notice to vacate their apartment, Wanda turned to a friend, whose fiberglass sailboat offered a creative and economical solution to their need for a new home.
"I never imagined I would live on a boat, but it worked really well for us. My daughter loves the wildlife, and it's really liberating to live in a place where you can move without uprooting your life," Wanda said.
When Wanda lost her job as a massage therapy instructor a few months later, she decided to return to school. Through Seattle Central's Worker Retraining program, which helps unemployed individuals return to the workforce, she received funding to start her program at the college's Wood Technology Center.
"I thought the program might teach me to help others deal with the particular challenges of living on a wooden boat, because it was hard for us at first," she added. She and her husband now own a 36-foot wooden powerboat.
Wanda regularly applies skills from the program at home. She's able to fix minor leaks, and is now redesigning her living quarters to be more functional for her family. The Marine Technology program, which was redesigned in 2015 to better meet the needs of the marine industry, now has a broader focus on the mechanical aspects of boat maintenance, including work with engines and electronics. That comes in handy for Wanda when working on the electronics on her own boat.
"My goals coming into the program were to network in the boating and woodworking community and see where I could fit," said Wanda. "But going through the program has changed my ideas about what types of jobs are out there. I feel really prepared for a new career."
She's had the opportunity to speak with people in the industry about her life during field trips to area boat builders. Though she's not sure where she'll end up, her dream job is to restore wooden speedboats or yachts from the 1930s and 40s.