Seattle Central graduate's quest to confront HIV/AIDS epidemic brings hope to her Kenyan homeland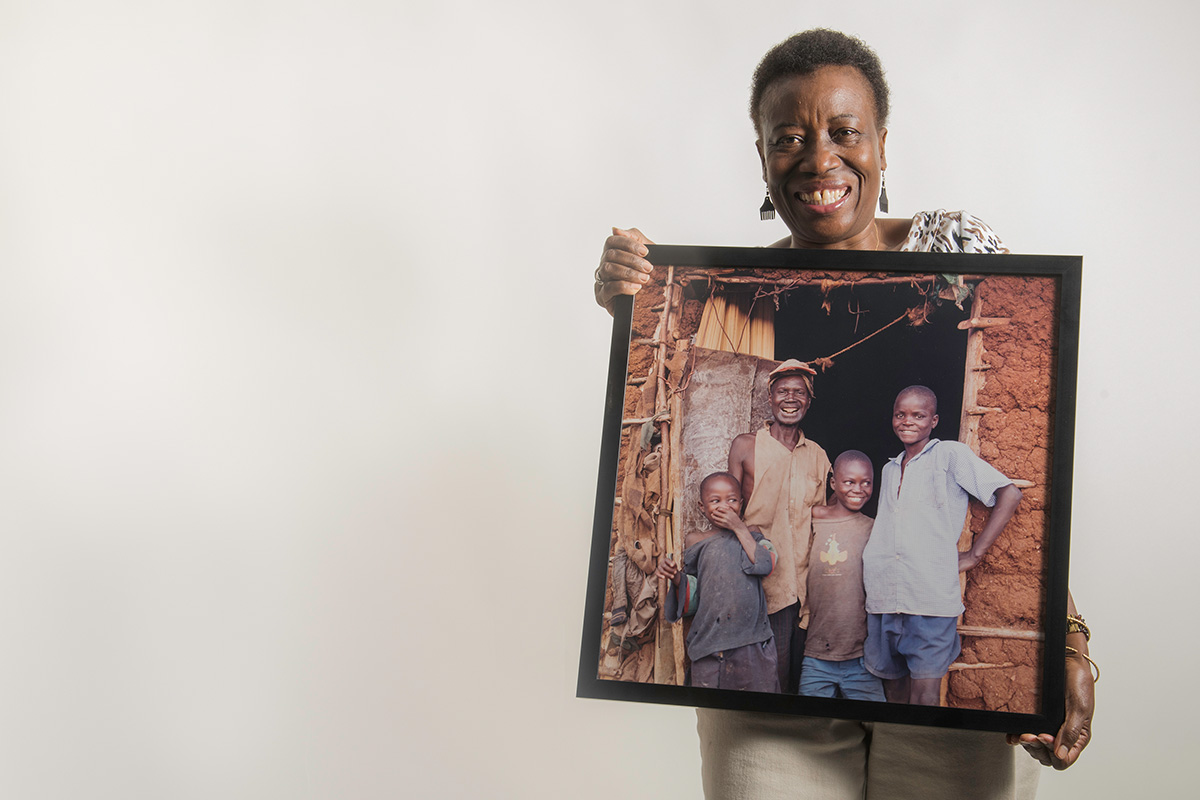 Loyce Ong'udi is this year's Distinguished Alumni Award recipient
Since leaving her country nearly 20 years ago, Loyce Ong'udi's Kenyan village and many others throughout the African continent have been ravaged by the HIV/AIDS epidemic. Millions have died, leaving behind a generation of orphans and elderly citizens with no one to care for them. Working from her home a world away in Seattle, Loyce, a graduate of Seattle Central, has faced down this dire challenge to her homeland by bringing hope to countless lives.
Loyce has nurtured a strength of spirit due to challenges in her own life. After following her husband to the United States in 1996, she settled in California. The relationship became physically and emotionally abusive, and in 1999, Loyce made the decision to leave, ultimately landing in Seattle, a place she heard would be welcoming and supportive. With few resources, she and her ten-year-old daughter became homeless, relying on shelters to see them through.
It wasn't long before Loyce found her way, landing a job with the Bill and Melinda Gates Foundation. With her African background, she was selected to help organize an HIV/AIDS fact-finding trip to sub-Saharan Africa for former United States President Jimmy Carter and Bill Gates, Sr. "After that trip, I realized I wanted a seat at the table to discuss the challenges that people like those in my native village face," she said. To earn that seat, she knew she needed more education.
At 45 years old and a single parent, Loyce made the decision to return to school. "Seattle Central was my key to success. The tutors, counselors and teachers were very caring. The people here supported me every step of the way, even helping me prepare for my citizenship exam," she said.
Loyce could also identify with the students at the college: "Seattle Central is that safe place that embraces diverse groups of people. For me, I see students in the corridors from all over the world, and they radiate hope."
After earning an associate degree, she transferred to the University of Washington, where she earned a Bachelor of Science in Public Health, and then a Master of Public Administration. While at the UW, she was named a Harry Truman Foundation Scholar for the State of Washington, given to students who show leadership potential and interest in public sector service. Only one student per state each year is awarded this scholarship, a tremendous honor.
Knowing that the HIV/AIDS epidemic was affecting her homeland, Loyce used her education to create and run a nonprofit organization called the Rabuor Village Project, named after her home village. "I wanted to do something to help my people, and I wanted to humanize the disease," she said.
Her organization helped women widowed by AIDS, provided tuition support for more than 50 high school youth who were left as heads of households, and cared for young orphans of villagers who died of the disease. And more than 180 children received two meals each day due to Loyce's efforts. With the support of several partners in Seattle and across the United States, including Rotary clubs and her church, she raised money to build a school and a training center.
"We changed lives. We saved many lives. Most of all, we brought hope," she said. "This was very close to my heart because I lost both a brother and a sister to AIDS, and they left behind orphans. I knew I needed to face this problem. Because I am from the village, I came from a place of deep sadness and understanding, and I knew how to make a difference."
For Loyce, this intensely personal endeavor meant she often did not take a salary. Her organization helped many people, but it ran into difficulties, and she ultimately decided to create a new organization, Mwanzo Proud Farmers. She works with local communities in the Western Provinces of Kenya to improve infrastructure and build their capacity through training. When she's not in Kenya directing charitable activities, she is a strong and vocal advocate here in Seattle, speaking at numerous engagements in order to raise money for her cause.
Loyce is just one woman, but this alumna's efforts have made an immeasurable impact on the lives of so many. "One of my proudest moments is when I visited Kenya recently, and I had to go to a clinic. And one of the doctors who saw me was once an orphan whose parents died of AIDS, a boy who we helped. It was so amazing to see how a little support could make such a huge difference in someone's life," she said.
Learn more about Loyce's organization, Mwanzo Proud Farmers.