Passion for helping all students drew instructors to teach inmates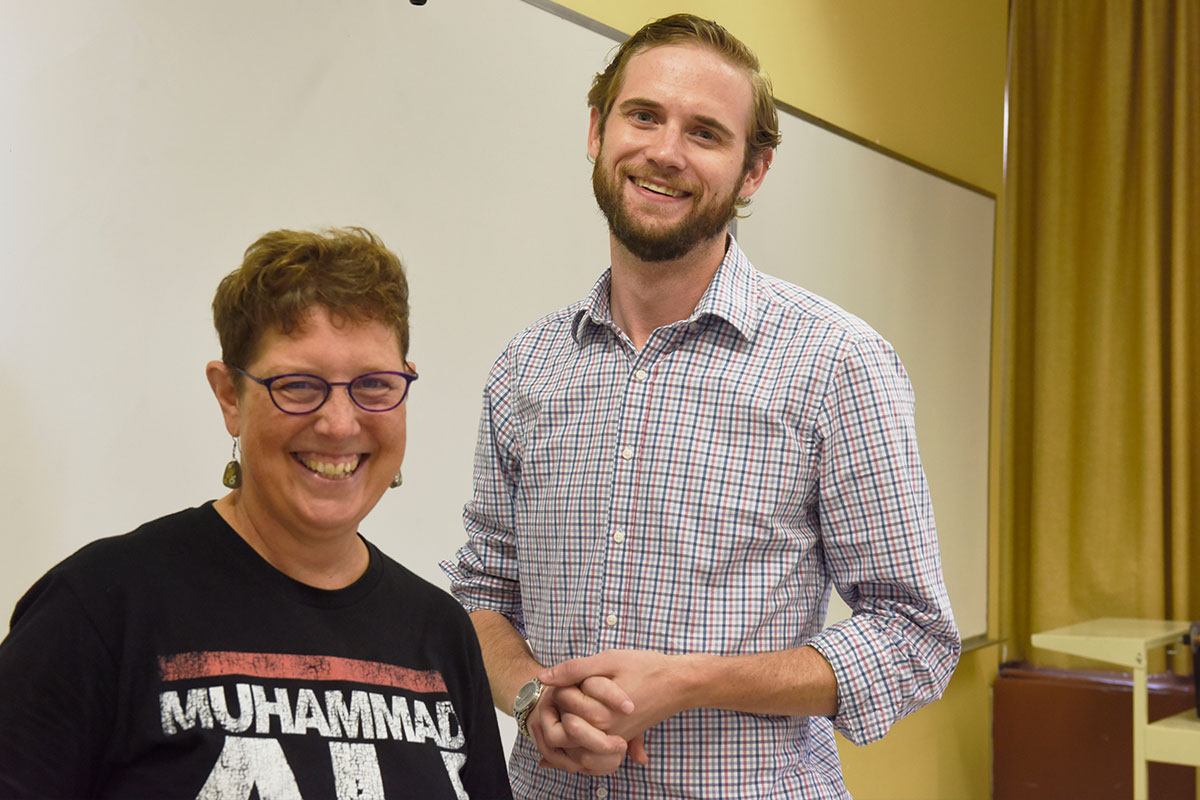 Phebe Jewell and Mark Petterson give back to the community by donating their time teaching female prisoners
During the day, English instructors Phebe Jewell and Mark Petterson put in a full workload teaching composition and literature at Seattle Central. On certain evenings, instead of heading home and relaxing, they selflessly donate their time by teaching incarcerated women who are trying to get their lives on track.
Their fervid belief that education should be accessible to all, a core value of Seattle Central, compelled them to get involved in this effort. Two years ago, Jewell decided to volunteer for Freedom Education Project Puget Sound (FEPPS), a non-profit focused on teaching incarcerated women at the Washington Corrections Center for Women in Gig Harbor. Once she signed on, she ran into Petterson in the halls of Seattle Central and asked if he wanted to join her. Jewell first became interested in education and incarceration a few years ago after having some of the most hardworking students who came from prison or jail. "For those who could have gone through all that and is so hardworking and determined really speaks to the human spirit. That really kicked into my social justice value system," she added.
Jewell didn't know what to expect the first time she entered the corrections center. "It wasn't anything like I had seen in the movies," she said. "The more I was there, the less noticeable it was. You feel like you're in a classroom, except everyone is wearing gray sweats." The first course they taught was English 101, which closely aligned with the course that they teach at Seattle Central, Petterson said.
It didn't take long for the pair to notice the women were extremely passionate about bettering their lives. "Their energy and enthusiasm for education is incredibly high," Petterson said. "It's cliché to say they have 'A thirst for knowledge,' but it really applies here. They want to learn."
FEPPS started small, with just four students graduating with associate degrees through Tacoma Community College last year, but it is growing. This year, 19 students graduated, and 30 more are scheduled to earn their degrees next year. Some graduates of the program have been released have gone on to continue their education. One student who graduated from the program transferred to Columbia University, and two others entered Seattle Central.
Another student remarked, "I have never finished anything in my life, so for me to get an associate degree was a big milestone. I realized that I can do something and that I am not useless."
"We believe higher education is a worthwhile social currency," Petterson said. To them, educating prisoners gives them the opportunity to create better lives once they gain their freedom, which strengthens communities.
They both plan to continue volunteering with FEPPS. "This has been one of the most rewarding experiences in my life," Petterson said.