The Seattle Central Griot, May 18, 2021
A message from the president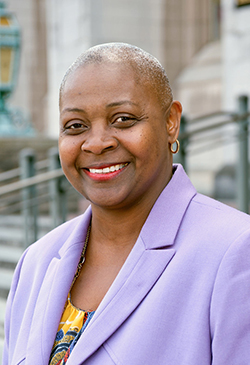 The dial is turning some more, and it starting to look like we are getting back to campus by this fall, in some form or another.
But if you want that to happen, you need to do your part. Get the vaccine. Now.
It's easy. King County has nine vaccination sites you can visit without an appointment in Auburn, Bellevue, Burien, Kent, Seattle (downtown, SoDo, Rainier Beach, West Seattle), and Shoreline. You can even get a ride to a site by calling 425.9436706.
It's free. None of the city and county sites will charge you for your shots. Your insurance plan will also cover them for you, if you choose to go with your provider.
It will allow you to do the things you've been waiting to do since March of 2020. You will be able to travel without having to show proof of a negative test. You will be able to meet indoors with other vaccinated people without having to wear a mask. You might even get cheaper seats at the next Mariners game.
It's the only way we are going to get out of this pandemic. Reaching herd immunity – the state where there are so few people who can be infected that the virus can't spread any further – will require at least 80 percent of the population to have immunity. Some experts think it may require 90 percent immunity because new variants are more transmissible that the first strains. The sooner we get to either number, the faster we can get to work, school, travel, and to our families and friends.
It's the right thing to do. Unvaccinated people not only run the risk of serious illness or death. They can spread the disease to others.
So, for all those reasons and more, get the vaccine. It's worth the peace of mind.
Sheila Edwards Lange, PhD
President
---
News

Seattle Central joins Umoja program
Seattle Central College has joined Umoja, an association of California community and technical colleges committed to the academic success and development of Black and African American students.
Umoja is a Kiswahili word meaning unity. Umoja promotes student success for all students through a curriculum that is responsive to the legacy of the African and African American Diasporas. Umoja scholars at each college form cohorts, studying and supporting each other as they participate in classes designed specifically for their experience.
Seattle Central was accepted as an affiliate because of our focus on and explicit efforts to improve the persistence and completion of Black and African American students. These include Title III activities such as a new first-year college skills course tailored to Black/African American students; the Springboard8 pilot program to support Black/African American men; Fellas Fridays mentoring group for Black males; and our existing transfer agreements with Historically Black Colleges and Universities.
For more details, read our story in Newscenter
---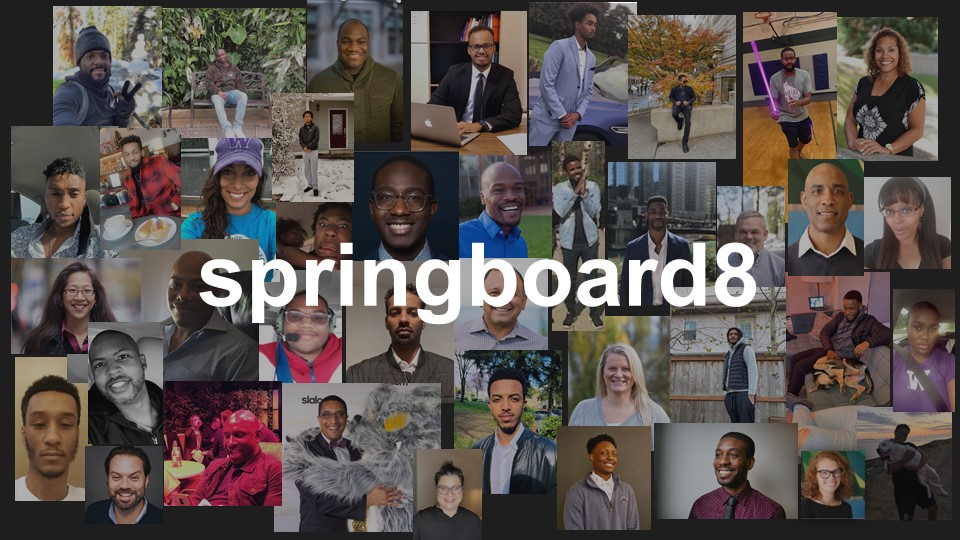 Springboard8 pilot builds community for Black male students
Community colleges across the nation face the historic inequity that underserved students of color, particularly Black males, are much less likely to graduate or to complete their programs on time than their peers.
But a pilot program that started this winter quarter at Seattle Central College aims to take on that problem head on. The Sprinboard8 program provides coaching, mentoring, and financial assistance to a cohort of Black male students at the college, to help them graduate on time and to build the connections and networks to succeed afterwards.
The program is a partnership between Seattle Central College and the business consulting firm Slalom LLC. Slalom provides coaches and support to the students, with an emphasis on skills that help students to succeed in school and to pursue careers or businesses of their own. The program also gives the students a group of peers with shared experiences, who can support and guide each other through their journey at the college.
For more information, visit our story in Newscenter.
---
Save the date! Employee Service Awards on May 20
The annual (virtual) Employee Service Awards is set for Thursday, May 20 at 3 p.m.
It's a great opportunity to support your colleagues who have achieved significant career milestones at Seattle Central, and recognize them for their dedication to our college and our students.
Check your mailbox for an invitation and Zoom link for the event.
---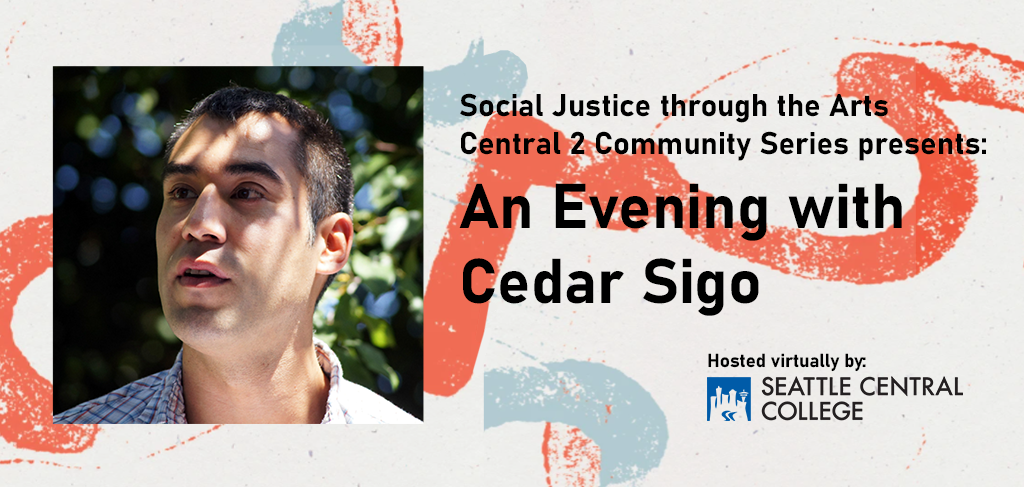 Poet Cedar Sigo explores indigenous experiences and identity
Seattle Central College Central2Community series hosted local poet Cedar Sigo on May 11 for an evening of poetry and a conversation on social justice through the arts. Sigo is the first speaker in the series focusing on indigenous voices.
Sigo shared his experiences growing up on the Suquamish Reservation in the Pacific Northwest, how he got interested in poetry, and how he uses his voice to effect racial and social change.  Sigo read poems from his published works, including Expensive Magic and Royals.
The event was facilitated by Seattle Central student and activist Alessandra Roque. The conversation was led by Seattle Central Associate Vice President for Equity, Diversity, and Inclusion Dr. Valerie Hunt.
Sigo studied at The Jack Kerouac School of Disembodied Poetics at the Naropa Institute. He is the author of eight books and pamphlets of poetry. He has taught workshops at St. Mary's College, Naropa University, and University Press Books. He is currently a mentor in the residency MFA program at The Institute of American Indian Arts. He lives in Lofall, Wash.
The Central2Community Arts and Lecture Series supports the college's role in social justice movements by featuring artists, activists, and thought leaders from different communities in our region.
---
Self-placement tool places more students into college-level English
The English Directed Self Placement (DSP), an alternative to taking standardized tests, like Wonderlic or the SAT/ACT, has more than doubled the rate of placement for students:
Of the 1,542 students who have taken English Directed Self-Placement, 94% placed into college-level English versus 43% pre-DSP. 

Of those same students, 94% of Black men are also placing into college-level English. 
The DSP is a self-survey that students can complete online in about 20 minutes. It empowers students to place themselves into the right English composition course for them.
For more details, contact Kate Goltermann Krieg, interim executive director of Pathways Initiatives.
---
Seattle Central adopts new Operational Plan
Seattle Central has updated its Operational Plan, the document that says how SCC will allocate resources to achieve the goals in the Seattle Colleges Strategic Plan.
The last operational plan expired in 2020. The plan was updated after a series of staff forums to gather feedback. The document better reflects our institutional commitment to equity and social justice, and our work with Guided Pathways.
---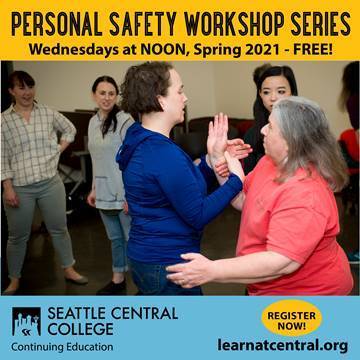 Free personal safety workshops in May/June
Participate in an engaging workshop in self-defense for FREE during spring quarter! Gain knowledge, skills, and confidence to stay safe. Come to one or all! For students, staff, faculty, and community - everyone is welcome. Upcoming workshop topics:
May 19: Dating and Domestic Violence
May 26: Trust
June 2: Seeking Support & Self-Care
June 9: De-Escalation and Other Verbal Tactics
June 16: Found Weapons and Pepper Spray
To join, visit this Zoom link
---
AA+PI Heritage Month events
The Seattle Colleges invites students, staff, and faculty from across the district to celebrate Asian American and Pacific Islander (AA+PI) Heritage Month! We have district-wide events planned during the month of May to raise awareness about AA+PI heritage and struggle and build intersectional solidarity across our campuses:  
---
Meditate your stress away
Mindful Meditation Zoom sessions are available FREE to all current students and staff, led by mindful team members from all three colleges, every Monday, Tuesday, and Wednesday, 12:10 – 12:30 p.m. through spring quarter. Meeting Room URL: https://tinyurl.com/yyx4eh9n, Password: Bliss! 
---
KUDOS
Professor Daudi Abe was featured by the South Seattle Emerald for his anti-racist work in education and training courses for law enforcement officers with the Washington State Criminal Justice Training Commission.
COGRID-19 is a series of risograph prints created to raise money for those most affected by the pandemic. The project brings together 19 artists from a city, each contributing to a shared grid representing their time in quarantine. The collected works are a commentary on the public health crisis and the racial, political, and environmental issues that have overtaken the year 2020. Every penny raised will be donated to worthy organizations leading the efforts to help those in need. The Seattle entry has four Seattle Central Creative Academy Alumni:  Julia McNamara (2005), Manuela Insixiengmay (2014) Greg Smith (2015) and Evan Dull (2016). Check them out at https://www.cogrid19.com/grids/p/seattle 
Seattle Central students Ilhan Ibrahim and Raina Scherer were honored on April 15 as members of the 2021 All-Washington Academic Team. Ibrahim is a first-generation student and Seattle native who is pursuing her associate of science transfer degree at Seattle Central College. Scherer is currently pursuing her associate of arts degree at Seattle Central College. Students are selected for the All-Washington Team because of their academic excellence and community engagement.
Dental programs students Emily Colon and Stephanie Garcia presented their research at the 2021 WDHA Symposium for Oral Health Professionals. One of the students won a $350 prize for winning the 2021 WDHA Student Research Poster Competition for her project titled, "Relationships between emotional intelligence and conflict management styles among undergraduate dental hygiene students." Both students will graduate this quarter.