New course explores issues of inequity, racial justice, and lasting change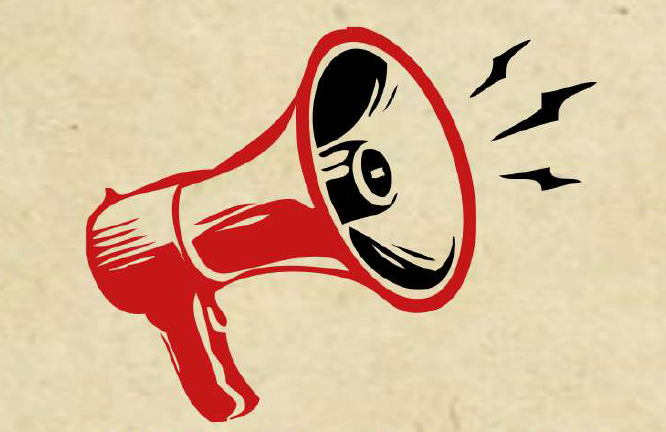 Bullhorn image designed by Alberto Vazquez, former Seattle Central adviser and graduate of Seattle Central College's Graphic Design program.  
Seattle Central College is offering a new multidisciplinary course this fall that addresses how systemic racism and injustice impact individuals, families, and communities, centered in the social and racial justice protests of 2020.  
The "Say Their Names" learning community (LC 150) challenges students to envision how communities can come together to create a healthy society that acknowledges past and present inequities without replicating them, according to the teaching team of Phebe Jewell, Kayleen Oka and Krysta Walia and Sharon Spence-Wilcox. 
"We feel that this current social, political, and cultural time lends itself to explore sociological and literary topics while understanding how information literacy and utilizing our own personal strengths can lead to a more hopeful future," Oka and Jewell said, in a joint email sent from the teaching team.  
Learning Communities are courses that explore a topical theme from multiple disciplinary perspectives. These courses are team taught by two or more faculty members of different disciplines with fully integrated course work. The curriculum is interactive and encourages problem-based learning.  
Students in the "Say Their Names" learning community will integrate lenses from sociology, information literacy, human development, and writing to gain a better understanding of how structures of power shape their world.  
"Academic disciplines are somewhat arbitrary and, well, academic. Issues of power, resistance and justice know no bounds," Spence-Wilcox added.  
"We believe that especially in this time, students and faculty learning in community is an essential practice of engaged and liberatory education," Walia said. "Research shows that learning together in community helps in the retention of knowledge and creates a sense of belonging." 
Students who are interested in the Learning Community still have the opportunity to register for the class until Monday, October 4.   
To learn more about Seattle Central College's Learning Community courses:  
Visit: https://seattlecentral.edu/programs/college-transfer/learning-options/learning-communities  
Contact: LCC.Central@seattlecolleges.edu (Learning Communities Committee Chair, Sharon Spence-Wilcox) 
---
Meet the "Say Their Names!" Teaching Team 
Phebe – English Faculty  
"Hi, everyone, I'm Phebe. I'm the English teacher. The dreaded English teacher. And my goal for you all for this class is to help you develop strategies for developing your voice that you already have inside you. You have stories to tell and the world needs to hear your stories. I've also discovered that when you tell your story, you break free from isolation..." 
Kayleen – Sociology Faculty  
"Hi, everyone. My name's Kayleen and I'm the sociologist in the group. You're probably already a sociologist and don't even know it. Sociology helps us to see why and how we behave and interact the ways that we do, and how society shapes our lives. We'll examine how injustices occur and what we can do about them..." 
Sharon – Librarian  
"Hi, everybody. My name is Sharon and I am the librarian on the team. Information is everywhere and so are its many counterfeits. In so many packages and platforms, from so many places and people. Information can be so overwhelming that we just consume whatever is easiest to absorb, quickest to access and makes us the most comfortable. But is that always the best choice? We'll explore concepts of expertise and value so we can become captains and not captives of how we use and share information." 
Krysta – Faculty Counselor; Licensed Social Worker  
"Hey, everyone. My name is Krysta and I'm the faculty counselor and I'm a licensed social worker. The pandemic has taught us how important it is to have positive connections with others. And many students have reported that they feel like they're missing out on connecting one on one with other students as part of their college experience. So why join a learning community? And how will I support you as a faculty counselor? You will learn about how you learn. You will create an academic success plan to achieve your academic and personal goals so you can live your best life. You will make lifelong connections with other students and with us, your faculty, and most importantly, you will have fun and have a very memorable experience."