Education Secretary Cardona and Rep. Jayapal Visit Seattle Maritime Academy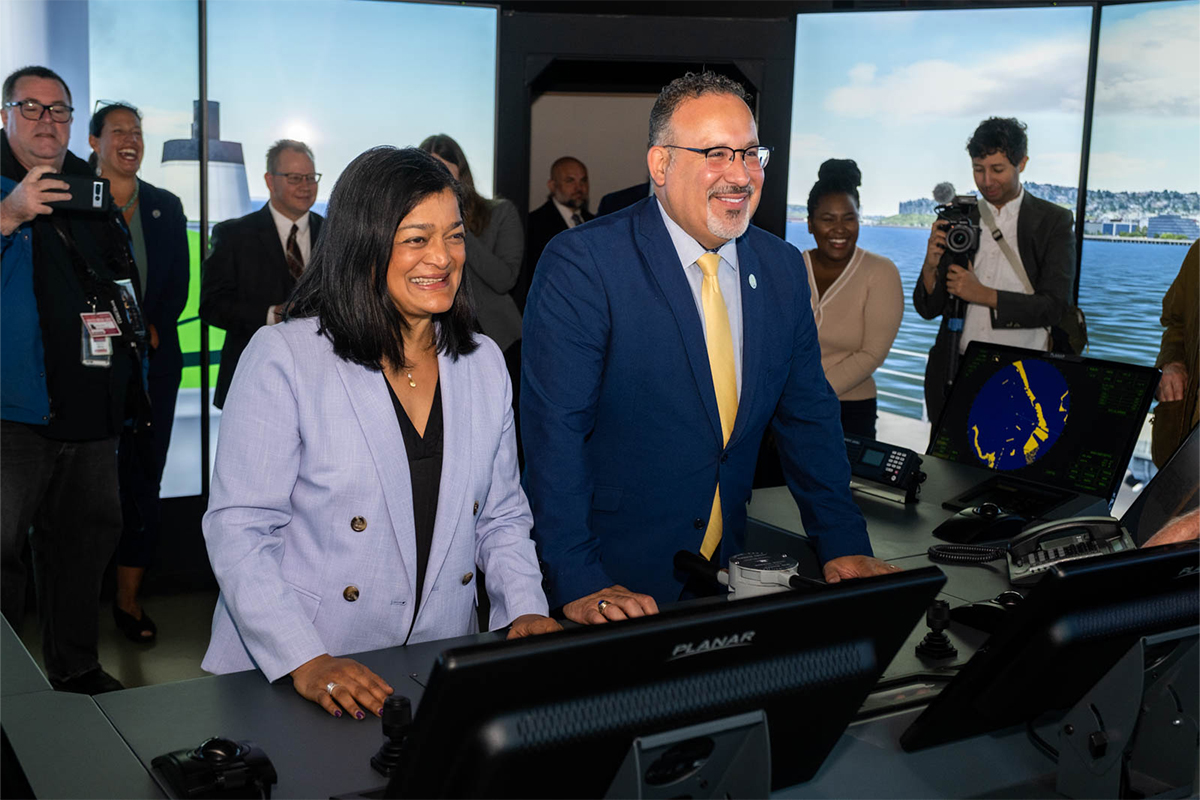 U.S. Secretary of Education Miguel Cardona and U.S. Representative Pramila Jayapal (WA-07) visited Seattle Maritime Academy, a division of Seattle Central College, to highlight how the academy educates students, partners with local industry, and provides opportunities for living-wage careers.
Cardona's visit was just one of many stops across the country promoting "Raise the Bar," a joint initiative with the White House and the Departments of Labor, Commerce, and Education. Its goal is to build strong education-to-employer strategies and programs that are aligned with regional economic needs, with a focus on community and technical education.
"I think we as educators undersell how community and technical education learning is the best pedagogy. Hands-on, experiential, inquiry based," Cardona said. "You learn by doing and by making mistakes. That's why students are excited to be here [at Seattle Maritime Academy]."
As part of the tour, Cardona and Jayapal docked a Washington State Ferry (WSF) into downtown Seattle in the academy's virtual simulation room.
Simulation exercises like this are essential to the program's curriculum that eventually afford students a 90-day at sea internship and United States Coast Guard-endorsement.
According to Dale Bateman, Associate Dean of Seattle Maritime Academy, many students are hired by the companies they intern with, resulting in a pipeline of highly skilled, Coast Guard-certified graduates for local industry.
"Our students are ready to be a contributing member of the crew when they first step on a boat," Bateman said. "My goal is to get them to be ready to contribute, so that they are successful for the first internship and stick around to launch into careers that are just amazing."
Thanks to two new partnerships between Seattle Maritime Academy, the City of Seattle's Office of Economic Development and WSF, the academy will help increase enrollment of women and people of color into maritime education, address labor shortages brought on by the pandemic and aging demographics of the workforce, and provide a steady source of young mariners to the industry.
"It is so exciting that students here have more choices than they might have had in the past," Cardona said. "This program provides opportunities for careers and opportunities for students to jump to the middle class and contribute to their society."
As Cardona tours the country to learn more about community and technical education, he and Secretary of Transportation Pete Buttigieg will be highlighting programs where education and transportation work closely together and break down silos.
"We're going to keep lifting up examples like this," Cardona said.
Also in attendance were Assistant Secretary for the Office of Career, Technical, and Adult Education Amy Loyd, Washington Superintendent of Public Institution Chris Reykdal, Seattle City Councilmember Dan Strauss, Maritime High School Principal Tremain Holloway, Interim Seattle Colleges Chancellor Dr. Rosie Rimando-Chareunsap, Interim Seattle Central College President Dr. Bradley Lane, and Seattle Maritime Academy Associate Dean Dale Bateman.