The Seattle Central Griot - March 11, 2021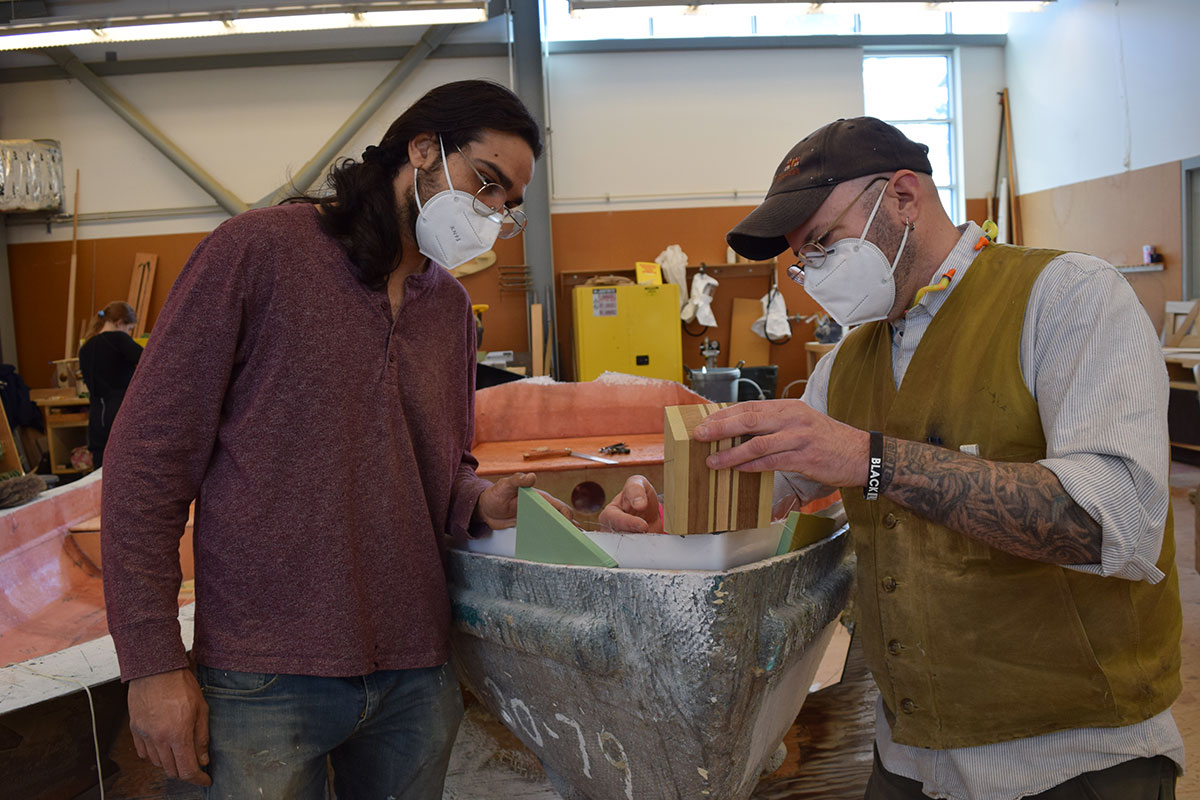 A message from the president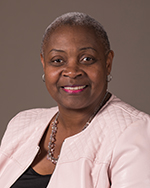 I have six important words for you today: if you can, get the vaccine.

In any other time and place, this would be just advice that you could take or leave as you wish. But for our region and our college, a vaccine that protects against COVID-19 will make all the difference between getting back to teaching and serving our community.
 
I was lucky enough to get the first of the two-shot vaccine last week. I can tell you that it was easy, fast, and I didn't have any of the side effects that some people have reported. 

It doesn't matter which version, or whether it is one or two shots. This brief investment of time and courage will give you the peace of mind to move forward in working, living, and enjoying the company of others. Like all medicines, the vaccine is not a 100 percent solution against the disease, but it will help fight the spread of coronavirus and to minimize the extent of symptoms for those who do get sick.

As a college, we will not require the vaccine for staff or students, outside of programs in healthcare and other public health professions. But I do want to encourage you to take this important step in getting our community back to normal, or whatever that looks like after a year of separation and remote operations.

Be kind, and stay healthy.


Sheila Edwards Lange, PhD
President, Seattle Central College
---
News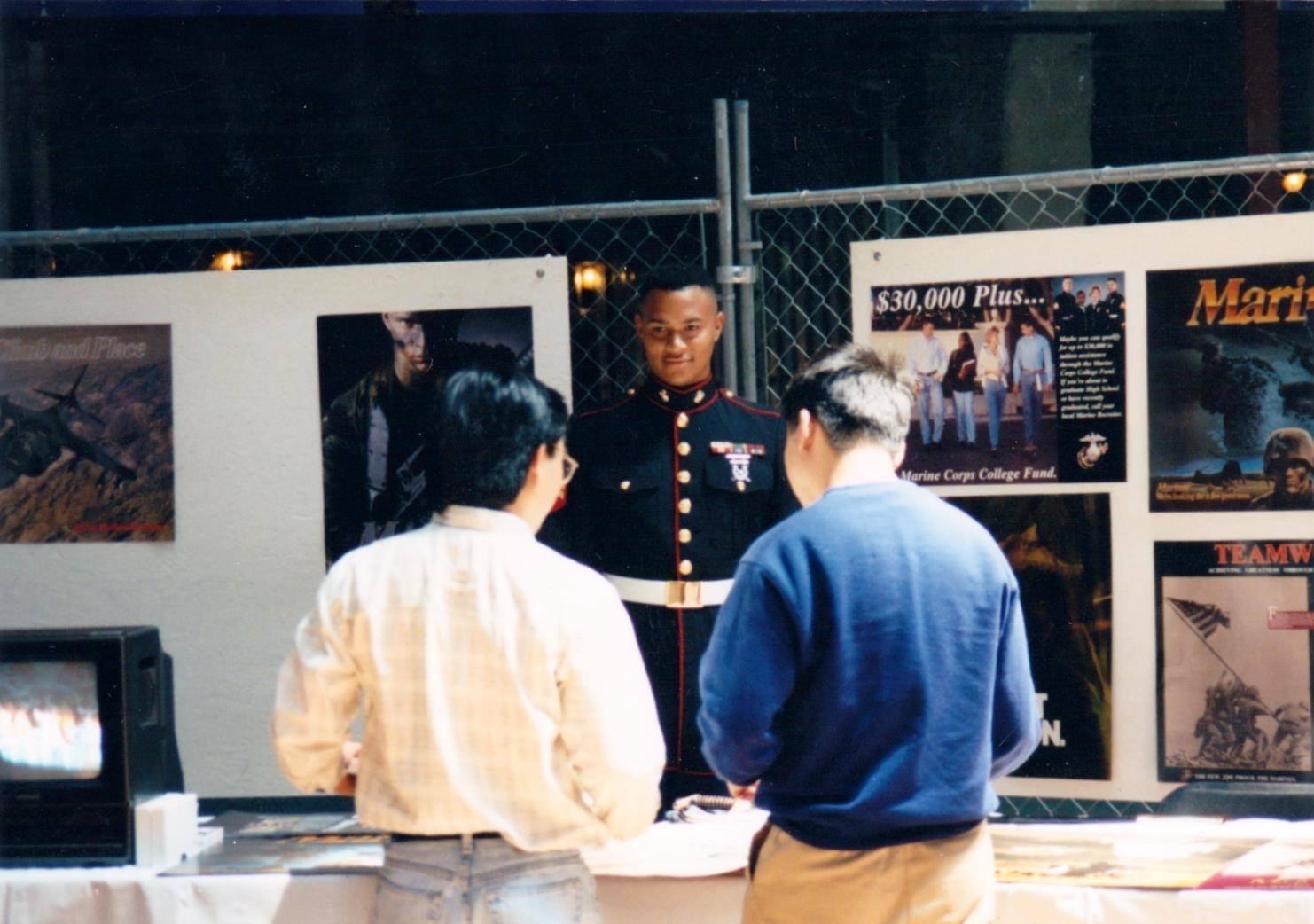 Seattle Central College receives $450,000 grant to expand services

Seattle Central's Veteran Resource Center received a $450,000 grant from the US Department of Education – the largest amount available - to expand its current support services over the next three years.
 
The center will use this grant to hire an advisor who understands the process of navigating college and post-active-duty issues, and to support a specialist on federal benefits.

"By investing in dedicated services, Seattle Central is showing that veterans are an active and important part of the community, that their voices and needs matter, and that there is still more work to do for veterans as they transition into an educational environment," said Molly Mitchell, director of student support programs at Seattle Central College.

For more details, read the longer Newscenter story.
---
Partnership promotes careers in construction

The City of Seattle, the Port of Seattle and Sound Transit will invest $1.75 million to provide construction careers for historically underserved communities. Under the partnership, Seattle will contract with seven organizations to provide training and support: 
•    Apprenticeship & Non-Traditional Employment for Women (ANEW) 
•    Northwest Carpenters Institute 
•    Pacific Northwest Ironworkers & Employers Apprenticeship 
•    Rainier Beach Action Coalition 
•    Seattle Central College – PACT Pre-Apprenticeship 
•    Tulalip Tribes of Washington – TERO Vocational Training Center 
•    Urban League of Metropolitan Seattle (ULMS)
---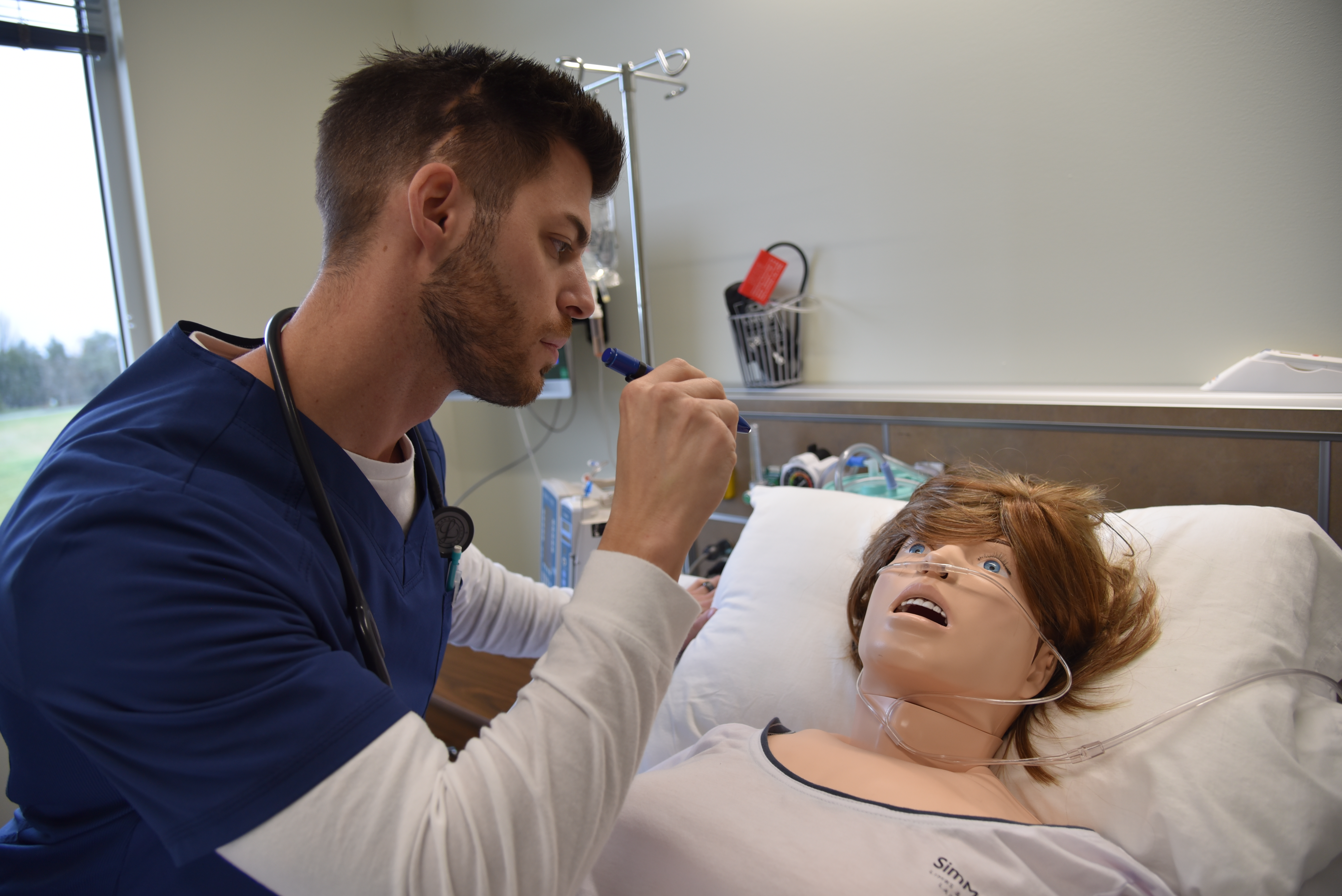 Seattle Colleges and Grays Harbor College win state grant to improve nursing education

Seattle Colleges' nursing program has been awarded $50,000 from the State Board of Community and Technical Colleges to support faculty training with patient simulation equipment.
 
The Hospital Employee Education and Training (HEET) grant proposal was submitted in collaboration with Grays Harbor College. It will support virtual training for all nursing faculty in using simulation, followed by onsite training provided by Laerdal Medical using existing simulation equipment in our nursing laboratory.

Faculty at both college systems will also meet together twice during spring quarter to discuss best practices related to simulation and to develop protocols related to simulation training for faculty that will be shared with other programs across the state.
---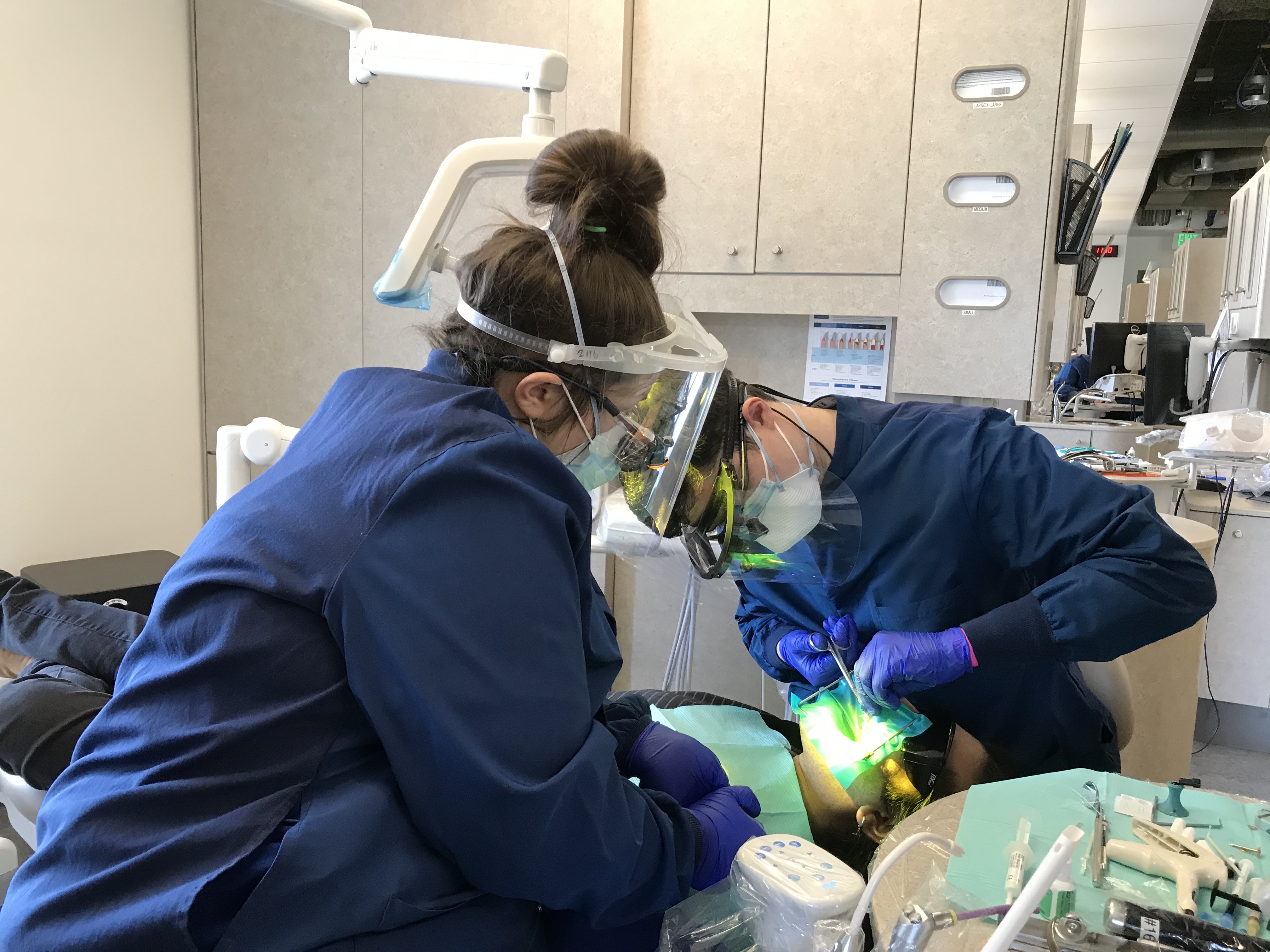 Get a dental cleaning and help train our students

Seattle Central College's Dental Programs and the NeighborCare Health have open spots for dental cleanings and exams at the Dental Clinic at the Pacific Tower Dental Clinic.

The clinic gives students in the dental programs invaluable clinical experiences in preparation to become the next generation of oral healthcare professionals. Dental assisting students support operations from the delivery of dental care alongside dentists to managing the front office. Dental hygiene students provide direct oral healthcare to NeighborCare patients, which includes preventive cleanings, deep cleanings with anesthesia, and the completion of fillings.

You can support the SCC dental assisting and dental hygiene students by becoming a patient at NeighborCare Health. For more information about scheduling an appointment, please see the NeighborCare Health website.
---
Campus luncheon celebrates facilities and security staff

Seattle Central hosted a Campus-wide Lunch with President Sheila Edwards Lange on Feb. 23 to recognize our incredible custodial, maintenance, and security staff. The virtual event compiled shout outs and thanks from staff into a card to share with the folks who have ensured the college buildings stay safe and functional during the move to remote services and teaching.
---
Staff forum provides campus update

President Sheila Edwards Lange and her leadership team offered updates on the state of our college, budget, COVID-19 restrictions and protocols, and more at a Feb. 12 virtual campus staff forum.

If you missed it, here are the video and presentation slides from the event.

The next staff forum has been scheduled for April 12.
---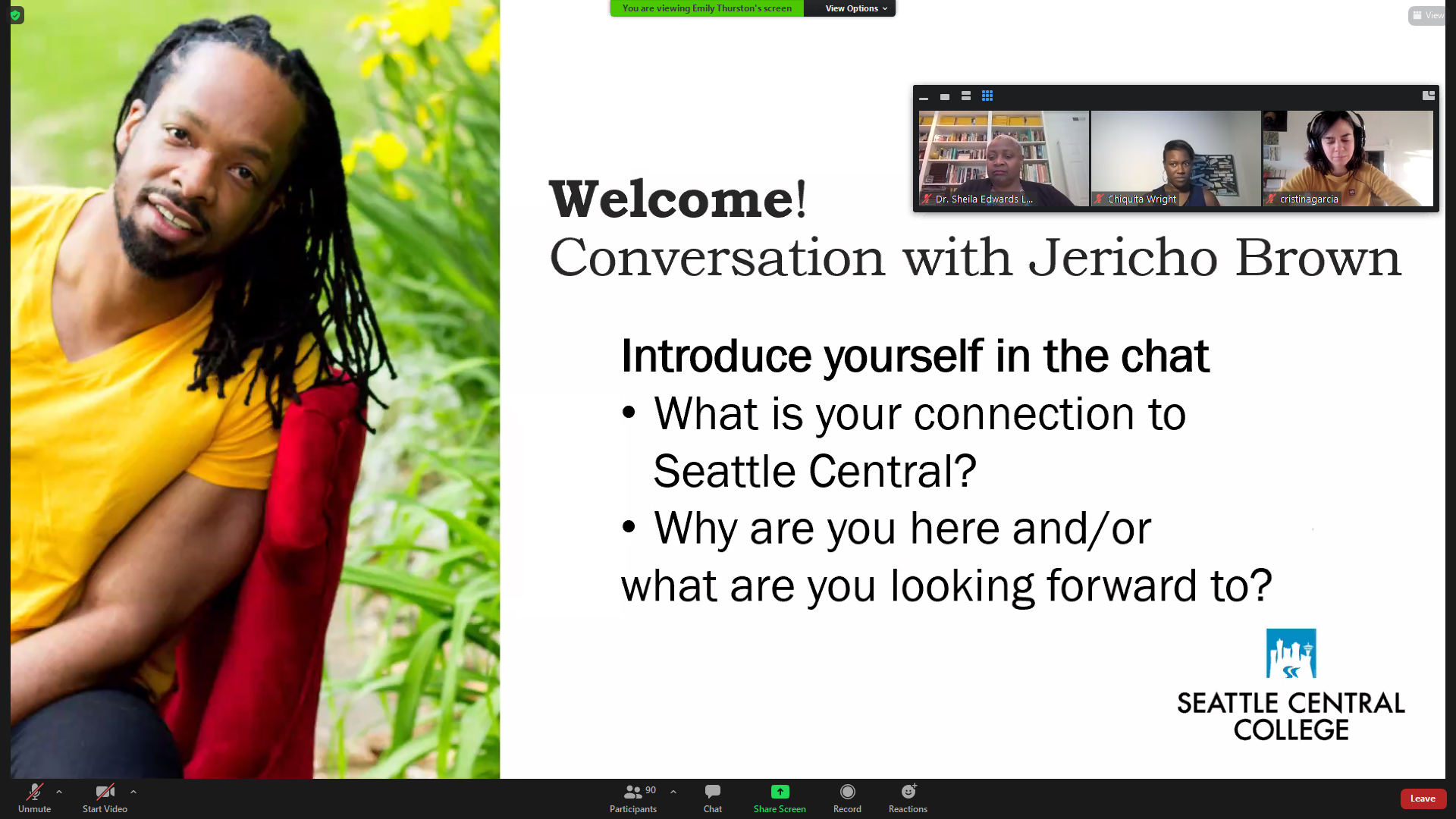 Poetry as a tool for resistance and antiracism

Seattle Central College hosted a social justice community conversation on March 10, featuring a reading with 2020 Pulitzer prize winner for poetry Jericho Brown. The event is part of the Central to Community speaker series and was held virtually. 
---
College Success course offered in spring

Seattle Central will offer a College Success course for Black and African American men this spring quarter. The course will help students explore educational planning and college resources, career and transfer options, and emotional awareness and confidence.

This course is part of Seattle Central's Guided Pathways initiative, which aims to make it easier for students to choose and complete their programs in time.
---
Kudos
A big thank you and job well done to the team at Seattle Central that successfully managed the enormous transition from our legacy information systems into the new ctcLink. Aside from a rise in requests for IT assistance from students after March 1, our college and district made the switch with minimal disruptions. If you know these folks, show them a little appreciation: Anastasia Brunets, Barbara Ceiga, Rebecca Chen, Diane Coleman, Quirino Colobong, Kyle Darling, Marlene Enriquez-Campos, Teresita (Tess) Evangelista, Alexis Fein, Kjrstin Fitch, Vanessa Fowler, Geela Greer, Tiffani Koyano, Lisa Linville, Jennifer Lowe, Melissa Matthews, Christopher Maund, Marilyn McCamey, Robert Natoli, Maki Nikita, Karita Randall, Scott Rixon, Doug Romine, David Roseberry, Arlen Rushwald, Michele Slaughter, AK Sterling, Semhar Tekeste, Lina Tjok, Diem-Thuy Tran, Thuy Dung Tran, Susan Tsoglin, Maricres Tuliao, Shayne Wong, and Liz YauLuu.
Dr. Nathaniel Parker Weston, a history instructor at Central, just published an article in the Humanities journal titled "Memoirs in Miniature: CM/1 Forms and Fragmentary Understandings of the Holocaust."  The article examines the Care and Maintenance (CM/1) form of Paula Bettauer for what it reveals about her memories of surviving the Holocaust and her husband's murder in Auschwitz.

The Creative Academy's "Send Love" postcard exchange has wrapped up and the graphics produced by students and alumni are now available in this Instagram story. In this wonderfully creative effort, Creative Academy alumni and students exchanged digital postcards with love as the theme.

Phebe Jewell, an English professor at Seattle Central College, helped to produce a creative writing zine showcasing the work of currently incarcerated writers. "We Own Our Words" features poems that explore themes of injustice, racism, and isolation, written by women in the Washington Corrections Center for Women. The project was supported by The Henry Art Gallery, in partnership with Freedom Education Project Puget Sound.