The Seattle Central Griot, April 7, 2022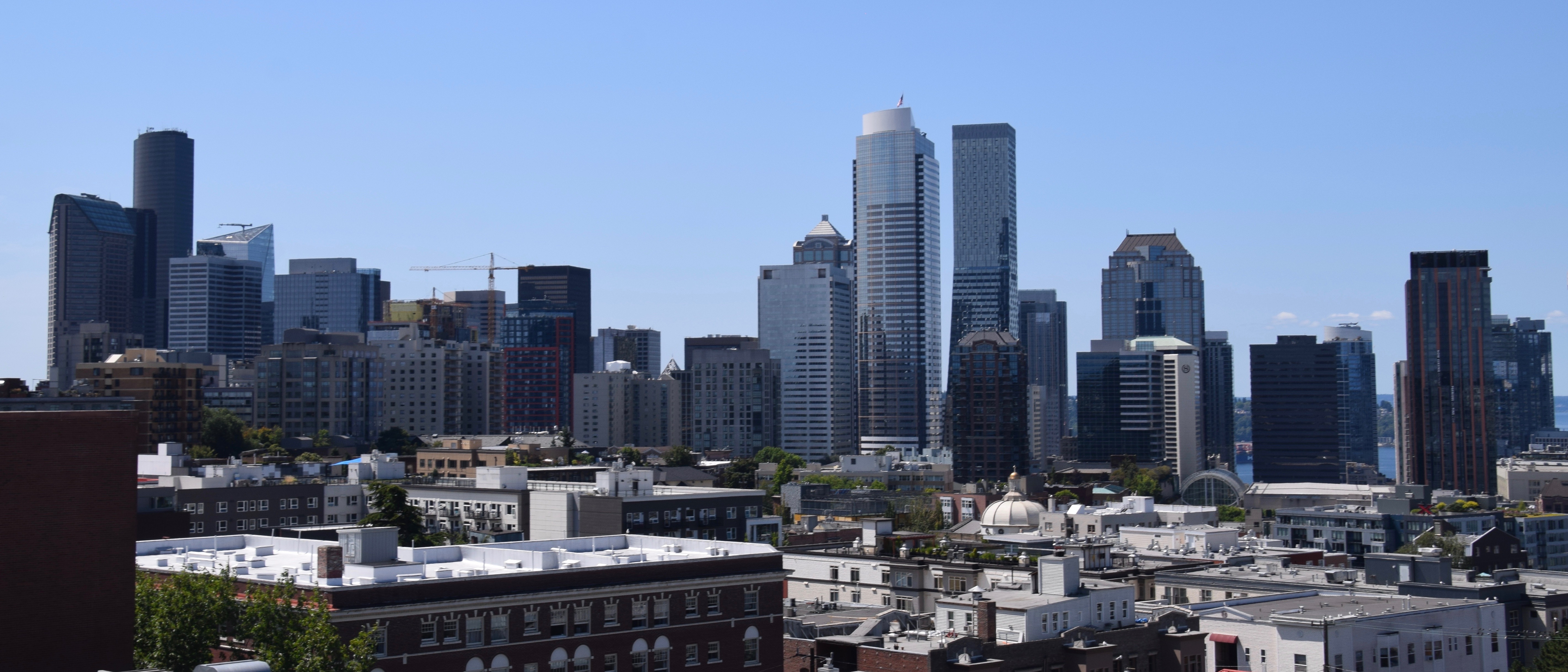 A message from the president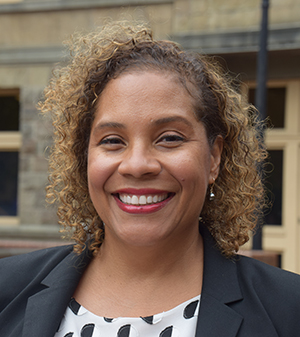 Spring quarter is finally here, and I am pleased to see more students and staff on campus, as we work our way towards the new normal.
This is a time of renewal and hope, both of which we badly need in our community. Just like the maples and oaks near our buildings, I see growth and potential all around us. New businesses are opening up all over Broadway, and foot traffic is picking up again.
I'm also inspired by the commitment and hard work of everyone at Central. I ask for your continuing grace and patience, as we struggle to find the right formula to attract more students and to bring financial stability to our institution.
As we do that, I want to remind us all that our mission is not to just put more people in seats in our classrooms. You and I don't work to make numbers bigger. We are here to educate and to inspire the next generation of leaders in our city and state. We are here to effect change, and provide our students with the tools to build a better community.
Let's use this spring quarter to refocus ourselves on the high aspirations and goals that built our college. Our community deserves nothing less.
In solidarity,
 
Yoshiko
---
News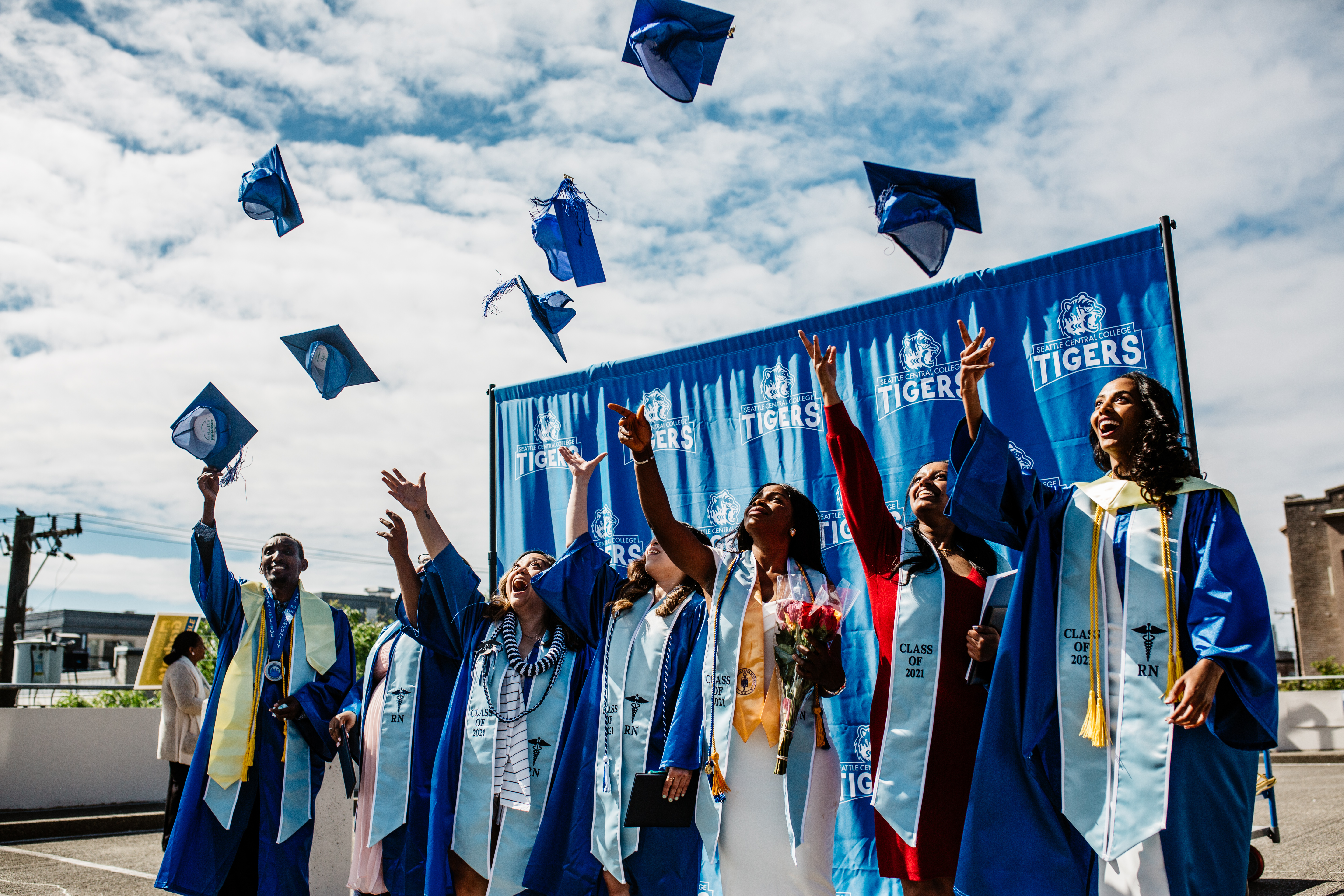 Commencement set for June
Seattle Colleges will host its commencement ceremony on Tuesday, June 21 at T-Mobile Park, from 3 to 7:15 p.m.
This will mark our return to a shared, in-person ceremony for Seattle Colleges, bringing together North Seattle College, Seattle Central College, and South Seattle College. All required health and safety protocols in effect at that time will be observed. 
---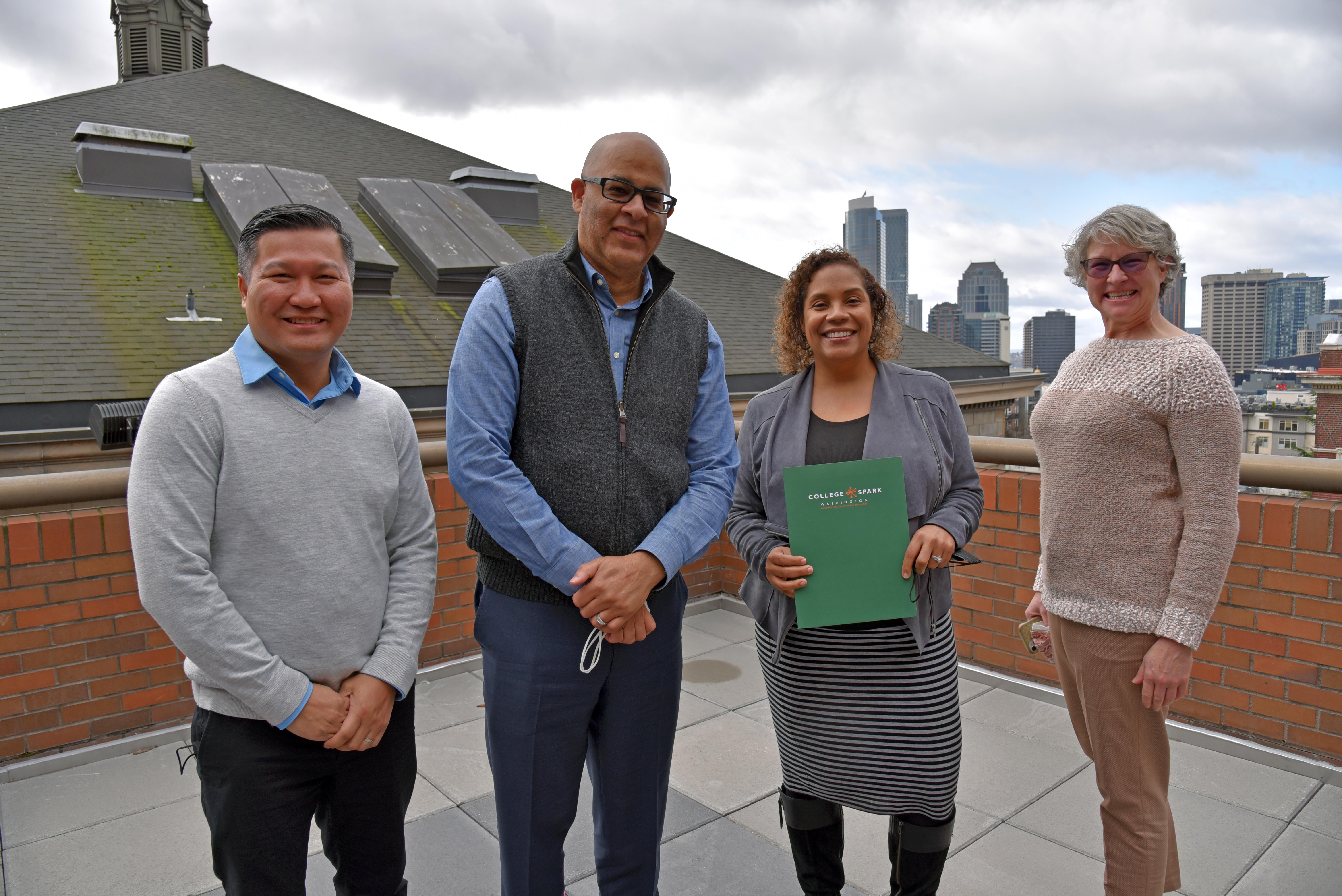 SCC wins College Spark grant
Seattle Central College received a 3-year $180,000 grant from College Spark Washington to revise curriculum and pedagogy for the Basic and Transitional Studies to make them intentionally anti-racist and culturally responsive. The funds will also allow SCC to support faculty development resources. Dr. Warren Brown, executive director of College Spark Washington, presented the college with the first installment of $68,600 on Feb. 16.
---
Harden joins Indigenous Studies Advisory Board
President Yoshiko Harden was selected to join the WCTC American Indian Indigenous Studies Advisory Board. The board will develop a statewide CTC strategic plan to  expand spaces for Indigenous knowledge throughout Academic Transfer/Basic-Adult Ed/CTE-Workforce & other educational pathways.
---
Staff forum discusses budget, gradual re-opening of campus
President Yoshiko Harden and her leadership team provided updates on the easing of COVID-19 restrictions, the budget, enrollments and other timely topics. Video and the slides from the presentation are available in the Newscenter
The next forum will be held on April 21 at 1 p.m., via Zoom. Please send your questions in advance. 
---
Seattle graduate celebrated at awards ceremony
Myron Curry was selected as Seattle Central's candidate for the Washington Association of College Trustees (ACT) Transforming Lives award.

These awards recognize current and former students whose lives were transformed by attending a Washington state community or technical college. Curry is a graduate of the college, an artist, and a community entrepreneur who works for racial and social change.
---
All-WA Academic Team includes SCC students
Seattle Central has three student scholars as members of the All-Washington academic team - Helene Jacqueline Liobard, Shane Taylor, and Alice Van Norman.
The students are members of the PTK honor society. Alice is pursuing an associate of business degree with an emphasis in equity and social justice and in global studies; Shane is pursuing an education in art history and museology; and Helene is studying computer programming.
The 2022 All-Washington Academic Team Ceremony will be held virtually on May 12.
---
Advising department has new structure
Seattle Central College has completed a reorganization of its advising department to make it more efficient, serve students better, and more closely match the goals of the Guided Pathways reform.
The new structure added core advisers to reduce caseloads; integrated the Running Start group into advising; integrated specialists from Social and Human Services and Applied Behavioral Sciences; and placed Seattle Promise retention specialists under the new director of retention at the district, among some changes.
---
Classes for hobbies, interests & job skills
Continuing Education offers non-credit classes for your personal enrichment and professional development. Topics range from art, to technology, project management, business, photography, woodworking, languages, and many more.
See new classes for spring on their blog, including Yoga Teacher Training and Accelerated Project Management.
---
KUDOS
The Seattle Colleges Board of Trustees awarded tenure to these Seattle Central Faculty in March:
Anna Hackman (Humanities); Ruby Hansra (Counseling); Janet Hinson (Community Health); Bliss Holloway (Visual Media); Scot Moy (Apparel and Design); Janine Buis (Nursing); and Katie Gourd-Ascencio (Nursing).
Congratulations on this well deserved accomplishment!
--
Sydney Hilzendeger, a second quarter Culinary Arts student, won the Jeune Commis des Rotisseur Competition held on March 3 at Renton Technical College. She will move on to compete in the finals in Atlanta.